By Emily Judd '18 M.A.R.
Over 250 young adults this month will be confronted with the fundamental question of human existence: What is the meaning of life? College students in the United States, England, and China will explore how the world's major traditions, both religious and nonreligious, answer the question.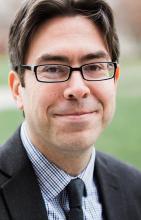 The comparative study is through the course Life Worth Living, developed by the Yale Center for Faith and Culture at YDS. The class outlines the values of different traditions and ideologies through foundational texts and guest lecturers. The goal is for students to develop skills in the life-long process of reflecting on, and discerning, the good life.
"This generation of students is growing up in a world where the vision of a good life—what's really worth wanting in life–is contested," says Matthew Croasmun '06 M.A.R. '14 Ph.D., Associate Research Scholar and Director of the Life Worth Living Program at YCFC and Lecturer of Divinity & Humanities at Yale University. Croasmun, who teaches the course, adds, "What we're trying to do is offer students an opportunity to think critically about the most important question of their lives across important and enduring lines of difference. That can only be good for them as individuals and as global citizens."
Launched in 2014, the Life Worth Living course has spread internationally to the University of Sheffield in England. This semester, it will be offered for the first time at the University of Hong Kong, where it will be taught by Daniel Chua. Chua, who previously served as a consultant at YCFC, believes the course is especially important to fill a gap in the education of his 120 students.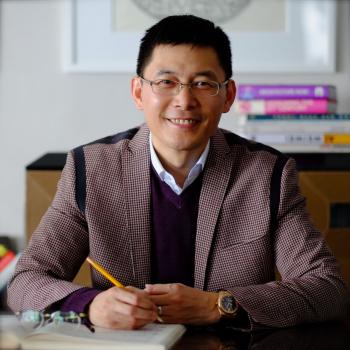 "Hong Kong education needs to consider more seriously questions of value and character and how knowledge can be transformational and not just informational," Chua wrote.
Life Worth Living is equally necessary in the United States, according to the course's creator Miroslav Volf, founding director of YCFC and Henry B. Wright Professor of Systematic Theology at Yale Divinity School.
"Institutions like universities are no longer addressing the meaning of life," Volf says. "Effectiveness and human performance are the emphasis. We've become experts at means but amateurs at ends."
What applies to university students applies to the general population, too. Life Worth Living opened to the public for the first time in a three-day retreat this past November. Held at Yale, the retreat gave participants the chance to explore the visions of the good life advocated in six traditions: Confucianism, Judaism, Christianity, Islam, utilitarianism, and expressive individualism.
Volf, who directed the retreat, began by discussing the quest for human fullness and asked attendees, "What kind of life is worthy of us as human beings?" He said he considers it one of life's most pressing questions, but one that we neglect.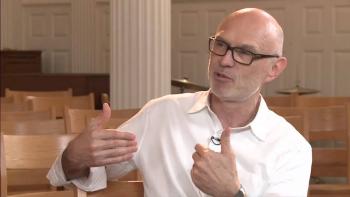 "We tell ourselves we are too busy. We work hard and play hard. There is little time left to examine our lives, whether we are succeeding in the art of living," Volf said.
While participants spanned various ages ranges at the Yale retreat, the course at Sheffield is for first-year students exclusively. Casey Strine, who teaches the course, explains that his newcomers to higher education yearn to know how their study connects with everyday life.
"I think the [Life Worth Living] students really valued the opportunity to combine academic study and deep thinking about what they wanted out of life so soon after making the transition to university," Strine says. "For many of them, the opportunity to live on their own for the first time made this the ideal moment to start asking these questions.
YCFC is working with partners at other institutions to further expand the course, according to Croasmun. Besides Yale, Life Worth Living is offered at Colby College in Maine, where it is taught by Kurt Nelson '07 M.Div., Colby's Dean of Religious and Spiritual Life. Croasmun said YCFC is also making it a priority to adapt the course for different kinds of institutions like public universities in America.
The course's expansion comes at a crucial time in history, Strine says.
"Especially now, when our world is going through so much change, upheaval, and conflict, students need places where they can wrestle with the best thinking from throughout history about what makes life worth living so that they can make informed decisions about how to respond to these issues."
Emily Judd is a second-year M.A.R. student who has reported for the Associated Press and other news organizations. She plans to pursue a career in religion journalism upon graduation.