Yale Divinity School has received a grant of $1 million from Lilly Endowment Inc. to establish Reimagining Church: New Models for the 21st Century, a YDS program aimed at helping churches find dynamic new approaches to congregational life and community engagement.
The program is funded through Lilly Endowment's Thriving Congregations Initiative. The aim of the national initiative is to strengthen Christian congregations so they can help people deepen their relationships with God, build strong relationships with each other and contribute to the flourishing of local communities and the world. Lilly Endowment is making nearly $93 million in grants through the initiative. The grants will support organizations as they work directly with congregations and help them gain clarity about their values and missions, explore and understand better the communities in which they serve, and draw upon their theological traditions as they adapt ministries to meet changing needs.
The Divinity School's Reimagining Church initiative is designed to equip congregations with renewed vision, mission and vibrancy by developing an approach to self-study, examining local social and cultural contexts in which congregations reside, and exploring new models emerging out of the post-pandemic world.
Over the next five years, 40 Connecticut congregations will be invited to examine and perhaps reimagine their mission, participate in workshops with visionary leaders, and design new approaches for their ministries. Facilitated by YDS senior ministry students, the workshops will consider anew dynamic ways to engage their neighborhoods and community.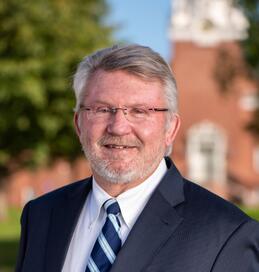 "This grant will enable the School and 40 churches to think about ways to re-envision the Christian mission in a post-pandemic world," Divinity School Dean Greg Sterling said. "We hope that these efforts will lead to vibrant and growing communities of faith in a society desperate for spiritual answers."
The experience of the 40 congregations will be fully documented, becoming a central resource in a newly developed Yale Resource Center for Ministry, an online database that will be available to congregations across the country.
"This project will engage both YDS students and congregations from a wide range of cultures and traditions, learning together, dreaming and planning for what the future of the church might be," said Bill Goettler, Associate Dean of Ministerial and Social Leadership, who with Alison Cunningham will lead the effort on Yale's behalf. 
YDS is uniquely suited to participate in the Lilly Endowment Thriving Congregations Initiative, possessing the resources—rigorous scholarly inquiry, important networks and a capacity to convene religious leaders, an exceptional library, agility in working digitally—to facilitate congregational exploration and to provide leadership for change and growth, Goettler noted.
"This is a real opportunity for congregations to explore both systems of oppression and opportunities for resilience and thriving in the context of their local communities," said Alison Cunningham '84 M.Div., Director of Professional Formation at YDS.  
Yale Divinity School is one of 92 organizations taking part in the Lilly initiative. They represent and serve churches in a broad spectrum of Christian traditions, including Anabaptist, Baptist, Episcopal, evangelical, Lutheran, Methodist, Mennonite, Pentecostal, Presbyterian, Reformed, Restoration, Roman Catholic and Orthodox, as well as congregations that describe themselves as nondenominational. Several organizations serve congregations in Black, Hispanic and Asian-American traditions.
"In the midst of a rapidly changing world, Christian congregations are grappling with how they can best carry forward their ministries," said Christopher Coble, Lilly Endowment's vice president for religion. "These grants will help congregations assess their ministries and draw on practices in their theological traditions to address new challenges and better nurture the spiritual vitality of the people they serve."
Lilly Endowment launched the Thriving Congregations Initiative in 2019 as part of its commitment to support efforts that enhance the vitality of Christian congregations.
About Lilly Endowment Inc.
Lilly Endowment Inc. is an Indianapolis-based private philanthropic foundation created in 1937 by J.K. Lilly Sr. and sons Eli and J.K. Jr. through gifts of stock in their pharmaceutical business, Eli Lilly & Company. Although the gifts of stock remain a financial bedrock of the Endowment, it is a separate entity from the company, with a distinct governing board, staff and location. In keeping with the founders' wishes, the Endowment exists to support the causes of religion, education and community development. The Endowment funds significant programs throughout the United States, especially in the field of religion. However, it maintains a special commitment to its hometown, Indianapolis and home state, Indiana. The principal aim of the Endowment's grantmaking in religion is to deepen and enrich the lives of Christians in the United States, primarily by seeking out and supporting efforts that enhance the vitality of congregations and strengthen their pastoral and lay leadership.