By Emily Judd '18 M.A.R.
At Yale Divinity School, students generally follow one of two degree paths. The Master of Divinity (M.Div.) is designed primarily to prepare students for church leadership and other forms of ministry. In contrast, the Master of Arts in Religion (M.A.R.) does not lay out a specific career path but, rather, opens the door to many.
Katelyn Walls '18 M.A.R., now in a federal government position, says it is hard to identify a career that is not a possibility for an M.A.R. student educated at YDS.
"The beauty of the degree is that it is, by its nature, interdisciplinary," Walls says. "The theologian has something true to say to every discipline and every career."
YDS offers the M.A.R. both as a comprehensive and a concentrated program. Students can choose from 15 different areas of study. The diversity in concentrations leads to a diversity in careers.
For instance, Amy Giuliano '18 M.A.R. concentrated in religion and visual arts, splitting her classes between YDS and Yale's Art History Department. This exposure to many subjects and resources helped her launch a virtual-reality company after graduation.
"I was surrounded by incredible scholars, students, and faculty, with such a wide array of interests, backgrounds, and areas of expertise. I could learn something new in every conversation," Giuliano says.
The stories of these four recent M.A.R. graduates illustrate how the degree equips students for unique contributions to society, from politics and academia to entrepreneurship and disaster-relief.
From the Quad to the Capital: Katelyn Walls, M.A.R. (Comprehensive)
Last year, Katelyn Walls was sitting in the Political Theology course taught by Jennifer Herdt, Gilbert L. Stark Professor of Christian Ethics and Senior Associate Dean of Academic Affairs. Now, she is putting the course teachings into action at the U.S. Department of Health and Human Services in Washington, D.C. Walls joins with the director of the Center for Faith and Opportunity Initiatives in helping organizations confront health and human crises like the opioid epidemic and human trafficking.
"My coursework at Yale helped me see that in order to truly love human beings as Christ did, meeting their physical needs—material, monetary, mental, emotional, and spiritual—is crucial," Walls says.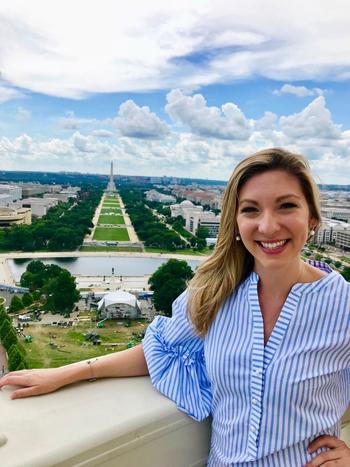 Outside the classroom at YDS, Walls cultivated friendships with people of diverse ideological viewpoints. Walls saw firsthand the benefits of cultivating friendships with people of different political perspectives, learning to love rather than demonize them, and to speak and hear across ideological differences. She brings this mindset to her bipartisan work in Washington.
Walls believes that an M.A.R. education can apply to a broad range of careers and that more fields of work should value students of religion.
"Each discipline, each line of work, desperately needs theologians to 'theologize' their field, reconciling the Word of God with academia, with government, with science, with psychology," Walls says. "How else can we be the hands and feet and heart of Christ in a broken world?"
From Yale to Columbia: John Christian White '18 M.A.R. (Ethics)
John Christian White made the jump from Ivy League student to Ivy League student-support staff after graduating from YDS last May. White moved from New Haven to New York City to work at Columbia University. As coordinator of the Mindfulness Program at Columbia Law School, he brings meditation practice and spiritual learning to students. He credits YDS for getting him ready for the workforce.
"The education I received at Yale prepared me for the work that I ultimately would need to produce," White says.
While pursuing his M.A.R. at YDS, White worked part-time in the Dean's Office at Yale Law School. This job gave him an appreciation for, and interest in, the administrative side of academia. In between studying and working at Yale, White made time to serve as President of DivOut, the YDS student organization dedicated to equal participation of people of all sexual orientations and gender identities in faith communities. In this position, White gained experience coordinating the efforts of administrators, students, faculty, and alumni.
"The experience taught me the crucial role of effective team work," White says. "Those lessons I apply directly every day in the work I now do at Columbia Law School."
The spirit of an entrepreneur: Amy Giuliano '18 M.A.R. (Religion and Visual Arts)
While working on her degree at YDS, Amy Giuliano had participated in a "Shark Tank"-style pitch contest organized by Yale's TSAI Center for Innovative Thinking. A few months before graduation, she received the good news: The Center was awarding her a $15,000 innovation prize and a two-month start-up accelerator experience—a package of workshops, mentorships, and further pitch opportunities—to help her launch her proposed company.
Giuliano, believing education could be enhanced with new technology, envisioned a company that would produce virtual tours of cultural heritage sites around the globe. Through Yale's funding and mentors, her company VADIS VR was born.
***
RELATED CONTENT: Young entrepreneur creates virtual tours of Roman churches
***
"TSAI Center connected me with mentors from the Yale School of Management, the Law School, and Women Entrepreneurs at Yale, who generously work on the behalf of my company to this day," Giuliano says. "I am deeply indebted to their help in getting my business up and running."
By using 3D laser scanning and 360-degree photography, Giuliano's company partners with universities and educational content distributors to bring virtual tours into classrooms.
"We provide access abroad to millions of students who would otherwise never visit these artistic, cultural, and architectural treasures," Giuliano explains.
In her current role, Giuliano draws heavily on her M.A.R. education. She credits YDS for enabling her to combine interests in religion and the arts in a unique way at the Institute of Sacred Music. In fact, her favorite YDS experience was pitching VADIS VR to classmates at the ISM Colloquium.
"I received such positive support and feedback and from my fellow students, and many offers to help," she says. "I was especially encouraged by my organist friends. Since my presentation, we have continued to discuss the possibility of recording their performances in historic churches and combining these recordings with the visuals of a virtual tour."
Peace on campus, peace in Africa: Solomon Mengesha '18 M.A.R., (World Christianity/Missions)
Originally from Ethiopia, Solomon Mengesha came to Yale Divinity School after completing a master's degree in public administration at Harvard. His intent was to prepare for mission work. At YDS, he served as coordinator for the social action committee Peace, Affirmation, and Justice (PAJ). He also performed service work in the community as part of a YDS course he took, Christ and Human Flourishing.
"My group went to a Brazilian church to help the undocumented immigrant members of the church start a business," Mengesha explains. "We worked with them on a business plan and feasibility study and helped direct them to get the proper documentation from the state to incorporate their business."
Mengesha says this experience has proved helpful in his current work as an advisor for the disaster-relief organization Humanitarian Makers. He consults with the African Union on peace and security issues. Yale connections, including with YDS Professor Lamin Sanneh and the MacMillan Center Council on African Studies, helped Mengesha land the position. He advises all M.A.R. students to network across campus.
"Let staff, faculty, and administration know what you like to do," Mengesha says. "If it is something you are passionate about, your passion will reveal itself to them."
Emily Judd '18 M.A.R. is spending the academic year doing the Russell Berrie Fellowship in Interreligious Studies in Rome, after which she will pursue a career in religion journalism.