Story and photos by John Curtis
Voices rose in song, love, and understanding in the Divinity School's Marquand Chapel as about 100 people gathered to bless winter garments collected for refugees in the New Haven community.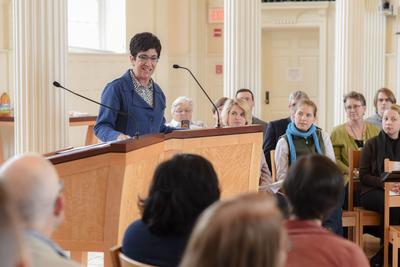 "Today we are acknowledging the Warm Welcome project, where our knitters knit year-round to provide warm clothing for our IRIS partners," said Sarah Drummond '93 B.A., Dean of Andover Newton Seminary at YDS, as she opened the half-hour service, held on November 19. "It is a time to celebrate life and love."
Since the fall of 2016, Andover Newton, in partnership with Integrated Refugee and Immigrant Services (IRIS), has held a winter clothing drive to support refugee families. For the second consecutive year the seminary and IRIS joined in a special service at Marquand, blessing coats and fleece jackets as well as wool hats knitted by Andover Newton-affiliated students. (Andover Newton, originally based in Newton, Mass., merged with YDS in 2017.)
At last year's blessing, Ashley Makar '13 M.Div., outreach coordinator at IRIS, gave a sermon. Afterwards, worshipers wrote notes of warm welcome, which were then attached to the clothing items distributed to IRIS clients.
For this year's blessing, Makar brought members of the IRIS young women's leadership group. The high school and college students from Barbados, Burundi, Congo, and Iraq meet twice a week for college and career prep classes and lessons on women of color and leadership. The young women offered readings from the Bible and Qu'ran, as well as personal reflections. They began with a dialogue between Divine Mahoundi and Noor Roomi, students at Gateway Community College, who shared their perspectives on each other's religion.
"We have found similar messages in the Qu'ran and the Bible," said Mahoundi, a Christian from the Republic of Congo. "You have your religion and I have my religion. But let's understand and love each other."
"When we are far from each other, there are problems," said Roomi, a Muslim woman from Iraq. "When we come together, we learn from each other."
After the reflections, members of the leadership group sang a song, "God Is So Good," in Arabic, French, Lingala, and Swahili. The song was written by two group members, Josephine and Solange Jacques.
Throughout the service, the Marquand Gospel Inspirational Choir, made up of students and faculty, performed several hymns. Many were written by choir director Mark Miller, Lecturer in Sacred Music at Yale's Institute of Sacred Music.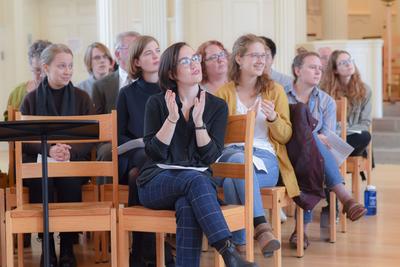 The service closed with the blessing offered by Ana Kelsey-Powell '20 M.Div. and Jathan Martin '21 M.Div., YDS students who are pursuing Andover Newton diplomas in addition to their YDS degrees.
"God, we come before you today asking that you would bless us with abundance," said Kelsey-Powell. "Bless us, oh God, with an abundance of gratitude that we might be mindful of our privileges and advocate for others in all times and places."
"Oh, gracious God, bless these garments with the warmth of your love. May it be, for those who wear them, a symbol of community support and solidarity," said Martin.
They concluded by asking the congregation to raise their arms towards the clothing as a sign of the blessing.