Yale Divinity School will graduate 120 students at Commencement on May 22. Here are brief profiles of some of the graduates.
---
John Aden '23 M.A.R. 
When John Aden graduates from YDS this spring, a job is waiting for him in Kentucky at Citizens of Louisville Organized and United Together, where he'll be the newest of three community organizers. The network of about 20 churches addresses such issues as police-community relations, education, and affordable housing. "My role will be building relationships and meeting with people to get a sense of their interests. An organizer is the glue that holds everything together, but it's really communities exercising their agency."
With a 30-year history in the city, CLOUT is the largest citizens group in Louisville and includes Catholic, Protestant, and Jewish congregations. "Their actions are very targeted. We're not going for things that are so idealistic that the city council would never pass it. It has to be something that we can actually attain."
John's path to this job began in his hometown of 600 in Illinois where people grow corn and soy. Most are of German descent and the town's three churches are all Lutheran. Through his church, he participated in youth camps, after-school programs, and a food pantry, activities that showed him the value of service. He went to Blackburn College, uncertain of a major. Because students work on campus to defray tuition costs, he took a job in accounting. In his freshman year, a religion course got him thinking about the Bible in new ways, so he double-majored in religion and economics. He then went to Vanderbilt for an M.Div. and studied economic and ecological justice from a religious perspective. "I started to think more and more about the ways that churches can be involved in justice work," he says. "I don't think the pastoral role is right for me, but I do want to be involved in the church in some way."
He came to Yale to round out his theological education, and he's found here a Lutheran community that has been important in his formation.
"It's easy to come to an ecumenical school and be so ecumenical you don't feel rooted anywhere. If you get involved in those traditions that are meaningful to you, you can be ecumenical from a place of deep identity and sense of community, and that's what the Lutheran community here has been for me."
—John Curtis
---
Meredith Barges '23 M.Div. 
"Doing bird conservation and advocacy is my passion," says Meredith Barges. One of her most satisfying experiences at YDS was working with Dean Greg Sterling and the administration to help the Divinity School join Lights Out, a national movement to protect migrating birds by reducing nighttime light pollution. "Light attracts and distracts migratory birds on their ancient flight paths," Meredith '23 M.Div. says. "Studies show that if you turn off lights in a building, the number of collisions can drop by half."
She started birdwatching in New York's Central Park 12 years ago. At the time she was working for the International Center for Transitional Justice, which pursues justice and accountability for victims of atrocities and human rights violations. "I did that for 15 years—human rights outreach, special projects, research, advocacy. It was a watershed moment for international humanitarian law. There was this golden age when a lot seemed possible."
That golden age led to disillusionment after the case against former Guatemalan dictator Efraín Ríos Montt. Convicted of genocide by the supreme court of that country, he was freed by a lower court. "When you have something like that, you see how with the stroke of a pen, it all can be undone. There has to be some other way if you want to bring peace and comfort into this world."
She began to see healing and spiritual practices as a way to try making the world a better place. "I wanted to make my spiritual life my focus." She left her job, and with her savings she traveled to India, learning healing arts and studying and teaching classical Yoga. She became interested in hospice work and was certified as an end-of-life doula in Vermont. "I had accompanied family friends through their time of passing, and I thought it could be a calling."
Once she was in New Haven, however, her plans to go into hospice care changed as she joined Yale's bird advocacy community. "Every possible door, window, gate, and avenue to do bird conservation opened to me." She's been applying her skills in community organizing, partnership building, and strategic advocacy since co-founding Lights Out Connecticut in 2022 and hopes to continue her work in bird conservation. This summer, a year-long research project on bird-friendly building laws with the Law, Ethics and Animals Program at Yale Law School will result in a national-level policy report that she co-authored. "We're hoping it will inspire more bird-friendly laws and help save many thousands of birds."
—John Curtis
---
Hannah Baz-Garza '23 M.A.R.  
Hannah Baz-Garza spent last summer at Hebrew University in Jerusalem on a scholarship for students interested in ancient Biblical languages. While there on the YDS Two Brothers Fellowship, she spent a day sifting through archaeological finds from the Temple Mount. "We were looking through shards of pottery. If you take the time, they really will tell you something."
So will extra-textual clues found on some ancient manuscripts. "You might see a note that a scribe wrote on the side, or a picture or image that they drew."
After YDS, Hannah is entering a Ph.D. program focusing on Early Mediterranean and West Asian Religions in Yale's Religious Studies department. She's interested in how original texts have been translated and interpreted. "Any time we're reading, we're interpreting, and we need to be aware of the interpretation process that has gone on before we've even touched the text. Biblical ideals have made their way into a lot of people's minds, even if they're not religious. The way we interpret and teach those things matters a lot."
From a Houston suburb and the house she'd lived in all her life, Hannah, a first-generation student, went to Abilene Christian University. She wanted to become a preacher until a sophomore class in Greek changed her plans. "I fell in love with it," she says. But it posed a dilemma. "What should I do if I care about the church, and I never, ever want to stop studying Greek?" Now, she says, "I see the church as directly influential and propelling for my academic career."
She's learned Koine Greek, the original language of most of the New Testament. Her favorite text is the Gospel of Mark. "Jesus is portrayed as very emotional and human, and I really appreciate that." She also reads non-Biblical texts relevant to New Testament or Second Temple history. Among the questions she's looking into is "How do we ethically translate the Bible in a way that showcases its complex history and shows that it's not black and white? That's important as we read it and are interpreters of it."
After her Ph.D., she hopes to do research and teach. "I love Greek so I would be excited to teach new scholars."
—John Curtis
---
Countess  Cooper '23 S.T.M.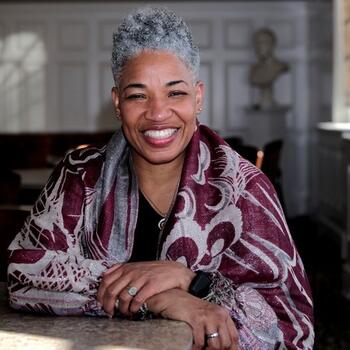 As a child, Countess Cooper '23 S.T.M. used to join her mother on Tampa street corners on Saturday mornings, registering people to vote. "We would go where we knew people passed, maybe on a corner where there was a church. She would talk about the importance of voting and try to get them to register."
Her mom, Countess recalls, registered 30,000 people. She also ran two businesses from her house, in bail bonds and, later, tax consulting. (Countess's father, a ship's captain, died when she was two.) "We had a sea of humanity coming through our house—Gypsies, Black people, white people, doctors, lawyers, but mostly everyday people," says Countess. "She believed in serving the people."
Countess studied business and accounting at Shaw University, then got an M.B.A. at Howard University. An internship led to a 30-year stint at the U.S. Department of Education, mostly in financial aid. One of her favorite jobs was supervising customer support for students, parents, and financial aid administrators. "I was the ears and eyes on the ground for people, taxpaying people just like me."
In 1997, she completed master's in divinity at Howard. "I felt a call to do that. I am LGBTQIA+ identified. That's still unheard of in many African American mainstream churches." Most African American churches, she says, are not fully inclusive, and she wants to change that. "How do we treat people with dignity and respect, whether or not they have religion or don't have religion, whether they're gay or straight? My house of prayer shall be a house of prayer for all people (Isaiah 56:7)."
After being ordained in the United Church of Christ in 2000, she became a team pastor in Faith Temple, in Washington, D.C., one of the first Black churches to minister to gay, lesbian, bisexual and transgender people. She is also a chaplain for the D.C. Air National Guard. As a military chaplain, she was alarmed to learn of the high rates of suicide among LGBTQ+ youth across the nation. After she graduates in May, she hopes to work on suicide prevention.
"This is the hand of divine providence moving me to a place where I am working towards what God would have me do, which is help realize more love, more justice, more peace out in the world, especially for the LGBTQ+ identified."
—John Curtis
---
Mark Dingler '23 M.Div.
Mark Dingler '23 M.Div. is all about community-building. At YDS, he's gotten involved in student affairs and student government to rebuild the community lost to the isolation of the Covid pandemic. His goal after graduation in May is to become an associate pastor in a church where he can foster relationships. "Life is too hard to go through by yourself. You need people to walk on this journey."
A desire for community is what led Mark, a native of Arlington, Texas, to pursue a degree in music education from Texas Christian University. He then discerned God was calling him to foster community in additional ways through the church. "I wanted to do relational community work. and the church has been that space for me." The Disciples of Christ—his denomination then and now—stresses togetherness. "Our slogan is 'a movement for fullness in a fragmented world.' I love that idea of trying to find ways that we can work together to do the work that God has called us to do."
He came to Yale in the fall of 2020, when classes and activities were online. "The first month I lived here I didn't see anyone in person. I was really glad I had a dog." As the pandemic subsided, Mark worked with others to bring people together. "We were trying to find ways to be Covid-safe while having events that helped foster community." One was a gathering of his classmates in the M.Div. program for cookies and hot chocolate.
While at Yale he's interned at Spring Glen Church, a UCC congregation of about 250 in nearby Hamden, and last year he filled in for a pastor who was away for seven weeks. "I led worship by myself, and they let me just jump in." He also offered pastoral care and served on the good works committee.
He's hoping to be ordained in June and is in conversations with several churches, looking to find one that will be a good fit for both. The Disciples of Christ congregations are mostly in the West and Midwest, and he's willing to resettle anywhere. One of denomination's appeals for him is that churches are led by local congregations and there is little hierarchy.
"We encourage diversity of thought and opinion. You can question and have your own thoughts and you can disagree with one another. We're still in it together, we're still loved children of God."
—John Curtis
---
Christopher Fatherley '23 M.A.R. 
When the global pandemic arrived in 2020 "and everything turned upside down," Christopher Fatherley was already thinking about making a change. His work at the time left little opportunity for an emerging call to service. Something was missing. With the support of his wife and two children, Christopher decided to apply to Yale Divinity School—the only graduate program he considered.
He was raised in the Quaker (Religious Society of Friends) tradition and is currently a member of two congregations, Mount Aery Baptist Church in Bridgeport and First Congregational Church of Darien, where his family connection spans generations. Clergy from both churches sensed his promptings for social justice and offered pastoral guidance. Christopher began YDS classes in fall 2021 and will graduate this spring from the M.A.R. Comprehensive program.
His working life began in New York City. He studied woven textile design at Maryland Institute College of Art and, through his network of master artisans, Christopher made his way to Tiffany & Co. in midtown Manhattan as a hand engraver. A turn of events encouraged a transition from hand craft to corporate research. The latter move required a library science graduate degree, which he earned from Long Island University. Christopher proceeded to work in the financial services, consulting, insurance, and legal spaces for over ten years. His writing skills were refined through these experiences, where he was fortunate to partner with colleagues of talent and ambition.
The flexibility of the YDS M.A.R. Comprehensive program enabled Christopher to engage with cross-discipline scholarship at Yale School of Management, Yale School of the Environment, and Yale Law School—each direction consistent with accessible and inclusive development. He was also a Yale President's Public Service Fellow during the summer of 2022, where he assisted New Haven's Saint Martin de Porres Academy (SMPA) with their ten-year educational accreditation. SMPA is a faith-based middle school serving those within the New Haven area facing poverty. SMPA's mission is to end the generational cycle of disadvantage through education and opportunity. Tying to his library career, Christopher was a Community Engagement intern throughout his final academic year with the Beinecke Library, Yale's renowned rare book and manuscript library.
Christopher completes his M.A.R. program with YDS certificates in Black Church Studies and Educational Leadership & Ministry. He anticipates returning to professional life in a social justice capacity either in New Haven or New York City. He can say, with gratitude and sincerity, that his tenure as a Yale graduate student has been transformative in the fullness of mind and spirit.
UPDATE: Since publication of this profile, Christopher has accepted a position as Assistant Vice President of Advancement at Saint Martin de Porres Academy.
—photo by John Curtis
---
Tamara Fore-Ravelo '23 M.Div.
Tamara Fore-Ravelo spent much of her time growing up on the Quechan Tribal Reservation on the Arizona-California border, where most of the 3,000 residents work in the tribe's two casinos. "It's very much desert. When I was growing up it was way more primitive. Now we have more housing, but it's still primitive compared to the rest of the world." 
Church is and was not popular there because of its painful colonialist history, so Tamara worshipped outside the reservation. That colonial legacy affected her own family—her grandmother was sent to a boarding school where her hair was cut and her native language forbidden. "I'm the first female in our family and community to go to an Ivy League institution, so the connection between my grandmother being an Indigenous boarding school survivor and me being here at Yale is a big deal." 
Growing up, she balanced school and work to care for her family, holding fulltime jobs to survive. On the side she started a marketing and branding business, with a clientele that included preachers and entertainers. To learn about marketing, she read books she couldn't afford to buy in the aisles of Barnes & Noble. Eventually Tamara went on to earn associate and bachelor's degrees and a master's in business administration. Then, Yale Divinity School. 
She's the first Indigenous person to serve as the school's student government president in its 200-year history. As president she has sought to improve morale, which she sensed had slumped because of the pandemic and events around the country. "George Floyd, the political climate, all of that stuff was lived within these walls." To that end, she launched a speaker's series and led conversations on ways to elevate the school. "We want people to feel seen and heard. When people feel seen and heard, that elevates the atmosphere." 
Her plans after graduation include getting a Ph.D. and continuing to create pathways for healing within her Indigenous community and to educate surrounding communities, religious and otherwise, about Indigenous ways and spirituality. "I want to bring to God to wherever I am. It doesn't have to look like a pastor and a church. It can look like me sitting in contemplative practice with you, or me showing up when your loved one dies, or me sitting with you when your heart is heavy. That is what I dare to carve out." 
—John Curtis
---
Benjamin  Geeding '23 M.Div.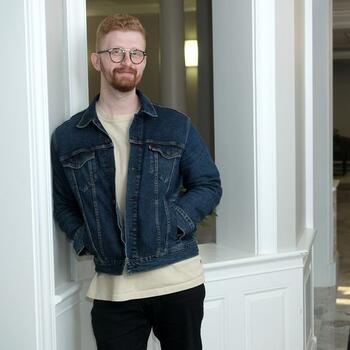 By the time he was five, Benjamin Geeding was questioning the teachings of his family's Nazarene church. "Did God know that Adam and Eve would sin? Is free will an illusion? Is there any point to life? They didn't provide a lot of answers."
As a baby, Benjamin was adopted into a loving and religious family in Illinois farm country. His first job was picking weeds in an onion field. When he was a teenager, the onset of anxiety and depression made him feel unwelcome at church and led to doubts about God. "Coupled with my questions that didn't have answers and feeling like I didn't have a home there, I didn't feel there was a God, and if there was a God, that God didn't seem very worthy of worship."
His atheism distressed his parents, who he describes as "fantastic people. I love them very much." When he chose to study music education at Illinois State, they asked him to try Olivet Nazarene University first. If he didn't like it, he could transfer.
Near the end of his first semester an experience in chapel changed his path. "The chapel speaker's personal story, and how it connected with mine down to so many details, compelled me to go to the altar, and somebody prayed with me. I felt like I had connected with God."
He stayed at Olivet, majored in music, minored in religion and philosophy, then got a master's in Christian thought. He came to Yale for another master's in philosophy of religion and is now set to complete his M.Div. His next step is to get a Ph.D. at Claremont School of Theology in California.
At YDS he was a youth pastor at the First Congregational Church of Darien, but he decided that ministry is not for him. Ideally, he'd like to teach at a small university.
"I want to be able to speak to individuals who don't feel welcome in Christian contexts, or who don't feel they have a language or who have a way of speaking or expressing their faith that is different from Christianity. I want to connect with people in a way that they feel held and cared for," he says. "I have found that people ask the same questions. Who am I? Does anybody care about me? Do I belong anywhere? We're joining larger conversations that have taken place all over human history."
—John Curtis
---
Noah Humphrey '23 M.Div.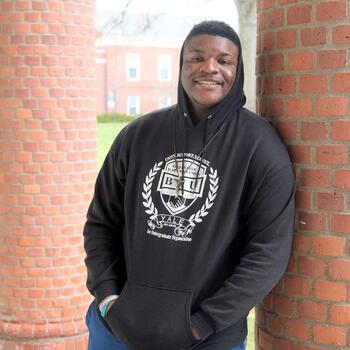 The day Noah Humphrey was born it rained so much that his mom changed her mind about naming him Moses. "As she saw the rain pour down, followed by a rainbow, she said, 'This is it.' She named me Noah."
Faith runs deep in Noah's family. He has relatives who are preachers, and his family has always been active in church. Noah was born in Wilmington, Del., where his father was a postmaster. From there the family, which included eight children, moved west to Yuma, Arizona, and Fresno, California, before moving to South Central LA when Noah was a high school senior. His parents now live in Hawaii.
"They felt a calling from God to go different places," Noah says. "Dad was a handyman and everywhere we went we did community service, we helped the community itself, we built ties to people. My mother served in various churches with leadership development and ceremony planning."
From an early age, Noah was interested in scripture. "I read the Bible back and forth, from Genesis to Revelation. As a teen I was able to pick up where sermons were not right." At 16 he delivered his first sermon and by 18 was preaching regularly. He's not set on any denomination. "The way that I see it, Jesus mobilized the church through me."
That he is able to preach at all he attributes to strength from God. He grew up with a speech impediment severe enough that he'd write out the things he wanted to say. Eventually, his writings became poetry—while at Yale he's published two books of his poems, "Morgan Boy: Memoir of South-Central LA" and "My Dream Carried Love" co-written with his mom, Meryl Humphrey.
At Yale, he's campaigned for an honorary degree for Rev. James W.C. Pennington, who attended YDS from 1834 to 1837. The first Black student at Yale, he was not allowed into the classroom, so he listened outside. In late April, Yale announced it was awarding degrees to Pennington and Rev. Alexander Crummell, a Black theology student at Yale from 1840 to 1841. Noah says the announcement brought him hope and peace.
After graduation, Noah plans on a dual career as a preacher and a chiropractor. He'll take a gap year first, then study chiropractic. He hopes someday to develop orthopedic devices and make them accessible to low-income communities.
"I am committed to being a vessel of positive change in my community, and I believe it's my responsibility to uphold justice and stay true to my values. I want to make meaningful contributions to the world and fulfill the purpose that I feel called to, by God, during my time on this earth."
—John Curtis
---
Sarah Menard '23 M.Div. 
Sarah Menard has spent her career helping others, as a guidance counselor, Sunday school teacher, social worker, and domestic violence counselor. "The helping profession is something I grew up in because of my parents. My parents believed in helping people. They believed in opening their home and their resources to people."
Sarah grew up in Bridgeport, Conn., where her parents had emigrated from Haiti. Her father would help new arrivals find housing or connect them to resources in the city. She recalls a flow of people from Haiti, Somalia, Iran, and other countries passing through her childhood. By the time she was 14, she was teaching Sunday school in the family's Baptist church, where most congregants were Haitian American. At home she spoke a mix of English and Creole, but at church Creole was the lingua franca. She attended Catholic schools and went to Sacred Heart University. She planned to become a teacher until a dean encouraged her pursue social work.
She still attends the church she grew up in and, until two years ago, taught Sunday school there. And that is what led her to YDS.
"The more I taught, I began to be invited to preach to youth groups," she says. "The more I was teaching Sunday School and the more I was preaching, I felt like I needed more—more support, more training. My students were challenging me, too. That started me on my journey of pursuing an education in theology. I was trying to become a better teacher."
After graduation, she plans to move to Florida, where she'll attend Palm Beach Atlantic University and pursue a Ph.D. in practical theology. "Something that is missing in the Haitian church is a curriculum that speaks to our culture and our history. As we learn about Biblical stories, I would love to create a curriculum that can parallel what we're learning in the Bible with our own history and culture."
She hopes to offer pastoral and mental health support to people and speak to such issues as migration and immigration reform. "The work that I want to do should address larger issues that are happening in the world."
—John Curtis
---
Brooklyne Oliveira '23 M.A.R.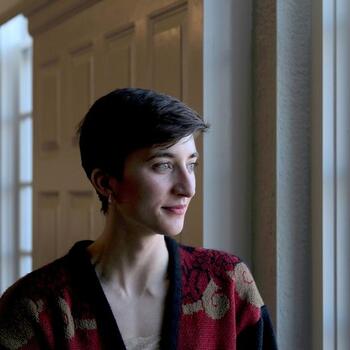 Brooklyne Oliveira says she could talk about Dietrich Bonhoeffer all day. She learned of the German theologian at Washington and Lee University in Virginia, which she chose for her undergraduate studies so she could be near the nation's capital and pursue her interest in politics.
A first-year course on death and dying led to a course on the Hebrew Bible, and soon she found religion more interesting.
"What solidified it for me was my junior year at Oxford, at Blackfriars College, an active Dominican priory. I studied theology and philosophy and sat in on a seminar on Bonhoeffer," says Brooklyne. "He's a fascinating figure."
Bonhoeffer was a pacifist and vocal opponent of Adolf Hitler. His activism led him to prison and, in 1945, the gallows.
"Bonhoeffer's book 'Ethics' opens with the claim that ethics isn't about the question of how can I be good, it's not about what is the right thing to do. The question of Christian ethics is what is the will of God? How do you answer that question? You read Bonhoeffer's work and there's a lot of sociology in there, there's political theology in there, and some really interesting passages on discernment."
Her interest in ethics started in a small town near Dallas where she grew up. Her church was "evangelical and pretty conservative. I didn't think there were a lot of well-articulated theological reasons for some of the rules in my church, so I became more interested in ethics."
She's still interested in politics and has interned in housing in Fairfield County and at the Federal Departments of Labor and of Housing and Urban Development. Housing and labor, she says, are "pieces of communities. You need housing, jobs, food. These things are the stuff of daily life and the stuff of community. My academic interests are thinking about institutions and how they shape people's lives."
And her perspective on institutions is informed by Bonhoeffer and his experiences in the Nazi era. "My interest in theological ethics tends towards how we live in institutions that are deeply troubled or broken. How do you resist these terrible forces for evil when you're participating in structures that are easily coopted?"
—John Curtis
---
Natalie Owens-Pike '23 M.Div.
Since graduating from Macalester College in 2011, Natalie Owens-Pike has worked to expand equity through education and transformational relationships. She first served as a Teach for America corps member in a rural Mississippi high school, and later returned to her hometown of Minneapolis, where she worked at a program to bring together middle school students from different racial backgrounds or socioeconomic status for summer and weekend programs. After a year she became the director, a job she held for seven years.
Though she grew up Unitarian Universalist, she joined the United Church of Christ at 26, seeing in it a way to merge her faith and her commitment to social justice. "Living in Mississippi, my Black colleagues and fellow teachers were my first instructors in Black Christian theology. They taught me what Christianity for liberation can look like, and embraced me in shared prayer for our hurting world."
After graduation, her goal is to lead a UCC congregation committed to social justice. Although church attendance is declining, she believes churches that address social issues will thrive.
"Sitting in the pew on Sundays is not enough for some people anymore," she says. "The church where I'm a member in Minneapolis has grown in part through a willingness to talk about what's in our world and give people tools to say, 'How am I a part of that? How am I implicated in the injustice that I see in my community, either in changing it or experiencing it?' There is something exciting about rethinking the function of church community in our lives."
---
Karis Ryu '23 M.A.R.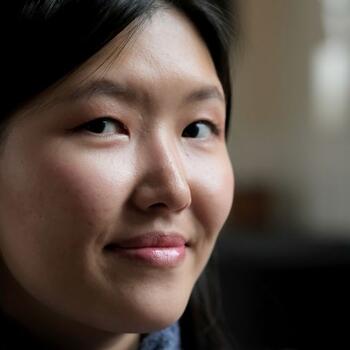 Karis Ryu has straddled multiple cultures all her life. Born in Boston to Korean immigrants, she's fluent in Korean but is more comfortable with English. Her father is a U.S. military chaplain, and Karis and her two younger siblings grew up as Army brats, living in and near Washington, Kansas, South Carolina, the District of Columbia, and South Korea. Her parents always lived off the base so their children could be part of the local community.
"It felt like life was compartmentalized," Karis says of her childhood in the D.C. area, noting that there's a word in Korean for someone like her—"gyopo" refers to ethnic Koreans who grew up in another culture. "Monday to Friday was public school, Saturday was Korean language school, Sunday was church. Every now and then there was a trip to my father's office at the army hospital, a military function or holiday party. I was aware that multiple things existed in my life that did not normally coexist together."
In Kansas, she says, "it was the first time I was in a space where I was the only non-white person." Later, her father was stationed in South Korea—Area IV in Daegu and Yongsan Garrison, the U.S. military headquarters in Seoul—where she had a different culture shock. "On the outside it looks like we're residents of the city, but when it gets to the language and the culture and the way I dress and carry myself, the 'she's-not-from-here' inflections become clear."
Karis finished high school at a DoDEA (Department of Defense Education Activity) complex in Seoul, then went to Brown. She was interested in justice and global affairs but was unsure what to study. She settled on history, focusing on empire and colonialism in the 20th century. As she kept learning, she realized, "Religion has so much to do with that." An avid reader and writer of fiction, creative nonfiction, and poetry since childhood, she also began to publicly share, submit, and publish her creative work.
At YDS, she's focused on the history of Christianity, and she will begin a PhD in Religious Studies at Yale this coming fall. She's interested in Asian American art and art of the Asian diaspora and wants to explore "the ways people are redefining religion and showing other ways of being human." She will also continue writing. "Alongside studying art, I am also creating art."
Religion, she says, "is a recurring theme that I want to highlight and study so religious studies is going to be my intellectual home. I see myself in the academy, but in a very unpredictable kind of way. We'll see where it goes."
—John Curtis
---