By Leah Silvieus '21 M.A.R.
Jason Craige Harris '12 M.A.R. and Mercy Herrera '13 M.A.R. met at YDS through a mutual friend. When she asked him out, he turned her down on three separate occasions. Herrera remained persistent, she says, laughing.
"I told him, you're going to be in my life forever, whether it's as friends or something else."
They slowly got to know each other through classes, praying, and conversations where they helped each other work through family issues. Then, in the summer between Herrera's first and second years, she asked Harris to read a spiritual autobiography she had to write for a class.
"I was blown away by the person that she was and had become and all of what she had overcome in her life," Harris recalls. "I was so deeply moved."
That was the beginning of a protracted conversation that formed the foundation of their marriage, and of a vocational partnership that finds them striving together to close gaps in dignity and belonging that persist in workplaces and schools and across society.
"Being able to pray together, which is how we began our journey together at YDS, is the very same thing that continues to anchor us today," Harris says. "That act of praying together, wrestling together, thinking together, feeling together is what marriage is all about."
Ministry outside church walls
Harris and Herrera arrived at YDS from very different places.
Harris knew early on that he wanted to be a caretaker of souls and experiences, a vocational impulse that he realized as a boy when he preached his first sermon.
As he delved into religion and African American Studies as an undergraduate, however, he began to wonder whether Christianity was redeemable, given its history of complicity in various forms of injustice.
These questions led him to study progressive evangelical voices and Black liberation theology at YDS, where his interest in the intersection of faith, justice, and scholarship deepened. While at YDS, he also co-founded a think tank focused on faith and activism around the world. He continued to manage the non-profit after YDS, while working first as a teacher and then as Director of Diversity and Inclusion at a Quaker School in New York City.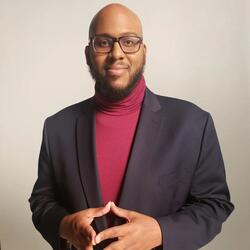 "I sat with parents, caregivers, students, faculty, and staff in the deepest despairs of their lives," he says. "I really did feel like a pastor. I realized that the practices of healing, community, and collective presence were not meant to stay within the proverbial four walls of the church."
Harris eventually transitioned from school administrator to full-time consultant. Today, as Managing Partner at Perception Strategies, he draws upon research from fields including neuroscience and social psychology to assist communities, organizations, companies, and schools worldwide in developing a more expansive understanding of dignity, equity, and belonging.
What he might do on any given day varies widely and might include conducting workshops, public speaking, facilitating conflict mediations and restorative justice interventions, or coaching leaders on best decision-making practices and organizational culture. Recently, he created a training focused on implicit bias for 20,000 members of a state and city court system.
"I work with the goal of helping people to see each other more clearly and listen to each other more deeply, which for me is a spiritual practice," he says. "As we listen to the other, we're listening to the Divine in the other. Openness to being transformed by the other's perspective and experience reminds us how interconnected we are."
Three-pillar teaching philosophy
Herrera's journey to YDS, she says, was "the exact opposite" of Harris's.
Growing up, she was surrounded by ministers; her father was a non-denominational pastor, and her sister was a preacher, though Herrera herself didn't feel she was called to that life. She studied American Sign Language as an undergraduate, inspired by the ASL interpretations she witnessed at her church.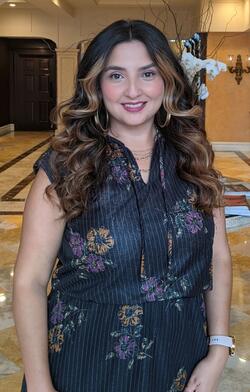 Afterward, she began working at the University of New Mexico supporting first-generation college graduates. There, through the Ronald E. McNair Scholars Program and Research Opportunity Program, she received an opportunity  to research translating scriptural metaphors from English to ASL.
She had planned to pursue a career in deaf education. But while presenting her research at a conference at Harvard, she met a representative from YDS who invited her to apply. Herrera took the advice and, after earning admission, enrolled, setting her life on an inalterably different path.
While at YDS, she focused on Religion and Disability Studies and served as Co-President of the Yale Divinity Latinx Association.
Next was New Mexico, where Herrera taught dance at an ASL academy, and then New York City (Harlem, Washington Heights, and the South Bronx), where Herrera spent a decade teaching and developing the three pillars of her teaching philosophy: self-love, love of others, and self-advocacy. Her students regularly demonstrated the highest academic performance in their grade level.
The students' strong performance, she says, "had everything to do with the fact that they felt safe in the classroom to say, 'Hey, I don't understand this,'" Herrera says. "In order for us to grow, we need to name what we don't know." 
Herrera now works as Director of Assessments at a charter school in New York, where she manages logistics, trains teachers to use assessments, and ensures that students are supported through the assessment process—a role that is especially challenging in the wake of the COVID-19 pandemic.
She recalls recently working with a fifth-grade student who was labeled a "problem student." His teacher didn't want him to be assessed because she didn't think he would succeed, but as Herrera guided him through his assessments, he kept passing. By the end of the year, he was reading at grade level. It's in these moments helping students feel seen, Herrera says, that she most strongly senses the presence of God.
Herrera's and Harris's ministry of presence not only shapes their professional lives but also their life as a family.
When their daughter was younger and would make mistakes, they would immediately resort to interrogation or lecturing mode. That made her shut down, her fear of what her parents might say preventing her from learning.
But then they began to practice family circles, drawing upon both Quaker contemplative practices and the sacred geometry of circle taught by Indigenous communities. During circle, they pass around a symbolic object; whoever has the object may speak and the others must listen. Since beginning this practice, they have observed their daughter becoming more expressive, reflective, and articulate about her emotions and experiences.
Engaging race conversations from 'humbling' position
Practicing circle in their home and professional communities has helped Harris and Herrera become even more committed to mental health and social and emotional learning for students and adults. This commitment eventually led them to collaborate with Sheila Andre at the social-impact film company Indieflix. Andre wanted to create a documentary about the impact of race on mental health.
Andre felt that many conversations about race in the wider culture feel exclusive: if people don't have the right vocabulary, they can't participate. Her goal was to the lower the bar for entering these conversations so that people could start talking about race in moments where such topics are often considered taboo.
The resulting film, "RACE to be Human," features an array of people discussing their personal experiences with race and the impact of those experiences on students, communities, and everyday relationships. Harris is the film's Social Impact Producer. Herrera appears in the documentary as an education expert.
"The conversation that this film is trying to open space for is about the liberation of us all," Harris says. "I don't want white people to walk away from the conversation and say that conversation about race is only for and about people of color. I want them to understand that this is about them too."
Harris says his visions for race conversations are shaped by two beliefs: the liberation theology of Leonardo Boff, who proposed that God was unity in diversity and diversity in unity, and the Quaker belief that God is at work in the life of every person before Harris meets them. His job, as he sees it, is not to save anyone, but to collaborate with the Divine in the pursuit of the Divine's vision for that person—a position that can often be humbling.
"We can't distance ourselves from suffering, no matter how much we try," he says. "We can't get away from the muck and mire of human life. We can't prevent all of the harm. But we can show up with care and compassion, with a listening ear, with a helping hand. I can show up with consistency. I will never leave you nor forsake you. Nothing can separate us from the love of God. Neither height, nor depth, nor anything in all creation. The ministry of Christ is the ministry of presence. I may not be able to solve everything, but I can show up. And isn't that what God does in our lives?"