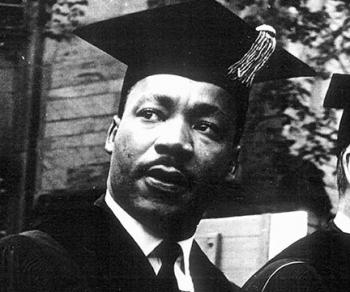 Editor's Note / January 14, 2022
In honor of Martin Luther King Day 2022, YDS is reprising this content feature, initially published in 2018.
——
Yale Divinity School and Martin Luther King Jr. intersected many times and in many ways over King's career. These interactions took place most commonly through the work of YDS alumni involved in the civil rights movement. But the connection was quite direct on Dr. King's 30th birthday on January 15, 1959, when he toured the Quad and lectured in Marquand Chapel.
To mark this spring's 50th anniversary of Dr. King's assassination, YDS offers the following, noncomprehensive compendium of interactions between Yale Divinity School and Dr. King. 
—
King spends 30th birthday at YDS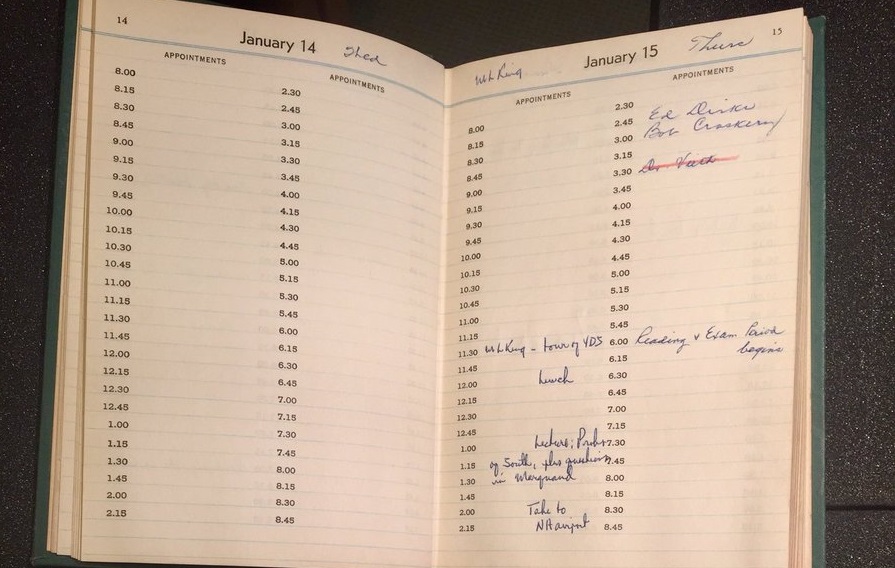 "On Martin Luther King Jr.'s 30th birthday, he visited @YaleDivSchool & lectured on "Problems of the South" in Marquand Chapel. Dean Liston Pope scheduled lunch & a tour of YDS in his day book. MLK Jr. showed his appreciation to Dean Pope with an autographed copy of his book. pic.twitter.com/mlHweraC9f"
— Twitter post by @YaleDivLibrary, March 16, 2018
The night before his YDS visit, King spoke before nearly 2,000 members of the Yale and New Haven communities at Woolsey Hall. Listen to present-day Yale students read his words.
---

Robert W. "Bob" Croskery '59 M.Div.
"I met [MLK] on the steps of Marquand Chapel and had him to myself for conversation for about 10 minutes. It was a surprising delight that I shall always remember."
---
Harcourt Klinefelter '68 M.Div.
Klinefelter worked with King as a public relations staff member.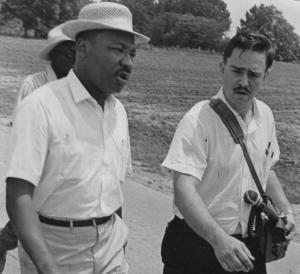 Read the letter of recommendation King wrote for Klinefelter.
Watch this Dutch TV interview with Klinefelter (audio in English).
---
Walter Fauntroy '58 B.D
Walter Fauntroy first met King in 1951 and later played a behind-the-scenes but significant role in major civil rights events including the 1963 March on Washington, the Selma to Montgomery March of 1965, and the Meredith Mississippi Freedom March of 1966.
More on Walter Fauntroy and MLK:
Dr. Martin Luther King and the District of Columbia
Correspondence from King to Fauntroy
Fauntroy's 1965 Keynote address to the SCLC 
---
King & Pope
"… We're talking about integrated churches. I listened to Dean Liston Pope last night, and we talked a great deal on this problem; how churches are gradually, slowly, all too slowly, but they're integrating." 
—King citing Pope in his address at the 2nd Annual Institute on Nonviolence, December 5, 1957. Read the speech.
---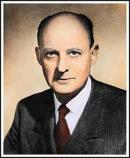 MLK and Reinhold Niebuhr 1914 B.D.
Martin Luther King, Jr. and the Global Freedom Struggle
Telegram from Niebuhr to King sending his regrets about being unable to attend 1965 March
---
William Sloan Coffin '56 B.D. & Gaylord Noyce join Freedom Riders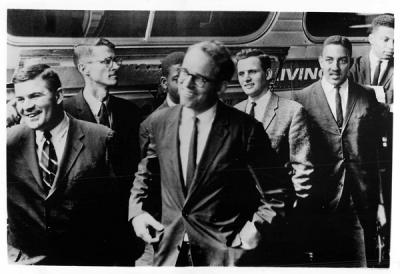 William Sloane Coffin '56 B.D. (center) and Professor Gaylor Noyce (behind Coffin's left shoulder) were smiling as they arrived in Montgomery, Ala., by bus. They and the others in the photo were arrested the next day as they sought service at a segregated bus terminal lunch counter before their scheduled departure for Jackson, Miss. Also pictured, l-r: John Maguire and David Swift, religion professors at Wesleyan University, Middletown, Conn.; George B. Smith (head partially visible), law student at Yale University; Coffin; Noyce; and Clyde Carter and Charles Jones, theological students at Johnston C. Smith University.
Watch the photo slideshow: Civil Rights and March on Washington.
Related article: Local Residents Recall March on Washington, 50 Years Later
---
William Sloane Coffin & MLK
Read Coffin's 1963 telegram to King.
---
John Eusden '49 B,D.
Two years after hosting King at his campus, Williams College Chaplain John Eusden '49 B.D., '54 Ph.D. followed his friend to Birmingham, Ala., in 1963 during one of the most hostile times of the civil rights movement. Far from his chaplaincy at Williams, Rev. Eusden was jailed in Birmingham, where he participated in demonstrations, facing attack dogs, hurled curses, and the fire hoses officials trained on protesters.
"I told him then that if he ­ever needed me, to just give me a call," Eusden later told a newspaper reporter. "Well, the call came."
Read John Eusden's obituary in the Boston Globe.
---
Will D. Campbell '52 B.D.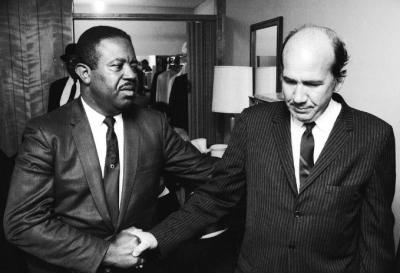 Will D. Campbell '52 B.D., right, and Ralph D. Abernathy comforted each other on April 4, 1968, at the Lorraine Hotel in Memphis after the assassination of the Rev. Dr. Martin Luther King Jr.
Read more about Will D. Campbell:
Will D. Campbell, Maverick Minister in Civil Rights Era, Dies at 88
Will D. Campbell: An Unconventional Approach to Racial Reconciliation
---
Norval Reece M.Div. '60
In an article for Peace Works, YDS alumnus Norval Reece described how King was influenced by Quakerism and non-violence.
---
James Hester Hargett '55 B.D.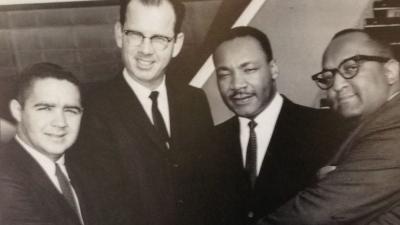 James Hester Hargett '55 B.D. (pictured at left) marched with King in Selma and fought for social justice in Los Angeles.
---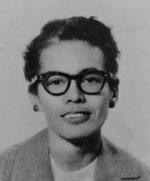 Pauli Murray '79 Hon. D. Div.
Murray gave King legal advice in 1957, which King accepted. Read the letter from King to his literary agent. 
Pauli Murray's work as a legal scholar was foundational to the milestone Supreme Court decision Brown v. Board of Education. Read about her role in the case. 
Coiner of the term "Jane Crow," Murray was critical of King for his failure to include women in his movement and women's issues on his agenda. Read more about her pioneering work for civil and human rights.
---
Letter from Martin Luther King, Jr., to YDS faculty member Werner Rode, who at the time was Paul Tillich's assistant at Union Theological Seminary.
---
More alumni stories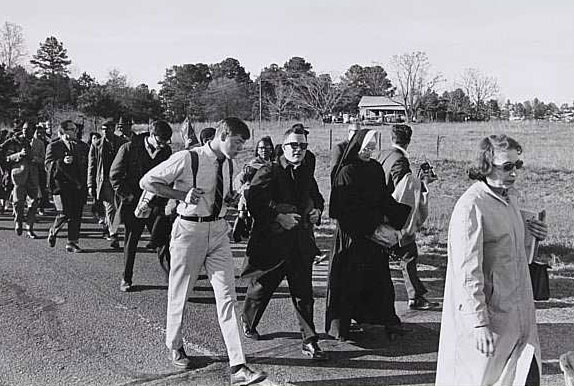 ---
Yale Daily News
Read articles from the YDN vault about King and Yale.
1958 Visit to Yale and YDS Anticipated
1961 Coffin Trip to Montgomery w/ King
1964 Chaplains Arrested in St. Augustine
---
Research by Mary Beth Mills-Curran '18 M.Div.
Editor's note: Do you know of other interactions between Martin Luther King and the people of YDS? If so, please send us a note at divinity.webmaster@yale.edu.