By Justin Harmon
The Rev. Frederick J. "Jerry" Streets '75 M.Div., who has taught pastoral theology at YDS since 1987, is used to a busy life. In addition to his work at YDS, Streets teaches two courses at the Columbia University School of Social Work—one on spirituality and the practice of social work, the other on trauma—while consulting with the Spirituality Mind Body Institute at Columbia's Teacher's College. He lectures on religion, spirituality, and mental health through the Harvard Program in Refugee Trauma. And he serves as senior pastor of the Dixwell Avenue Congregational United Church of Christ in New Haven, which he himself attended and served as an intern while a student at YDS.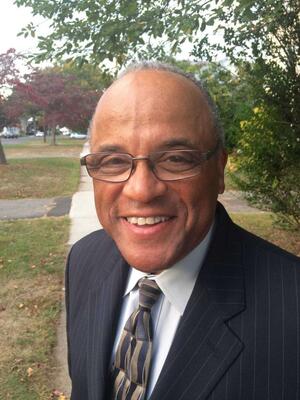 None of these engagements is new; nor has Streets' career ever had a phase in which he did but one thing at a time. He found his ministerial calling early, and his teaching and social work are expressions of that impulse.  
Streets was about 16 and living in Chicago when he became enthralled with the charismatic pastor of Antioch Missionary Baptist Church, the Rev. Dr. W.N. Daniel, who served a large congregation. Politically active, Daniel led initiatives that brought affordable housing to the community. He believed strongly that ministry had a social activism component.  
"I was enamored, but at the same time feeling that I was being called to the ministry, so I went to tell him about it," Streets said. "And one of the things I really appreciate about that experience—and it wasn't unique to me, but it was fundamental to my growth—is that he took me seriously."  
The pastor invited Streets to Bible study. They prayed together and discussed the ministry. After about a year of such prayer and discussion, Streets was given the opportunity to present a trial sermon; his success was rewarded with a license to preach. It was a preliminary step to ordination within the free church tradition, which values the autonomy and authority of the local church to certify and ordain its clergy.
Ottawa and YDS
Like many young people, Streets relied heavily on word of mouth as he made decisions about his education. He attended Ottawa University in Kansas because two young men he knew from church who were student recruiters went there and liked it. When it came time for seminary, he took the advice of a favorite faculty member at Ottawa, a Yale alumnus, who recommended YDS. 
At YDS, Streets delved into pastoral theology and counseling studies. The work of professors James Dittes in psychology and Gaylord Noyce in practical theology captured his interest. He pursued clinical pastoral education with supervision at both Yale New Haven Hospital and the Connecticut Mental Health Center. He particularly cherished lunch table discussions in the Old Refectory. "Sometimes they were so engaging," he recalled, "I missed the first afternoon class."  
Central to those conversations was the late James M. Washington, who was a Ph.D. student in the Department of Religious Studies at Yale. Streets credits Washington with deepening the understandings of faculty and students alike regarding Black church history, which had been seen as "marginal rather than a component of the larger Christian story." Of Washington, who died suddenly of an aneurysm at age 47, Streets said, "I couldn't have had a better brother in the spirit and intellectual partner." 
While at YDS, Streets and his family became active at Dixwell Church, where he was supported and mentored by the senior pastor, Dr. Edwin R. Edmonds. The pastor had earned a Ph.D. in ethics from Boston University; he was a friend to Dr. Martin Luther King, Jr., and a social activist in his own right. Edmonds encouraged Streets to run for the New Haven Board of Alders, an election he won and an experience he values.  
Streets' deep connection to Dixwell Church and its people led him to rejoin the congregation as Senior Pastor in 2012. "Our oldest active member is 105," he said, then chuckled. "When I first went back, she reminded me who I am." 
Ministerial beginnings
Streets' first ministerial assignment after YDS was as senior pastor to Mount Aery Baptist Church in Bridgeport, one of the city's largest congregations. Over the course of 17 years, he led the congregation as it achieved significant growth, built a new church edifice, and developed social outreach programs and ministries. 
Eager to develop his pastoral counseling skills, Streets pursued advanced work as a Ph.D. student in the department of religion and psychiatry at Union Theological Seminary. However, the demands of the parish and his course of study were such that he took a leave of absence from Union. A friend who was a clinical social worker suggested he consider a master's in social work. Around the same time, the Wurzweiler School of Social Work at Yeshiva University inaugurated an MSW program for clergy. Streets saw a chance to combine his interests in the study and clinical practice of social psychology with theology and social justice, while also growing his pastoral counseling skills. 
These diverse fields have become ever more closely linked over time, according to Streets. "In recent years, social science in general and psychology in particular have begun to mine the importance of understanding spirituality and religion in the growth, development, and behavior of people," he said. "Understanding the social context of this growth, the behavior of people and how they derive meaning for living is at the heart of social work education, supervision and practice. It is also at the core of practical theology, pastoral theology, and pastoral care." 
Streets' habit of juggling multiple commitments thus had meaningful theoretical underpinnings. He began to pursue work as a psychiatric social worker at the Greater Bridgeport Community Mental Health Center in 1984 and to teach at YDS three years later. He picked up his doctoral studies at Yeshiva and completed his degree in 1997. He continues to publish in the area of pastoral theology, psychiatry, and social work. 
Yale chaplaincy
In 1992, Streets reached a momentous professional milestone when he became Chaplain of Yale University and pastor of The Church of Christ in Yale.
Under Streets' leadership, the University undertook a major study of Yale students' religious values, beliefs, and practices, which was circulated to heads of college, the office of the dean, and the president. Streets also sought to address issues of social concern through programming sponsored by the chaplain's office and by bringing in guest speakers on such topics as racism, homophobia, the environment, labor, terrorism, and religious diversity. Streets pursued a multi-faith focus, making Yale's chaplaincy one of the first in the nation to do so. He appointed the first Muslim chaplain and identified a dedicated prayer space for Muslim students in spring 2001. 
Serving as Yale's chaplain was "a wonderful opportunity to further use and integrate my knowledge and skills in clinical social work and parish ministry in a higher education context," Streets reflected. "I felt a deep synergy between my sense of vocation and the ethos and mission of Yale. I saw my work as being Chaplain to the entire university community, especially to the students." 
"I brought to my work as Pastor of the Church of Christ in Yale the rich resource of my experiences in the Black church," Streets added. "I also delighted in furthering a partnership between Yale, the Black community, and the wider New Haven communities." 
Streets reflected on the history of the Yale chaplaincy and church in the book he edited honoring Yale's tercentennial, Preaching in the New Millennium.
Pastoral counseling
Transitioning from the Yale chaplaincy in 2007, Streets began teaching as the Carl and Dorothy Bennett Professor in Pastoral Counseling at Yeshiva's Wurzweiler School. In 2008, he was named a Senior Fulbright Scholar and awarded a grant to study and teach theology at the University of Pretoria in South Africa. There, he concentrated on the intersection of the church, the public health system, the trauma associated with HIV and AIDS, and racial reconciliation. He continued aspects of this work in South Africa in 2010 and 2012. 
At YDS, Streets has taught courses in preaching, church administration, and pastoral counseling and has assisted in the work of the field education office. "Teaching for me has been like becoming a better parent as you get older," he said. "You age in wisdom, grow in knowledge, and increase your skills." 
Streets' wife, Annette, is a YDS alum, Class of 1981, and former Associate Director of the Yale New Haven Teacher's Institute. 
This past June, Streets taught a YDS Summer Study course that reflected on how experiences such as the current pandemic inform the practice of ministry. Titled "Living Faithfully in Uncertain Times," the course encouraged participants to consider how the stresses of the past year sometimes triggered a sense of failure due to outsized expectations of what kind of work should be possible, even under extreme circumstances. "Ministers are sometimes plagued with this need to meet the needs of others at their own expense, which was only made more acute during the pandemic," Streets said. "They were judging themselves as not being sufficiently faithful, because if they were faithful enough they wouldn't feel depleted. Whereas depletion is a normal reaction, and it's a signal that you need to balance—not to give more, but to give differently."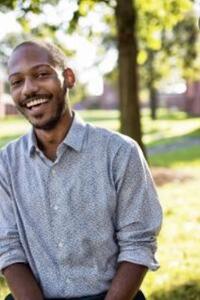 New student prize in his honor
Streets was surprised and honored this year by the creation of a YDS student prize in his name, awarded at commencement to a graduating student deemed to have made a distinguished contribution to the advancement of social justice. He was especially pleased that the inaugural award went to one of his own advisees, JaQuan Beachem '21 M.Div. 
Both Streets and Beachem have strong ties to Andover Newton Seminary at YDS. Streets is an Andover Newton fellow and teaching team member; Beachem completed Andover Newton's certificate program and has taken the two-year post-graduate position as Andover Newton's Director of Community Development & Spiritual Formation.
"JaQuan represents a generation that is really seriously looking at what commonly is referred to now as the intersectionality of different dimensions of social and political life," said Streets. "The hope he symbolizes for me is the sensitivity to social justice and awareness of being a global citizen and how those traits are interconnected." 
Such connections, after all, have been at the heart of Streets' many careers—and his one calling, as a minister. 
Justin Harmon is a writer specializing in higher education and a communications consultant for educational and nonprofit organizations.