Books by academics generally reach scholars and students in a given field and advance frontiers of knowledge. They operate at the cutting edge, which by definition is the domain of fellow specialists. Amazon best-seller status? Appearances in mass-audience television programs such as the "Today Show"? Not expected.
But those are exactly the experiences of YDS Professor Miroslav Volf and two Divinity School scholars since the recent release of their new book, a sign that the culture is hungry to learn about the keys to a meaningful life.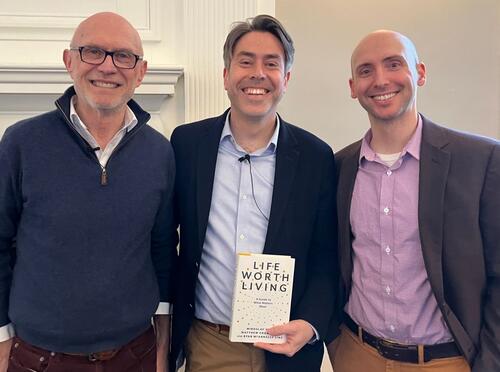 In Life Worth Living: A Guide to What Matters Most (The Open Field), Volf, Matthew Croasmun '06 M.A.R., and Ryan McAnnally-Linz '10 M.A.R. bring their audience into conversation with many of the great figures in religion and philosophy, such as Jesus, Socrates, Martin Luther King Jr., Thich Nhat Hanh, Ida B. Wells, Friedrich Nietzsche, and Oscar Wilde—with the aim of helping their readers discern how to live a life worthy of their humanity.
The book is "a toolkit for thinking well about life's most important questions," says McAnnally-Linz, Managing Director of the Center for Faith & Culture at YDS.
Miroslav Volf on the Today Show: Watch the segment.
After its release on March 28, the book shot to the top of the Amazon best-sellers list, reaching No. 1 on March 29 and No. 6 for its release week. Life Worth Living also peaked at No. 1 at BN.com (Barnes & Noble) and made the New York Times best-seller list in the "Advice and How-to" category. The publisher quickly ran out of copies and had to order a second print run, more than double the size of the first.
Life Worth Living is being translated into eight languages, including Arabic, Chinese, Korean, German, and Portuguese.
The book is the latest manifestation of the Center's decade-long Life Worth Living project, which previously was best known for the popular classes it offers for Yale undergraduates. The curriculum has spread to other universities and schools as well as public programs and workshops.
Coauthor Croasmun, who is Director of the Life Worth Living program, sees the public response to the book as a sign that "people are hungry to ask and begin to wrestle with life's big questions." Adds Croasmun: "These questions are never urgent, but they are always important; they require us taking time to take them up. If we don't, life goes on, but can begin to feel hollow. I think people want more than that hollowness and are willing to invest time and energy to dig deeper."
Volf, Henry B. Wright Professor of Systematic Theology at YDS and Founding Director of the Center for Faith & Culture, stressed in his "Today Show" appearance that people today are too easily caught up in the culture's superficial notions about a meaningful, successful life—such as how much money they make and what they can buy with it.
"(The) trouble with money is that pretty soon it morphs from being a means to achieve certain ends to being an end in itself," Volf said.
'Life Worth Living' coauthors on the Tamron Hall Show: Watch the segment
The coauthors make a similar point about many people's focus on effectiveness—the ability to get what they want and accomplish what they set out to do—without reflecting on the worthiness of the pursuit. They urge readers to go deeper and ask, "What is worth wanting"?
"We find ourselves running through life, searching for one thing after another, often in a kind of rat race, often chasing an elusive goal and never quite getting there," Volf said on the Tamron Hall television show. "It's really helpful sometimes to stop and ask, 'What truly matters?'"