By Timothy Cahill '16 M.A.R.
In 2017, the Rev. Dr. Rena Joyce Weller Karefa-Smart '45 B.D. was presented with the Lux et Veritas Award, one of Yale Divinity School's most prestigious alumni honors. After making YDS history as its first Black woman graduate, Dr. Karefa-Smart went on to a life of groundbreaking achievement. She was the first Black woman to earn a Doctor of Theology from Harvard and the first female professor to receive tenure at Howard Divinity School. In 1948, she was a leader in the founding of the ecumenical World Council of Churches, and in the 1960s was a front-row witness to the liberation of Sierra Leone and other African countries.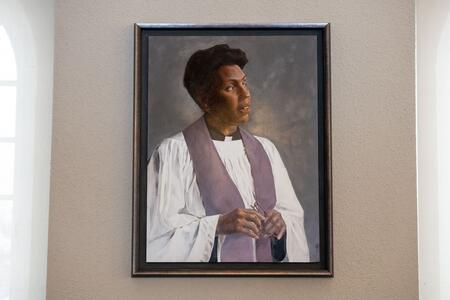 "The inspiration you've stirred for generations of African American women at Yale Divinity School and beyond is incalculable," the Lux et Veritas citation declared. Karefa-Smart was 95 at the time, frail and soft-spoken. Following a sustained standing ovation, she said of the honor, "It gives me a second life, to think back … and know that I have not been forgotten."
Dr. Karefa-Smart died in 2019 at the age of 97, but her words echoed loudly at YDS once again at a ceremony in the packed YDS Common Room last month. Far from forgetting, the Divinity School community came together that day to enshrine Karefa-Smart in its most prominent hall of memory, the portrait gallery in the school's Common Room. There, with her two daughters and a granddaughter present, a painting of the pioneering alumna was added to the collection of artists' portraits that ring the high walls there, immortalizing her among other pivotal figures in YDS history.
The portraits in the large, bright room, a daily crossroads for the school, are dominated by robed scholars and bookish academics, some solemn, some benevolent, and all, until 2018, white. That year saw the addition of a portrait of James W.C. Pennington, who in 1834 broke the color line as the first Black person to sit in on classes at YDS. Karefa-Smart now joins him, completing another chapter in the effort led by Dean Greg Sterling to recover the school's diversity history and celebrate those who withstood racism and resistance to obtain a Yale Divinity education.
'Not forgotten': View a gallery of photos from the portrait unveiling ceremony.
Karefa-Smart, born in 1921, arrived at YDS in 1944 with an exceptional academic record. Having entered college at the age of 15, she had received a bachelor's degree in education from Teachers College of Connecticut (now Central Connecticut State University) and a master's degree in religious education from Drew Theological Seminary in New Jersey, and she had taught for two years at Hood Theological Seminary in North Carolina. She had also taken courses at Howard University, where she knew Howard Thurman.
None of these accomplishments, however, shielded her from the "institutional racial discrimination" she encountered at Yale, the New York Times reported in its 2019 obituary. "Because she was black, she was not allowed to live on campus and had to stay in a boardinghouse, which made it harder for her to feel a sense of belonging," the Times wrote.
Overcoming obstacles and indignities, Karefa-Smart studied at YDS with faculty legends H. Richard Niebuhr and Liston Pope, both of whom "helped deepen her ecumenical passion and ethical themes," as editor Ray Waddle observed in Reflections after her death. In the Common Room, her portrait now hangs near Niebuhr's. 
"Because of transfer credits from Drew and Howard," wrote Waddle in his tribute to Karefa-Smart, "she was able to complete her YDS work in a year…. [By then] post-war social forces were gathering—independence movements in Africa, a civil rights movement in the U.S., a surging ecumenism in denominational circles—that pulled her into far-ranging Christian activism. Before Martin Luther King Jr. and James Cone and Katie Cannon, she would be a theological witness on the world stage when mentors for women of color were rare."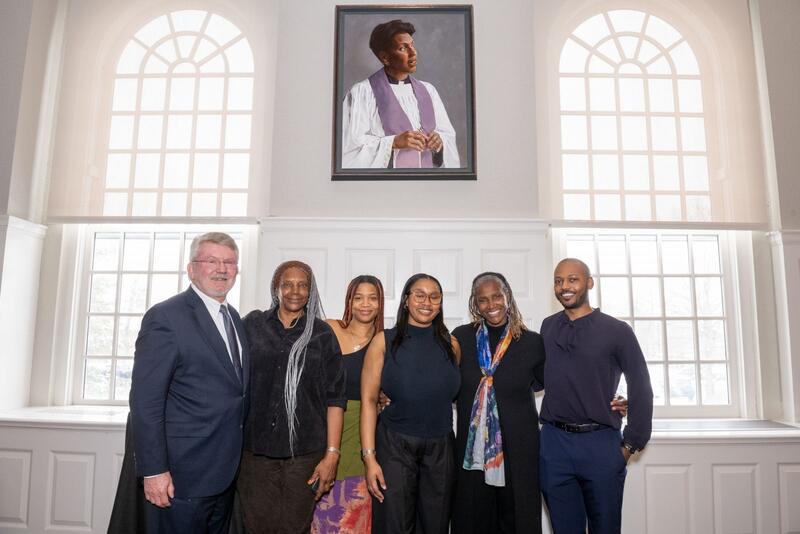 In 1948, she married John Karefa-Smart, a Sierra Leone physician, minister, and statesman she'd met at a conference in Norway. He worked as a rural doctor, then entered politics, and in 1961 was instrumental in negotiating Sierra Leone's independence from Great Britain. Four years later, the couple moved to Geneva, where John served as Assistant Director General of the World Health Organization. Wherever her husband's work took her, Rena Karefa-Smart advanced racial justice and religious unity through the World Council of Churches. In the 1970s, with the family stationed in the U.S., she made history again when she earned her Th.D. at Harvard Divinity School.
To capture the spirit of this dynamic woman, YDS commissioned the then-25-year-old African artist Louise Mandumbwa '24 M.F.A. Born and raised in Botswana by parents who were academics, Mandumbwa had earned her B.F.A. at the University of Central Arkansas, exhibiting in group shows in New Orleans, Miami, and New York. In early 2022, at the time she answered the commission's call for entries, she was still waiting acceptance into the M.F.A. program at the Yale School of Art, where she is now a student.
The new portrait depicts Karefa-Smart against a neutral gray background, looking as she did in her mid-50s, astute, righteous, handsome, and engaged in lively thought. An ordained African Methodist Episcopal Zion minister and Episcopal priest, she is dressed in a loose white surplice, or robe, over a black clergy shirt and white collar. A simple lavender stole hangs around her neck. She's wearing a thin gold wedding band and large decorative earring and holds what her daughters recalled were a ubiquitous pair of glasses.
The 40-inch-by-30-inch portrait is inspired by a 1970s black-and-white press photograph and strongly informed by the painter's personal research, including conversations with the honoree's family. The daughters told Mandumbwa about their mother's sense of etiquette, her decorum, her sense of purpose, and how carefully she presented herself in public, right down to her orange lipstick.
"I asked where she was most comfortable or most herself … thinking holistically about her career and her accomplishments," Mandumbwa explained. The finished portrait represents, "a series of decisions made to get at the most sincere representation of this person and the life that she lived."
"Any time you paint someone," Mandumbwa continued, "it feels like learning them in a very particular light. Something happens in that process. There's the likeness you're trying to capture, but then there's something else, something outside of the recognizable image that grasps at the atmosphere of your subject. I find that happens specifically in painting someone's eyes, [a sense] that you are getting at something, drawing closer to the spirit of something that feels true, honest, sincere."
At the portrait ceremony on February 28—the last day of Black History Month—unveiling honors were performed by JaQuan Beachem '21 M.Div., Director of Community Development and Spiritual Formation at Andover Newton Seminary at YDS and the chair of the five-member task force that selected Mandumbwa from more than 60 submissions. As the cloth fell to reveal the portrait, the Common Room crowd erupted in delighted gasps, cheers, and raucous applause.
The enthusiastic response, the painter said, was "surreal."
"There comes a point when you have lived with a painting for so long that you can no longer see it," said Mandumbwa. "You feel that you're on the right track, that you've really captured something, and things feel aligned and right. But with enough time in the presence of an artwork, even that feeling becomes a little blurry."
"So, to have people respond to it so sincerely meant so much," she added. "And most importantly for me, for the family to say that they really felt like their mother had come alive in the work, that it captured something that was special to them about this person they knew more intimately than the institution ever could, that is something that I will certainly hold on to."