Nicole Perone '16 M.Div. recently returned to the U.S. after a trip to the Vatican to speak on the "Voices of Faith" panel event on women in the Church. We sat down with her to learn more about her experience and her hopes for the Church.
YDS: Tell us about your experience in Rome!
Nicole Perone: I was honored to speak on a panel in the Vatican on International Women's Day. As part of the Voices Of Faith event, our panel conversation addressed the topic of women's leadership in the Roman Catholic Church. It was especially exciting to be in the Pontifical Academy of Sciences, which is located in the heart of the Vatican, surrounded by Vatican employees, the media, and other women doing outstanding work for the Church and world.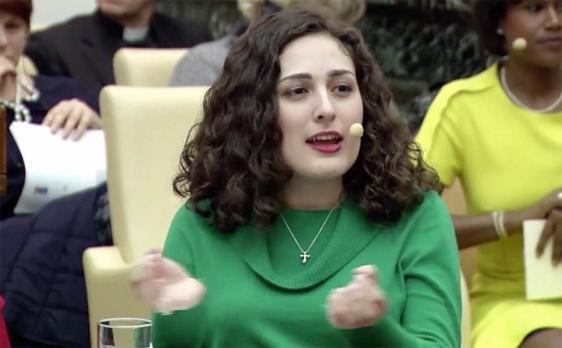 My fellow panelists included Catholic Relief Services' president and CEO Carolyn Woo (who will be leading a YDS Transformational Leadership course in April); Geralyn Sheehan, country director for the U.S. Peace Corps in Colombia; Petra Dankova, a postulant for the Sisters of the Holy Redeemer and longtime social worker with refugees; and Gayatri Lobo Gajiwala, an English teacher in India and my fellow millennial. Needless to say, I was surrounded by brilliant and passionate women who, like me, love the Church and want to see it reach its fullest potential. We discussed where the Church has done well in regards to women, and some creative, concrete suggestions for how the Church can improve.
YDS: You have been outspoken about the need for more opportunities for women to lead in the Church. What would that look like in practice?
I think that change in the Church must come from the top-down and the bottom-up, that mission might meet in the middle.
There are so many ways for women to enter the structure of the Church and bring their voices to the table (from the top-down). Such examples include parish councils, pastoral advisory councils for dioceses, and strengthening the numbers who consult for the bishops' conferences and Vatican dicasteries. I also can't help but wonder why the Pontifical Councils for the Laity and the Family are both run by priests. Those are just two of the many opportunities for lay leadership (especially women) to be implemented.
Further, women in visible leadership is just as important. I would like my mother or my grandmother to be able to name women in leadership in the Church. Just as they can rattle off the names of the major prelates, or perhaps well-known priests who make appearances on television, so too should they be able to name women in the Church doing amazing and important work.
When imagining the Church of the future, what interests me especially is a cultural change as much as a structural one (the bottom-up). What message do we send in our parishes, our dioceses, our Catholic nonprofits and service organizations, to women and young people? When we sing "all are welcome in this place," do we mean it? When young people want to be a lector or Eucharistic minister, do we welcome them or turn them away? When women want to start programs that meet a need, do we find ways to support their ministries or do we scoff? It is day-to-day behavior that changes institutions, like the river running over the rock which wears a path over time.
The fact is, we want to empower women and young people – so, specifically, young women – to engage with the Church in a real and life-giving way. Millennials have been told that they can be and do anything in secular fields and taught to really bring their gifts and talents in other areas of society – and the Church is the only space that is not the case. We do the Church a disservice when we do not tap into the resources that young people and women are. There is a wealth of service to the Church to be had, if only we allow it to blossom.
YDS: Why are you choosing to advocate for change rather than move on to a denomination that affords women more opportunities to preach and lead churches?
This is truly an important question, and one I am asked often. I love the Roman Catholic Church. I truly do, even despite what I see as its human shortcomings. The analogy I use is a familial one: the Church is like my mother. My mother and I don't agree on everything; sometimes, we argue, and there are days when we are close and there are days when I want to run away! However, at the end of the day, she's still my mother. In no way can she be "un-mothered." We are forever connected in that way. Just so with the Church: we don't agree on everything, and sometimes I want to just give up, but in the end, it's still an integral part of my identity and being. 
To me, this is vital to my own vocation: I believe that I can accomplish the most good for the betterment of the Church while working from the inside, earning a place at the table. If everyone leaves, no voice is left to make change happen. By demonstrating that theologically educated and passionate women can and should be engaged in leadership and decision-making, it would build a long-term future for women in the Church. I love the Church enough not to want to be punitive, but to help it really grow into its potential and tap into underutilized resources – I want to plant the seeds for a future that may not be my own.
(NB: In no way would I want my choice to stay in the Church to be a condemnation or criticism of women who have chosen to leave. Each person's spiritual wellbeing and vocation are his or her own, and there is no "right" answer. Certainly, my heart is saddened when people feel they must leave the Church, but the Holy Spirit moves in a way which surpasses all understanding.)
YDS: How has your experience at YDS influenced your engagement with these issues?
I believe that being in an ecumenical setting has actually helped me to become a better Roman Catholic, because I have been challenged to analyze and articulate what I believe when questioned. YDS has its own growing edges in regards to Roman Catholic life in this community, but I think that being unafraid to raise my voice, occasionally as "the token Roman Catholic," has been integral to my own development. By asking questions in my own community at YDS, I have felt strengthened to ask questions within the larger Roman Catholic context.
YDS: What are you doing after you graduate in May?
I will let you know when I know! I have begun the job search in earnest (probably too earnestly - I started back in December, overachiever) looking at various Roman Catholic archdioceses and organizations. Some sites of interest include the major archdioceses of the Northeast United States, which are historically Roman Catholic epicenters. Many Roman Catholic organizations and nonprofits have also come up in my search. I will go where God needs me to be in order to most effectively serve the Church and help it to continue to grow and flourish in the mission of the Gospel.
Editor's Note: The full video of the "Voices Of Faith" 2016 event can be found here. The panel on which Ms. Perone served  begins at approximately the 1:40:00 mark.
Here is a sampling of media coverage of the event:
Interviews with Nicole Perone on the America magazine podcast and Vatican Radio
"Doing the heavy lifting: Women leaders share their stories at Vatican event," Catholic News Service, March 9, 2016
"International Women's Day – knocking on the Church's door," Jesuit Refugee Services, March 8, 2016
"Women Are Knocking on the Door of the Church," America magazine, March 9, 2016
"Vatican event calls for boosting women's roles in the world and the Church," Crux, March 9, 2016
"Women share struggles at Vatican event, skirting issues of ordination, governance," National Catholic Reporter, March 9, 2016