By Jamie Holmes '86 M.Div.
"Why would you want to move back to a place that has earthquakes!!?" This is the question my classmates put to me when I graduated from YDS in 1986. "We don't have earthquakes in my part of Northern California," I'd explain. "We're not afraid of them. We're scared of fires." 
Three decades ago, the wildfires in California were puny compared to what they are now. Tragically, California has become famous for the frequency, size, and deadliness of its fires.
Most of our fires don't make the national news. But the so-named "Camp Fire" on the morning of November 8, 2018, made international headlines. It has been the deadliest and most destructive fire in California's history … so far. Without warning, it incinerated towns located on a ridge in the foothills of the Sierra Nevada mountains, obliterating 95 percent of the town of Paradise and burning much of nearby Magalia and Concow within six hours. It destroyed 19,000 buildings—most of them homes.
Eighty-six people died "officially." The bones of homeless people who likely lived in the woods will probably remain undiscovered and unidentified.
The firestorm forced a terrifying evacuation as 52,000 people tried to escape on only four roads off the ridge. Like the Hebrew Diaspora that fled in 586 BCE from the land now known as Israel, the population of Paradise scattered to save their lives.
My husband, Ralph, and I live twelve miles from Paradise in the town of Chico. Although the fire was stopped three miles from our home and the worst was farther away, 50-mile-per-hour winds shot embers a mile and a half at a time—the length of a football field every second. We were two gusts away from having embers landing on our roof, too. 
I always figured if our house caught on fire, the nice muscular firemen would come and put it out, and the next day I'd gratefully deliver homemade cookies. Coming to terms with the real possibility of an "urban inferno"—and knowing fire "season" is year-round now due to global warming—we've become more vigilant. We watch for fire alerts and have our evacuation plan and "go bag" ready now.
I grew up in Paradise. When the public was permitted, I drove "up the hill" to see what happened to our former home and take pictures for my brothers. We hadn't lived there in decades, but I was unexpectedly shocked to see the house reduced to four inches of debris, ash, and contorted metal.
Started by a spark from a faulty power line in a nearby canyon and fueled by drought-ravaged forests and high winds, the Camp Fire burned extraordinarily hot and fast. Outdated forest management policies, droughts induced by climate change, negligent power companies, and urban encroachment into wildlands are among the causes. In Paradise and surrounding towns, the cell phone emergency-notification systems were either non-existent or pitiful and only in English. Most of those who died didn't have time or means to escape before the fire engulfed them. Some refused to evacuate believing the fire would be put out. Four died in their cars in gridlock.
Drivers describe moving three to eight miles an hour between walls of flame. Some cars ran out of gas; some stalled when engines were choked by raining ash. The dense red smoke severely limited visibility; people who abandoned their cars had to feel for hot metal to locate the vehicle in front of them. Paint peeled off barely moving cars and tires exploded from the heat. There is footage of a cyclone-like tower of flame and fire balls falling through the smoke as the fire created its own microclimate. By noon, sunlight turned midnight. The apocalyptic images in the Book of Revelation don't seem so fantastical now.
People tell how they called loved ones from their cars to say last good-byes until the cell towers burned and phones became useless. Parents reassured their little ones in the back seat. In one video you can hear the child cry, "The windows are hot and there's fire!" Parents of school-age children desperately hoped they would be rescued when they couldn't get to them. Teachers put kids in their cars when the buses were full; one bus driver tore his t-shirt into strips for the children to cover their mouths to avoid breathing the grit in the air. 
There is the account of the woman who had had a baby by C-section hours before the flames gutted half the hospital. As she was being evacuated in a nurse's car with her IV line draped over the rear-view mirror, she told him, "If it gets to the point where we're trapped in the car, take the baby and run. I can't."
There is the story of the emergency dispatcher who could only tell each frantic caller, "The whole ridge is on fire. Get out now. No one is coming to help you. I'm hanging up to take the next call." 
Nonetheless, some of the anecdotes are heartwarming instead of horrifying. Like the one by the woman who safely rescued a stranger's dog whose fur was on fire. And the paraplegic patient who managed to tape a "help" sign on her window and was rescued. The gas-guzzler someone had siphoned two nights before the fire that had only two gallons left but didn't run out of fuel for several hours when it should have. Is this not Paradise's version of the Hanukkah miracle of the Temple menorah staying alight for eight nights despite lack of fuel?
Evacuation accounts have been included in two documentaries, with more to come. "Paradise Lost: Inside California's Camp Fire" was featured on "60 Minutes," and "Fire in Paradise" on Netflix. Those, plus personal videos you can see on YouTube, will show you more than I can describe here. 
A volunteer chaplain, I was called in by the command center of Chico's hospital, Enloe Medical Center. Loretta, our Jewish chaplain, and I were assigned to a group of doctors and nurses who had evacuated remaining patients in their cars from Paradise's burning hospital (which is now permanently closed). Loretta gathered the group and read them a prayer. It affirmed that we know God is in charge, that God is not responsible for life's catastrophes, and that life couldn't feel much worse than it felt right now. It was the perfect prayer for people who had been slammed by a catastrophe that was just beginning to sink in.
It's been 14 months since the fire, but it's still common to hear evacuation accounts from my patients. Many have been admitted with stress-related, respiratory, or cardiac conditions. Some people cry when telling me what happened to them and their animals, but just as often events and feelings are recounted without any emotion at all. PTSD is prevalent.
Even so, aid and compassion have also prevailed. Onetime pop-up sites distributed everything from shovels to shoes within a few hours as word spread. Money arrived from all over the world. Governmental agencies and generous non-profits rushed into action. Many people took strangers into their homes for days, weeks, or months. These acts of kindness and caregiving were manna for people living in diaspora.
Although a few dozen have moved back or rebuilt their homes by now, way too many survivors are still homeless. They and their families still live in tents, RVs, trailers—even their cars—without electricity, running water, or adequate heat or cooling.
Like the so-called lost tribes deported and dispersed from Judea, thousands of Camp Fire victims now live in their own version of exile. Renters and homeowners who were under-insured or uninsured were left with little or no compensation. Chico's housing market became outrageously competitive as prices sky-rocketed overnight; the district attorney went after gouging landlords. Within days there was nothing to rent or buy in a hundred-mile radius of Paradise. Those who had to move too far away to commute to their jobs had to quit. Displaced parents had to enroll their children in new schools. Consequently, children have suffered a special kind of emotional displacement from losing their friends, pets, belongings, and all that was familiar.
The spiritual toll has been high, too. Some have survived in body but not so well in heart or spirit. Disaster responders were trained to be especially alert to first-anniversary reactions ranging from deepened depression to heightened anger and more. In the two months since that anniversary, we've seen these predictions come true for some. But we've also seen people who made it through 2019 and that critical anniversary with renewed resilience.
The Camp Fire caused death and diaspora. Yet we see how many have overcome what has been called "our 9/11."  I believe it is ultimately the sustaining power of love—both human and divine, given and received—that has enabled victims to become survivors. It is summed up in the simple but profound children's prayer said every Sunday in my church, Faith Lutheran: "God, we love you. Thank you for loving us. Help us to love others."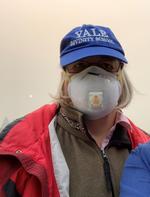 Jamie Holmes is a retired management consultant, trainer, and mediator. She now serves as a volunteer hospital chaplain and leader in her congregation's Stephen Ministry program.