By Kimberly Winston
Ten years ago, Pauline Samuel '17 M.Div. was a parish administrator at her childhood church, St. Philip's Episcopal/Anglican Church in Brooklyn, when its leader, the Rev. Carver W. Israel, asked her to save the date for the annual diocesan Discernment Day workshop for those exploring a call to ordained ministry.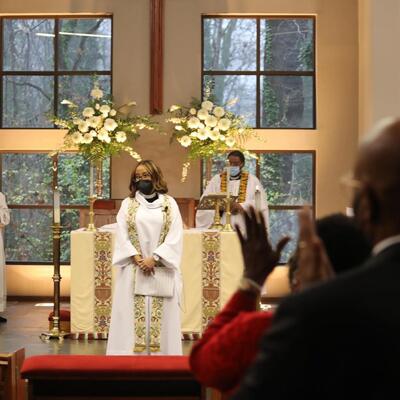 Samuel thought he wanted to attend, so she put it in his calendar. But Father Israel, as he is known, stopped her and said he wanted her to attend. Then he asked her a single question that would change the course of her life: "Have you ever thought about the priesthood?"
"And I was like, you know, looking over my shoulder to see who he was talking to," Samuel said recently. "Not me! I don't have time for that."
But with Father Israel's support, she made the time, beginning a years-long journey that would take her from Brooklyn to Yale Divinity School and, ultimately, to the pulpit of St. Paul's Episcopal Church in Atlanta, where she is now the storied congregation's first woman rector.
It was a journey, she said, that felt like a homecoming even before she stepped into the pulpit last November. "It kind of reminds me a little bit of my childhood parish," she said. "It just felt warm, welcoming, and familiar."
Samuel, who completed her studies at Berkeley Divinity School and YDS in 2017, credits the Anglican focus of Berkeley and the broader scope of YDS with equipping her to lead St. Paul's.
"It was the balance of the two schools," she said. "It wasn't just Episcopal all day. There was communication about different walks of faith, different denominations and some great conversations on theology and field training."
St. Paul's also prizes ecumenical and interfaith experiences. It was founded just 15 years after the Civil War by a group of Black families, making it the oldest continually worshipping predominantly Black congregation in Georgia. Its 500 members are dedicated to outreach beyond their immediate community through food drives, COVID testing and vaccination services, a death and dying ministry, the mentoring of Black youth, and services for the unhoused and economically stressed.
Joy Jones chaired St. Paul's pastoral search committee. She said of the four or five serious candidates for the job, Samuel was the clear leader, beginning with the essays in her written application.
"Every answer she gave us just indicated her true, deep interest in us," Jones said. "She really talked to us about how we could actively neighbor" — engage the outside community in meaningful ways — "and that really resonated with us. Then when we did a Zoom call with her,  she really understood that we value being both Episcopal and African American."
Beverly Lloyd was also on the committee that hired Samuel. She knew they made the right choice from Samuel's first Sunday at St. Paul's, she said—not because of the way she preached, but because of the way she listened.
"She takes the time to get a feel for where people are in relation to the church," Lloyd said. "That has made her very inviting, not standoffish at all, and just embracing everyone and being so excited to see them there."
Samuel comes to St. Paul at a particularly trying time. Like it has for many congregations, COVID-19 first pushed this close-knit community to online services, and now to a "hybrid" service — streaming live while also welcoming some masked and socially distanced worshippers. Its ministries and programs have had to adjust to the new normal, as well.
Samuel says she is up to the challenge.
"How do we navigate life in a pandemic where there's a sense of community, both in the building and online?" she asked. "How do we effectively blend those two so everyone feels that their spiritual needs are being met and that they still feel connected? You know, it's not just about what we do on Sunday; it's about what happens the rest of the week and how do we show up for those who need us?"
At YDS, Samuel was Vice President of Yale Black Seminarians. Berkeley Dean Andrew McGowan credits Samuel with helping him discern a more just relationship between the Episcopal Church and its Black members.
"Black Episcopalians have their own journeys and needs and don't need to be a source for white Episcopalians' own anti-racism work," he said. "Black Episcopalians deserve to be seen on their own terms, so I feel very encouraged and optimistic about her place at St. Paul's."
McGowan likened her to Michael Curry '78 M.Div., Presiding Bishop of the Episcopal Church and a superstar preacher who conducted the wedding between Meghan Markle and Prince Harry. Curry has brought the Episcopal Church into the spotlight by consistently inviting people to follow Jesus in the way of love.
"I see a resonance in terms of their priorities," McGowan said. "She is a 'Jesus first' person who understands the first thing her parish is going to want to know about is not politics, but the Gospel."
Two months after her installation at St. Paul's — a ceremony that brought friends and family from New York and beyond — "Mother Samuel," as she is now known, is settling into her new role. She's still a Yankees fan — sorry Braves! — and she is exploring Atlanta's cuisine and getting used to the notion of driving everywhere.
And she has some advice to YDS students who hope to lead a church someday.
"Trust the process" of being called," she said. "Trust that God has brought you to this place and will continue to equip you with the tools that you need. Don't feel that you need to be perfect, that you have to have all the answers, because you do not. You will not. And advocate for what you need. Advocate and believe that you have a voice and that God is calling you to do something."
Kimberly Winston has been reporting on religion for 25 years, her work appearing in outlets including the Washington Post, Los Angeles Times, USA Today and NPR.org. She is a graduate of the journalism school at Columbia University and lives in the San Francisco Bay Area.