Gabby Cudjoe Wilkes '18 M.Div. remembers her late mentor Tony Campbell '85 M.Div.
***
Jessica R. Grimes-Matthews '04 M.A.R. was named to the Bakersfield, Calif., 20 Under 40 list.
***
Mary Evelyn Tucker, Senior Lecturer and Senior Research Scholar in Religion and Ecology at Yale Divinity School, was a speaker at an international rainforest-protection conference hosted by the King of Norway.
***
Daniel Shin '95 M.Div. has been named to Drew Theological School's new Chair in Evangelism.
***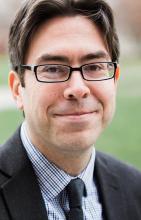 Matthew Croasmun '06 M.A.R., Associate Research Scholar and Director of the Life Worth Living Program at the Yale Center for Faith and Culture, has published a new book, The Emergence of Sin: The Cosmic Tyrant in Romans (Oxford).
***
R. David Lancaster '79 M.Div. was elected Moderator of the 187th General Assembly of the Cumberland Presbyterian Church, meeting in Tampa, Fla., June 19-22. He will represent the Assembly throughout the rest of the year and the first half of 2018 by meeting with presbyteries and various agencies of the denomination.
***
In Memoriam: Bishop William M. Philpot '53 M.Div.