Mark Schultz '17 M.Div. is one of the playwrights whose work is being featured in the Humana Festival of New American Plays.
***
Katrina Manzi '17 M.Div. has been elected the new settled minister of Middlebury Congregational Church in Middlebury, Conn.
Read more (login required).
***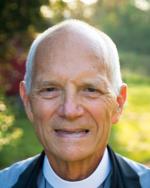 Jamie Maury '14 M.Div. and his church, the Community of St. Joseph, were featured in Savannah magazine.
***
Lynda Bigler '07 M.Div., Minister of Pastoral Care at Ainsworth United Church of Christ in Portland, Ore., has received the UCC's Virginia Kreyer Award for lifetime achievement as a person with a disability who has had a major impact on disability ministry through leadership, activism, and advocacy.
***
In Memoriam: 
David Baily Harned '54 B.A., '57 B.D., '59 M.A., '63 Ph.D.