As a member of a World Council of Churches delegation, Sang Chang '70 B.D., WCC president for the Asian region, met with the newly elected President of the Republic of Korea, Moon Jae-In, to discuss churches' role in peace initiatives for the Korean Peninsula.
***
As he runs for Governor of Massachusetts, Bob Massie '82 M.Div. is drawing notice for this emphasis on climate and democracy.
***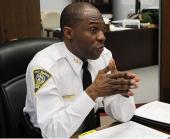 Anthony Campbell '09 M.Div. has been sworn in as the new police chief of New Haven.
***
Tisa Wenger, Associate Professor of American Religious History, appeared on the Mindpop podcast to discuss changing notions of religious freedom in America.
***
Joseph David Stinson '75 M.Div., minister of Glen Ridge Congregational Church in New Jersey since 1992, is retiring after 25 years at the church.
***
In Memoriam: