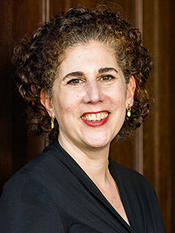 Laura Nasrallah, a Harvard Divinity School New Testament scholar newly appointed to the YDS and Religious Studies faculties, has been named Buckingham Professor of New Testament Criticism and Interpretation at Yale.
***
Jake Schrum '73 M.Div. is retiring as president of Emory & Henry College, culminating 27 years as a college president at Emory & Henry and two other institutions.
***
Katey Zeh '08 M.Div. has published a new book, Women Rise Up: Sacred Stories of Resistance for Today's Revolution.
Read the review in Book Reporter.
***
Matthew Croasmun '06 M.A.R., '14 Ph.D., Associate Research Scholar at the Yale Center for Faith & Culture at YDS, was interviewed by Faith & Leadership magazine on why theology must return to answering the big questions of flourishing and the meaning of a good life
***
Rapper J.P. Reynolds '13 M.Div. has released a new EP, "Rap Gumbo."
Read the press release and listen to the songs.
***
Mary Evelyn Tucker, YDS Senior Lecturer and Research Scholar and Co-Director of the Forum for Religion and Ecology, was given an honorary degree by Hebrew College.
***
The U.S. Catholic Bishops have appointed John N. Sheveland '99 M.A.R. to the National Review Board for the Chapter for Protection of Children and Young People.
***
In memoriam:
Rev. Francis L. Geddes '52 B.D.  
Rev. Robert E. Ziegler '52 B.D.