By Pressley Peters
This summer and last are arguably the worst two this century for college and graduate students seeking summer internships, especially if they had hoped to work in person.
This is no insignificant obstacle, given the critical role that internships and Clinical Pastoral Education (CPE) play in shaping divinity students and helping them develop their essential skills and practical wisdom.
Yet dozens of students, as well as the Divinity School's Office of Vocation and Leadership, have made the most of the adverse situation through resourcefulness and resilience. In 2020, when all in-person internship and CPE opportunities fell apart due to the pandemic, YDS was able to place 44 students in digital internships with nonprofits and churches. Even more are placed this summer—55 students in all, with 22 in remote and hybrid internships and 33 in CPE placements.
Ministering outdoors more typical in 2021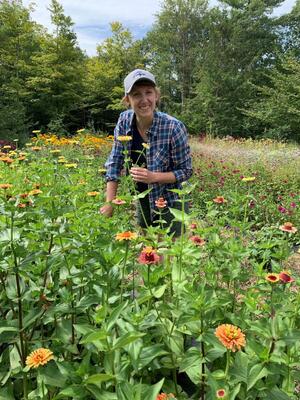 Caity Stuart '23 M.Div. is heading into a placement that reflects an essential reality of the past 16 months: It is safer to be outdoors than indoors. Stuart will be working on a faith-based farm.
Stuart is a second-career divinity student who worked for the National Park Service before coming to YDS to study religion and ecology. She will spend the summer interning at Mission Farm in Killington, Vt., and living in a farmhouse with other interns. Stuart expects her day to include attending morning prayers, farming the community garden and wheat field, taking care of animals, and tending to the farm's beehives and administrative work.
"When I think about this job, everything in my body relaxes," Stuart says. "I'll gather professional skills, but the biggest thing I'm hopeful for is rest and percolation."
She is also excited for the chance to learn first-hand about ecology and theology. "I'm increasingly interested in how we talk about environmental theology among our congregations. For example, there's next to nothing in the Book of Common Prayer for the climate crisis."
Stuart is also interested in environmental justice. "The Christian voice has been present in this space, but not as strong as it needs to be. I am immersing myself in Biblical studies and learning the foundational texts."  She adds, "It has been crazy during COVID, but also interesting and challenging and incredibly fulfilling to have such rich conversations with others who are exploring these intersections of failed systems. The world is changing rapidly, and we need to create systems of resiliency."
Theology and field placement
The YDS Office of Vocation and Leadership works to identify appropriate internship sites that align with each student's interests and vocational aspirations. Credit-bearing internships require 400 work hours during the summer months and a relationship with an onsite supervisor, along with regular theological reflection and peer discussion. Additionally, all M.Div. students are asked to form a team of trusted mentors they can engage with during their time in the graduate program.
The Office of Vocation and Leadership team consists of Jenny Davis '10 M.Div., Director of Supervised Ministry; Alison Cunningham  '84 M.Div., Director of Professional Formation; and Bill Goettler, Associate Dean for Ministerial and Social Leadership. Together, the trio helps students determine their vocational direction and discover internship options, while working to connect their contextual or field-based learnings to theology and the YDS curriculum. 
"Our long-term goal is to encourage students to be mindful of vocational calling while they're in divinity school," Goettler says. "We want them to think about the work of their lives while they're still here. We help with the placement of students so they can learn skills and build networks. We're also supportive in directing them toward coursework to inform the intellectual side of their vocational hopes."
Being present for COVID-afflicted hospital patients
Some ordination-bound students and new graduates, such as Joseph Cundiff '21 M.Div., are required by their denominations to complete both a field placement internship and CPE. Cundiff completed his CPE at St. John's Episcopal Hospital in Queens, N.Y., in 2020 at the height of the pandemic.
In 2019, a full summer before the pandemic, Cundiff had learned the ins and outs of ministry, from administration to pastoral visits to food pantry work, while serving as a seminarian intern at an Anglican cathedral in Madrid, Spain.
"At YDS, there's rich learning in the pastoral areas, plus interfaith dialogue and interreligious learning," Cundiff says. "For those of us called to parish ministry, a little more creativity is required. When I take heady classes like Race and the New Testament and consider how it forms me as a parish minister, I often think back to my experience in Spain."
In 2020, many in-person internships were canceled or postponed, but Cundiff was fortunate to have had the opportunity to serve in a hospital. He reports, "I got there just after the first wave. The hospital worked with Yale's COVID protocols to be sure interns like me were kept safe. It was an incredible opportunity to serve in the middle of a pandemic, in a hospital in the second hardest-hit neighborhood in New York City."
Cundiff says the hospital experience taught him a great deal. "What I'll take forward is how important it is to be present. I had to be there for patients when they needed me. If you're in this business, you have to make being present your thing. People are counting on you, and you don't know how and when they're going to need you. It's a blessing to be able to be a minister in that way with people."
Because of the pandemic, Cundiff and other recent graduates missed several experiences and milestones that typically occur in a student's final year at YDS. There was no in-person gathering for worship for the entirety of the school calendar (although daily worship did take place on Zoom). Also, graduating students in the Anglican Studies program at Berkeley Divinity School at YDS typically take a pilgrimage. That trip was a casualty of the pandemic this year and last.
"Half of the seminary experience has been online without community, without coffees and lunches and prayer together. These are an integral part of parish ministry. It's hard to try to make sense of it all," Cundiff says.
His next step is curacy with the Diocese of Long Island. "Yale has done a good job of preparing me, with the field placement and CPE both, along with book learning."
Effecting change in difficult times
Nedelka Prescod '23 M.Div. will spend her summer in an internship at Grace Baptist Church Women's Shelter in San Jose, Calif. Prescod, who is completing the program in Congregational Studies offered by Andover Newton at YDS, began her divinity education with 28 years of experience as an educator and musician.
Prescod will work with residents of the homeless shelter, where she expects to find women who have been silenced by society and abuse, and who may not know how to advocate for themselves. She plans to create opportunities for the women to express themselves through voice lessons and group activities like journaling and songwriting.
She describes her time at YDS during the pandemic as "getting completely broken down and rebuilt. I'm a communal learner. When I had to go virtual, I had burnout. Online was tiring in a way I didn't anticipate. Then I also had to build a new mindset, approach learning differently as a student. We had intricate conversations about things I'd never heard before. It was overwhelming and beautiful."
Prescod continues, "As difficult a transition as it was to return to being a student, I felt the need to ground myself in the perspective I've gained over the years. God has shown me the why of the path I walked, and now I can truly do the work I am supposed to do. I want to be effective in any change God will allow me to contribute to."
She has hope that both her challenging and life-giving experiences will prepare her for her future vocation. "The world has unfolded in a way I didn't expect. I trust all of this will influence me when I teach again and continue being an artist."

Pressley Peters is an award-winning writer specializing in philanthropy and marketing. She has 25 years of experience in content production, public relations, project management, and fundraising. She is a graduate of Rhodes College and lives in Dallas.