"Part of our role as musicians is to help the human heart release its tears so that we might sense anew the resilience of hope that we will never know if we have never wept."
Those words are the reflection of Edward and Ruth Cox Lantz Professor of Christian Communication Thomas Troeger on his experience team-teaching a hymn-writing course with former ISM Lecturer Patrick Evans. He remembered being struck by the number of student projects that focused on lament songs, and by the sense that the students had of the necessity and healing power of sorrow in worship.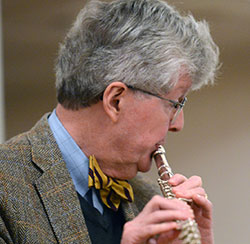 Thomas Troeger
Photo: Jean Santopatre '15 M.Div./Yale Divinity School
This reflection, along with many others, appears in Troeger's new book Music as Prayer: The Theology and Practice of Church Music (Oxford University Press, 2013) which was honored on January 23 with a reading and reception hosted by the Institute of Sacred Music and the YDS Student Book Supply.  The event took place as part of a yearlong "Literature and Spirituality" series in celebration of the ISM's 40th Anniversary. 
Troeger characterized the book as driven by "a lifetime of working, playing, and preaching with church musicians." As such, he interspersed his selections with musical performances on organ and piano, as well as congregational hymns. Accompanied on organ and piano by ISM Director Martin D. Jean, to whom the book is dedicated, Troeger also joined Jean on flute for a performance of Georg Philipp Telemann's "Triste" from Sonata in F Minor.
In keeping with this collaborative and interdisciplinary approach, the first piece offered by Troeger noted the common experience of awe-filled discovery across fields of study when an insight or work of art seems "plucked from the universe," so exactly does it express the harmony of creation. He invited listeners and readers to take these moments to celebrate the "visionary act" of human consciousness in science, art, and faith, "from an imagination that is alive to the deepest dimensions of reality."
Shifting to a different dimension of reality—biblical historicity—on January 28th Associate Professor of Old Testament Joel S. Baden joined Holmes Professor of Old Testament John J. Collins to discuss Baden's The Historical David: The Real Life of an Invented Hero (HarperOne, 2013). The event was sponsored by Yale Divinity School in conjunction with the YDS Student Book Supply. >Watch the full event online.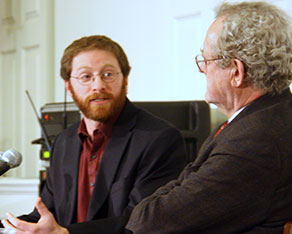 Joel Baden responds to John Collins
Photo: Dana Capasso '14 M.Div./Yale Divinity School
Through lively conversation—and some good-natured ribbing—with Collins, Baden described his approach to historical David scholarship as a question to answer: "Why does the story look the way it does? Why is it told in this particular way?"
Considering the "oddities" in the narrative, Baden argued, the David stories were likely written to serve as a political and theological apology for David's kingship, smoothing over the rough edges of a life of "running protection rackets, working for the Philistines, taking multiple wives in multiple unfortunate ways…nowadays we call it spin."
Given the embarrassing nature of some of David's activities—collaboration with the Phillistines, conflict with Saul, an affair with Bathsheba, and Absalom's revolt—Baden concluded that the biblical writers shaped the material to "describe what happened in the best possible light for [David]," noting that even the king's adulterous relationship with Bathsheba and murder of her husband Uriah display David as "a model of sin and punishment and repentance and forgiveness." 
In answer to Collins' final question—"Why does any of this matter?"—Baden paused before suggesting that there is value in affirming the biblical text as history while recognizing its agenda. "Is it history or is it story?" He noted that communities of faith for whom David is important might consider the extent to which "what we value is as much our own creation" in all biblical stories, while still affirming their power. 
Music as Prayer: The Theology and Practice of Church Music and The Historical David: The Real Life of an Invented Hero are available via the YDS Student Book Supply website. Contact micah.luce@yale.edu for more information.