By Moriah Lee '20 M.A.R.
If society has learned anything from the COVID-19 pandemic, it's to expect the unexpected. Yale Divinity School's Director of Professional Formation, Alison Cunningham '84 M.Div., is a prime example. She abruptly uprooted her work at YDS after being enlisted by New Haven Mayor Justin Elicker to help mitigate the effects of the virus on the city's homeless population.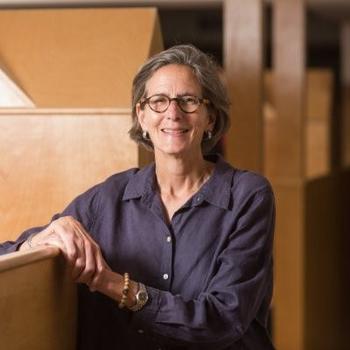 With the support of YDS Dean Greg Sterling, Cunningham has been dividing her work week evenly between the Divinity School and her emergency employment under Elicker, working as a key contributor in the city's effort to protect a population uniquely vulnerable to the coronavirus. 
For 20 years, Cunningham was Chief Executive Officer of
Columbus House
, a New Haven-based nonprofit organization dedicated to providing street outreach, emergency shelter, case management, and housing to Connecticut's homeless communities. In 2018, she was given the Divinity School's William Sloane Coffin '56 Award for Peace and Justice.    
Cunningham joined the YDS staff in 2019, assuming the new position of Director of Professional Formation and charged with creating programs for students interested in nonprofit leadership. This past semester she offered an intensive course in which students shadowed a nonprofit agency and its management, gaining insight on the skills and training required in nonprofit fields.  
***
***
Now Cunningham is once again taking her expertise to the city streets, working most closely with New Haven's Community Services Administrator, Dr. Mehul Dalal, to provide different sheltering solutions and intensive medical care for the homeless community. She cites inadequate sheltering as one of the critical issues she and her team face. 
"The problem when there's such a thing as a pandemic is that you want to get people out of congregate settings, and you really can't do that when there are 75 men sleeping in a shelter, and the bunk beds are only three feet apart," Cunningham says. "So, we've been pushing the state to help us figure out how to move people out of shelters as quickly as possible and into more appropriate and healthy spaces."
Hotel rooms have become a major solution to that problem. The city, with help from the state, has started renting hotel rooms for homeless individuals to minimize numbers in the shelters. 
"Many people experiencing homelessness suffer from chronic diseases or conditions that suppress their immune systems, putting them at risk of more severe disease if they do get COVID," Dalal says. "This is why one of our first priorities is to decompress the shelters and move individuals to hotel rooms."
For homeless citizens who do contract the virus however, a more creative housing solution must be found. Cunningham and her team have sought to resolve this issue by providing homeless citizens who test positive for COVID-19 a safe place to be discharged. Currently Cunningham is working with a team of clinical scholars to establish a facility at Hill Regional Career High School, where infected homeless persons without acute symptoms can receive shelter, meals, and medical attention. 
Despite the city's best efforts, people experiencing homelessness remain overwhelmed by the coronavirus. New Haven food programs and soup kitchens are now closed because of a lack of volunteers, and the closure of many restaurants has also limited the homeless community's food supply. 
City libraries shutting their doors translates to a loss of public restroom access, and the citywide shelter-in-place order has homeless individuals receiving far less charity than usual. 
"Folks who live on the streets and in shelters are used to going to different programs during the day, and now suddenly their safety net is being pulled out from under them," Cunningham says. "They're so afraid they're going to be left out and forgotten, and we want to ensure folks that we as community service-providers are pedaling as fast as we can to make sure they have their health watched over. [The virus] makes life very, very difficult for those who rely on the social services network. It's tragic."
***
YDS is providing support for churches and individuals during the pandemic. Learn more.
***
In addition to Dalal and his staff, Cunningham credits the Greater New Haven Coordinated Access Network for its contributions to the effort to move individuals out of shelters and into hotels. 
"This is such a broad effort," says Cunningham. "As we peel back each layer of this, there are even more folks who need to get involved to help us approach this crisis in the right way. Let's be so appreciative to those who are brave enough to come out and do this work."