Does God work through Wi-fi? Do church leaders need social media for their ministry? Is it a "congregation" if it congregates online?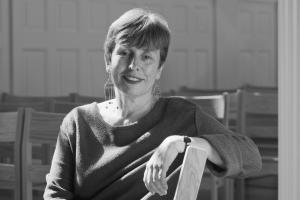 In this inaugural edition of a new YDS podcast series, "The Quadcast," Prof. Teresa Berger converses with Emily Judd '18 M.A.R. about how digital media affect online faith communities and religious practice. Listen to the podcast.
Teresa Berger is Professor of Liturgical Studies and Thomas E. Golden Jr. Professor of Catholic Theology at Yale Divinity School and the Yale Institute of Sacred Music. She is the author of a new book titled @ Worship: Liturgical Practices in Digital Worlds (Routledge, 2017).
Before coming to YDS in 2016, Emily Judd was an associate producer at Fox News for two years while completing a master's degree in journalism at Georgetown University. She plans to resume a journalism career after YDS. Her interview with Berger is the first in a series dedicated to the exploration of the future of religion through the eyes and expertise of the YDS faculty.
Learn more about Teresa Berger: