Ken Minkema is Executive Editor of the Jonathan Edwards Center, a YDS-based project dedicated to supporting inquiry into the life, writings, and legacy of Jonathan Edwards, the famed 18th century pastor, revivalist, Christian philosopher, missionary, college president, and Yale alumnus.
The center recently received an additional trove of Edwards material, now on deposit at Yale, as a result of the affiliation between YDS and Andover Newton Theological School. YDS discussed this and related issues with Minkema in the following Q&A.
—
We saw a photo of you on YDS social media channels posing near a box of materials and smiling broadly. What were those materials and why did they make you so happy?
First and foremost, I'm grinning because I'm a lover of old manuscripts; I spend most of my time communing with authors long gone, but still present in their words on the page.
Secondly, I'm beaming at the arrival of these particular manuscripts from Andover Newton, because this is part of what I see as a productive partnership, not only in terms of programs and education, but research and, yes, special collections. The joining of the Andover Newton materials to those at Yale Divinity School will be a boon to students and scholars alike who are interested in American religious history.
Thirdly, as the editor of Jonathan Edwards, my smile arises because of the joining of the Edwards papers from Andover Newton—which were on that cart in the photo—to those at Yale. While Yale has the great bulk of the collection, the Andover Newton papers represented a significant amount as well. The arrival of these documents in New Haven means that, for the first time in about 150 years, the Edwards Papers are once again formally reunited.
***
Related story: The Jonathan Edwards Collection at Andover Newton
***
How will the reunification of JE papers benefit the Jonathan Edwards Center and the people it serves?
While Yale has been the go-to place for Edwards studies, it will now be much more efficient for students and scholars of Edwards to have access to his large corpus. Not only that, but classes and exhibits featuring the manuscripts and other sources at the Beinecke Library, and at the YDS Library, will be greatly enhanced. Many institutions have seminars on Edwards, but only at Yale do students have the opportunity to have a visit with the manuscripts as part of their experience.
Please give us some background on the center. What is it and how does it work?
The Jonathan Edwards Center, which grew out of the Yale edition of The Works of Jonathan Edwards, maintains an open-access online archive of documents by and about Edwards, totaling nearly 100,000 pages. That is our essential mission, and we add regularly to the offerings. But it is our conviction that merely presenting the archive is not enough; encouraging engagement with it is essential. We do that through supplemental online secondary and curricular materials, printed monograph series, conferencing, community-sourcing initiatives such as the Edwards Encyclopedia and Global Sermons Editing Project, and in particular through our global network of affiliate centers located in 10 countries. Through these affiliates, we assist students and scholars, serve on dissertation committees, offer online and onsite courses, sponsor translations, and pursue other activities.
How do YDS students benefit from your presence on the Quad?
The JEC has been graciously hosted by YDS since the 1980s, and we are profoundly appreciative of that relationship. Being a part of this community has been vital to the JEC's existence and a significant part of its identity. In recognition of that, we do all we can to give back. The JEC serves the faculty, students, and visitors to YDS by offering graduate seminars on early modern and early American religious history as well as independent reading courses; assisting students with research papers and other projects; serving as theses advisors and committee members; publishing an online journal, Jonathan Edwards Studies, which has published a number of essays by YDS students; providing students with intern positions as manuscript transcribers and editorial assistants at a digital humanities project of national standing; making available a resource center with a specialized library of books and articles and an archive of transcripts and scholars' papers; and hosting research scholars and visiting fellows. I encourage students, new and old, to stop in and discuss their interests.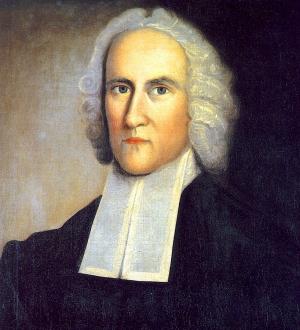 We get the sense that Jonathan Edwards continues to be a figure of great public interest. Is this true? Why is there so much interest in him and his work?
Edwards is not only one of Yale's most distinguished alums (class of 1720), but he has been called the most significant religious figure in American history because of the breadth and depth of his writings, life, and legacies. He has also become a worldwide phenomenon. The exportation of his thought over the centuries through the publication of his works and through far-flung missionary efforts provided the bases for that influence. But readership of Edwards is now at an unprecedented level, and scholars are exploring facets of his thought both historically and for contemporary appropriation in both academia and church.
***
Related story: JE works made available for free downloading
***
What's your favorite JE sermon or writing?
Naturally, my "favorite" happens to be whatever I'm working on. Otherwise, at any given time I have several that are favored. Among the Andover Newton manuscripts are Edwards' youthful scientific essays; included there are his original conceptions of God as Beauty, and all reality as an idea in the mind of God. Newly arrived, too, is a small notebook called "Types," which contains observations on how nature, as an emanation of God, teaches "divine things." In that notebook is one of my favorite quotes by Edwards: "I believe the whole universe … to be full of images of divine things, as full as a language is of words; and that … there is room for persons to be learning more and more of this language, and seeing more of that which is declared in it to the end of the world, without discovering all."