By Leah Silvieus '21 M.A.R.
Lindsay Lunnum '08 M.Div. graduated from Yale Divinity School just a few months after giving birth to her son, Seamus. Her experience as a pregnant, then postpartum, student at YDS gave her a glimpse into the challenges people face in trying to advocate for accommodations in spaces where their needs aren't fully understood.
"I think a lot of professors didn't have experience with postpartum students or pregnant students," Lunnum says.
Her insights deepened a few years later when she was serving as Assistant Rector at The Church of St. Barnabas in Irvington, New York. Seamus, who had been diagnosed with autism, was becoming an older toddler. As Lunnum became more aware that Sunday School wasn't an environment that worked for his needs, friends and family began sending her articles about a ministry called Rhythms of Grace that supported children on the autism spectrum.
"Learning about Rhythms of Grace as a parent was really, really exciting," Lunnum says. "Here was a way my son and my daughter, who's neurotypical, could be reached, could learn about how God loves them, and be formed in a Christian community in a way that that would work for them."
Lunnum prayed that if God wanted her to start a Rhythms of Grace ministry at the parish, she would meet people who would want to partner with her. Within two weeks, she received a phone call from a family that was curious about ways the church could include their daughter in parish life. Shortly thereafter, both families traveled to Connecticut to attend a Rhythms of Grace service offered by its founders.
"It was great," Lunnum says. "My son just walked the perimeter of the room the entire time, but he was listening; that's what he does when he is in a new space, how he gets his bearings. It was an environment where that was OK. Seamus made himself comfortable. It was like no other church space I've ever been in."
In 2013, When Lunnum became rector of Zion Episcopal Church in Douglaston, Queens, she brought Rhythms of Grace with her—to her new congregation's eager embrace. Lunnum has also played roles in Rhythms of Grace's leadership over the last few years, having served on the board for five years and as spokesperson for the last two years.
As spokesperson, Lunnum serves as the point of contact for people who are interested in learning more about the ministry. She is also available for training and works to raise visibility of the ministry, the program, and "the joy of knowing and loving people on the spectrum."
How it started
Rhythms of Grace was founded in 2003 at Trinity Episcopal Church in Torrington, Conn., by the church's then-Director of Children and Youth Ministries Linda Snyder and Audrey Scanlan '03 M.Div., now the Bishop of the Episcopal Diocese of Central Pennsylvania, who was then serving as assistant rector. 
A parishioner approached the rector, concerned that he couldn't come to church anymore because he felt his autistic son was being too disruptive in the nursery. Scanlan, who had a graduate certificate to teach elementary school and had previously worked in an after-school program that served children with differing social needs and intellectual disabilities, and Snyder, who holds a bachelor's degree in education and had taught at two parochial schools, decided to collaborate on creating a meaningful worship experience for both the father and the son. The father promised that if they started such a ministry, he would bring all his friends. 
"We said, well, you know what? We like doing ministry together. So let's just try," Snyder says. "For me, Rhythms of Grace was a calling. Once I realized how much this was needed, I just felt that we had to continue it and it gave to me as much as we gave to the [participants]."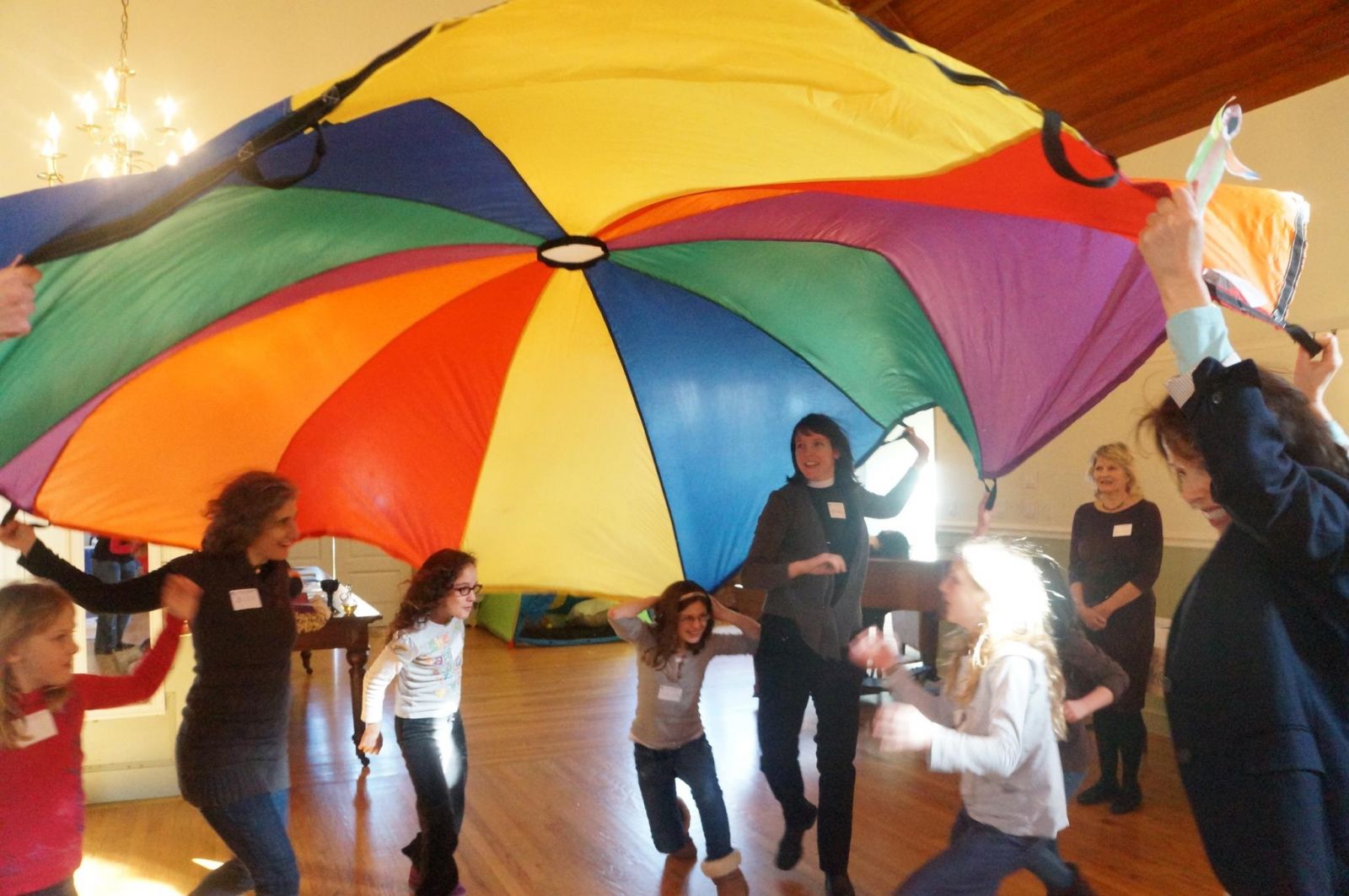 Rhythms of Grace services, which Lunnum's parishes hold on the first Saturday of each month, follow the same outline from the Book of Common prayer as their principal 10:30 a.m. service. They begin by greeting each other and then gather for story time. The facilitators try to keep the story as concrete as possible and include activities that reinforce its themes.
For example, Lunnum will tell the story about how Jesus calms the storm by saying, "Peace, be still." The group will then do an activity that might include making a storm in a bin of water with floating boats or creating a cut-out Jesus on a stick that says "peace, be still" on the back that everyone can keep as a reminder that Jesus can give them peace in their storms. Then they gather for Eucharist at a table close to the floor that includes a simple prayer and conclude by singing "Jesus Loves Me."
"It always makes me choke up," she says. "Because if they're going to get one thing from this worship service, it's yes, Jesus loves me."
Entire congregation transformed
The ministry reaches far beyond the immediate participants, according to Lunnum. She's been overwhelmed by the number of lay people interested in learning how to welcome autistic people.
"It's been surprising to me to see the benefits that aren't just for the person or family with special needs, but how [the ministry] transforms the entire congregation," Lunnum says. "In both parishes, I have had teenagers who've come to Rhythms of Grace and learned that they're comfortable and welcome in the sanctuary. And then they're able to come on Sunday morning because they know it's theirs."
In addition to starting a ministry like Rhythms of Grace, churches have many options in adapting their principal worship services to be more welcoming, according to both Lunnum and Scanlan.
"When you imagine a principal worship service with the organ, the creaky pews, and people speaking, it's very loud," Lunnum says. "It's a difficult space even for people who are neurotypical to handle at times. I try to invite people to think about what sensory inputs we receive when we're worshipping in our principal services and then think about ways we can help people participate fully."
Lunnum's suggestions include having noise-cancelling headphones in the back of the church that can help muffle loud noises or fidget toys and coloring pages that might help people self-regulate.
Another component is educating the congregation about autism. As her parish gets to know and love people on the autism spectrum, she observes, they start to understand certain behaviors like echolalia or repetitive physical movements like hand-flapping as self-regulation techniques rather than "distractions."
Congregations can also think creatively about adapting the liturgy to be more inclusive, Scanlan adds: "Not every sermon has to be preached from a pulpit. Not every lesson needs to be read from the pages of holy scripture."
Creative storytelling methods include using objects, singing songs, or holding up placards with refrains rather than reading scripture from the lectern.
There are also myriad ways to respond to God's word, Scanlan suggests. For example, instead of having a sermon every week, a church might set up stations around the sanctuary with different visual and tactile props that encourage participants to respond in a way that is interesting to them.  
"We are not complete as a church if we are not accessible, if we are not celebrating being fully alive and embodied, if we don't have all of our members fully able to bring their gifts to our community to the body of Christ," Lunnum says. 
Theological implications
Incorporating practices that honor different needs has also profoundly influenced Lunnum's theology.
"The more I know and love people with neurological differences, the more I am coming to understand that Jesus is not neurotypical," Lunnum says. "I mean, how could he be? He's fully divine, he's fully human. That's not neurotypical. I can't say how, but it does give me a window into how Jesus loves people who don't think or walk through this world in a typical fashion. I've also really come to see God as a parent and what it must have been like for God to see his son struggle and suffer, [to] not fit in."
Crucial to fostering growth in the church is learning to make it more accessible and inclusive, according to Scanlan.   
"We are at this amazing pivot point, which for many people is really painful and scary," Scanlan says. "For those of us who can put that fear aside and look to the abundance that God offers us, it's also an opportunity to begin to redesign and reimagine church in a really different way where we meet God's people."
For more information about Rhythms of Grace, you can contact Rhythms of Grace spokesperson Lindsay Lunnum at rhythms.of.grace.info@gmail.com.
Leah Silvieus '21 M.A.R. is a poet and writer working at the intersection of religion and literature. She is author of the poetry collection Arabilis (Sundress Publications) and is the co-editor with Lee Herrick of the anthology The World I Leave You: Asian American Poets on Faith and Spirit (Orison Books).