October 4, 2021
Vernice "Hopie" Randall, Associate Dean for Admissions and Financial Aid, today made the following announcement to the YDS Community.
====
I am pleased to announce the appointment of YDS alum Shalane Hansen-Rodriguez as our new Assistant Director of Financial Aid at YDS. Her first day with us is today!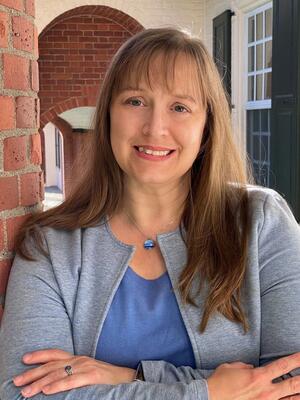 The Assistant Director of Financial Aid is a critical leadership role within the Admissions & Financial Aid Office, and she will be responsible for the comprehensive execution of administration of financial services to all students at Yale Divinity School and managing the daily operations of the Financial Aid Office.
Shalane comes to us with a strong and remarkable combination of skills, experience, competencies, and knowledge that makes her an ideal choice for this important role. She has extensive years of work experience, having served in diverse academic, student services and financial aid environments at Yale University. She started her multi-faceted career in 2004 at Yale College Publications Office as Senior Editor and Web Coordinator, then, in 2012 transitioned to the Yale University's Registrar's Office as Assistant University Registrar and Functional Analyst. She was subsequently recruited to join Yale's Student Financial Services and the Office of Undergraduate Financial Aid, where she served in roles ranging from Assistant Director of Yale's Office of Undergraduate Financial Aid to Associate Director and Chief Communications Officer for Yale Student Financial Services. She was also solicited to serve as the Interim Financial Aid Director for the Yale School of Nursing. With her extensive experience and record of achievements over the years in Yale University in these diverse roles, Shalane has developed a strong, admirable, and unusual combination of financial, administrative, communication, technical and project management skills that will serve YDS well.
A Yale College graduate, Shalane also earned an M.A. and M.Phil. from Yale's Graduate School of Arts and Sciences in addition to her M.A.R. from YDS. Shalane was also a Teaching Fellow and instructor at Yale College, the Graduate School, and YDS from 1999 to 2003. 
Shalane has more than a professional investment in YDS. Having been the beneficiary of generous scholarships during her years at Yale, she wants to "pay it forward" in the work that she will do. As she says: "As an alum who received generous financial aid myself, I have a special appreciation of its necessity and importance. I bring a unique personal perspective to helping students finance a YDS education that will enable them to fulfill their callings." Shalane is collaborative, analytical, a creative problem solver, and passionate about assisting students in achieving their academic aspirations. I am persuaded that Shalane will give her very best and will work to her full potential and contribute positively towards the growth and welfare of our students and YDS.
We are delighted to have her with us, and I am looking forward to her contributions to YDS. Please join me in welcoming Shalane back to YDS and wishing her success in her new role.