By Timothy Cahill '16 M.A.R.
"Today marks the culmination of what I consider a 10-year process," Yale Divinity School Dean Greg Sterling declared before a standing-room audience in the School's grand Old Common Room, at a ceremony to mark the permanent affiliation of Andover Newton Seminary with YDS.
The January 20 event gathered Andover Newton board members together with administrators, staff, faculty, students, alums, and friends of the two schools. The public signing of the final affiliation papers was performed at a long table by Yale President Peter Salovey, Dean Sterling, ANS Founding Dean Sarah Drummond '93 B.A., and Hannah Kane, Chair of the Andover Newton Board of Trustees.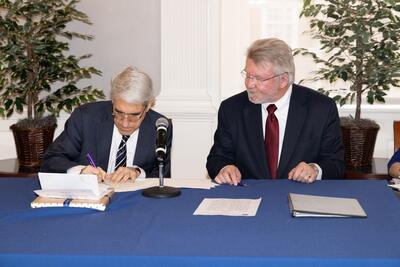 The two schools formally affiliated in 2017, and ANS launched its educational program in the fall of 2018.  Andover Newton continued to operate a campus in Newton, Mass., until May of  2018, and it granted its last degrees in June, 2019. Permanent affiliation followed completion of the sale of Andover Newton's campus, which was the original campus of Newton Theological Institute, one of Andover Newton's predecessor bodies, founded in 1825. After the final payment on the property was received, the Andover Newton board voted unanimously to dissolve their legal standing in Massachusetts, the final legal step paving the way to the YDS ceremony.
In brief remarks, President Salovey thanked the trustees and transition teams of both institutions for their efforts and commitment to "getting us to this point."
He lauded the innovations that ANS has already pioneered at Yale, singling out the school's requirement that M.Div. candidates complete courses at the Yale School of Management. This infusion of business training into divinity education has garnered national attention.  
"We've become not merely more extended or more complete, but all together more excellent by unifying," Salovey said.
Andover Newton has been operating at YDS  since 2016. But exploration of the affiliation began three years earlier. That was when Sterling first broached the idea of a merger with Martin Copenhaver '80 M. Div., a trustee and later President of Andover Newton Theological School, as it was then called.
Copenhaver, Sterling recounted, "thanked me politely and said nothing more." By 2015, though, declining enrollment and increased costs had compelled Andover Newton to face the possibility of closing its doors. Copenhaver contacted Sterling to ask if the offer was still good, the dean said, noting at the same time that YDS was "the third or fourth option—in other words, we were the last option."
Soon, however, the last had become first and negotiations began in earnest. Despite being far apart on key points, Sterling said both parties forged ahead. He praised the Andover Newton trustees, seated in the front row, for their perseverance and "courage."
"You made it possible," he told them, "and I thank you."
The dean closed by evoking the sermon he had delivered an hour earlier in Marquand Chapel. There, he'd observed that the "centrifugal forces" that seek to divide individuals and groups can seem stronger than the "centripetal forces" that bind us together.
"This is a moment when we celebrate the obverse," he told those in the Old Common Room, "and recognize that it is still possible to bring two very venerable institutions, with their own quirks and traditions, together. I hope that this moment is a harbinger for what can happen with others."
Sterling's sentiments were affirmed by ANS board chair Kane. Acknowledging that negotiations were "sometimes quite strenuous and difficult," Kane, a Massachusetts State Representative, observed that "the business case of this affiliation always made sense, that both Andover Newton and Yale benefited."
In becoming what is formally called Andover Newton Seminary at Yale Divinity School, ANS is able to focus "on shaping our now-certain future," she said. She stressed the schools' shared values, noting that in ways the union "resembles a homecoming."
In her remarks, Dean Drummond also emphasized the common roots that "launched the arrow that today found its target." She continued, "The Big Bang that arguably put this partnership into motion was a quiet collision in the 18th-century between reason and faith," referring to the advances of human knowledge sparked by the Enlightenment and the Great Awakening's revival of America's Christian zeal.
Leaders of that movement, notably Yale graduate and fire-and-brimstone preacher Jonathan Edwards, "had a sneaking suspicion that this modernity thing was going to present Christianity with some challenges. Those same thought leaders saw an intersection point between human achievement and faith that others, including our chilly neighbors to the north in Cambridge, had somehow missed," Drummond archly observed.
That intersection, she said, "was beauty and awe and wonder and inspiration. We can love God through an appreciation of creation so passionate that we want to understand everything about it."
Both Andover Newton and Yale foster "a capacity to live at that intersection of faith and reason rather than choosing between the academy or the church. Schools that care about wonder … need to stick together," she declared.
"When it comes to religious expression in America, something is dying and something new is being born," Drummond said. By joining forces, she concluded, ANS and YDS will educate "capable midwives ready to assist in the delivery of what God is bringing to life."