The Society of the Descendants of the Colonial Clergy, a national hereditary society, has endowed a new scholarship at Yale Divinity School. With the gift of $67,000 and a $33,000 match from the School, YDS is creating the Society of the Descendants of the Colonial Clergy Endowed Scholarship.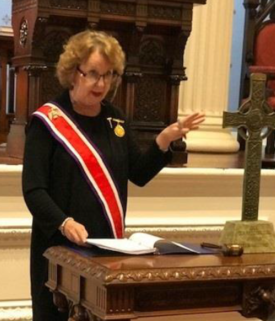 Gail A. Thomas, Governor General of the Society, said the Society was inspired to make the gift because of the key role played by Yale in educating leading clergy in the 13 colonies.
Founded in 1933, the Society comprises people whose ancestors served colonial churches in the 17th and 18th centuries. Today, it works to preserve the memory of colonial clergy and the churches they served while conducting research, promoting religious freedom, and funding scholarships.
Barbara Sabia, Senior Director of Alumni Engagement and Development at YDS, described the Colonial Clergy Endowed Scholarship as a powerful way to connect clergy from the colonial past with the students preparing for the ministry today at Yale Divinity School.
"The world has changed a great deal since the time of the colonies," Sabia said. "But what remains constant is the devoted service of pastors and preachers, and the role played by Yale in educating so many of them for service to churches."
Thomas explained that for decades Colonial Clergy funded scholarships at Andover Newton Theological School. With the merger of Andover Newton and YDS, she said, it became natural for Colonial Clergy to transfer its scholarship commitment to Yale. "Colonial Clergy will continue to support the education of men and women who will devote their lives and careers to spreading the faith of our forefathers," Thomas said.
Edward R. Lief, a YDS alumnus who is the Society's Chancellor General and Past Governor General, pointed out that Colonial Clergy's commitment to YDS is a huge boost from its past level of giving to Andover Newton. He said the leadership of Colonial Clergy was impressed by and appreciative of the personal interest exhibited by Dean Greg Sterling in forming a partnership with Colonial Clergy.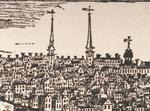 "Educating students for publick employment both in Church and Civil State" - Learn about the early history of Yale
On a campus tour Sterling provided to leaders of Colonial Clergy, Lief noted, it quickly became clear that the mission of Colonial Clergy resonates with Yale's formative role in educating clergy in the early years of the United States and continuing right to the present.
"YDS is deeply grateful to the Society of the Descendants of the Colonial Clergy for their commitment not only to remember the past, but to build the future," Sterling said. "Their support is particularly noteworthy because it is a direct bridge between the origins of Yale University and our present mission."
To learn more or contribute to the scholarship, contact Sabia at Barbara.sabia@yale.edu.