Julie Faith Parker '02 S.T.M. is Assistant Professor of Old Testament at Trinity Lutheran Seminary in Columbus, Ohio. The holder of a Ph.D. from Yale and an ordained minister in the United Methodist Church, she researches and publishes on children in the Hebrew Bible, feminist biblical interpretation, and ancient Near Eastern languages and cultures.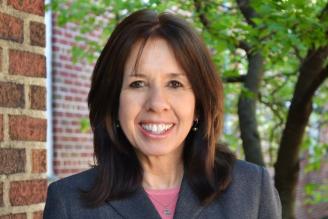 For her latest book project, My So-Called Biblical Life: Imagined Stories from the World's Best-Selling Book (Wipf and Stock), Parker assembled and edited essays from her former students in which they imagine themselves as a character in a biblical story. Three of the contributors are incarcerated; a portion of the royalties from this book are being donated to the Exodus Transitional Community, which helps people re-enter society after prison.
The following is a Q&A with Parker about her new book and her experience at YDS.
***
My So-Called Biblical Life offers a creative and accessible way to learn about the Bible. Where did you get the idea for this book?
In 2010, I taught a class at the Divinity School called "Family and Society in Ancient Israel." The final project was a well-researched paper in which the students needed to imagine themselves as part of a biblical story. I further specified that they had to write as if they were a character who shared their gender and was around their age. (Two of those essays, "Only Hope" by Sarah Condon and "The Outing" by Emily Phillips Lloyd, appear in this book.) As I continued teaching at other institutions, I invited students to write from the perspective of any character who appears in the Bible  I loved reading some of these papers because they brought so much passion and imagination to the text. I thought that others would enjoy reading these essays too, and got the idea for this book.
What is the format of this book?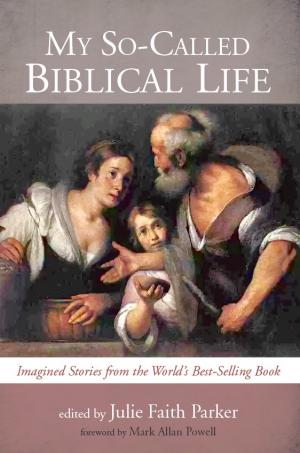 The book is comprised of twelve chapters (to recall the twelve tribes of Israel and the twelve disciples). Each chapter begins with my translation of the Hebrew or Greek text on which the subsequent story is based. I wanted to provide the text in a translation close to the original languages. Also, this inclusion of biblical text lets the reader know right away what material is in the Bible and what is not. The imagined story is the bulk of the chapter, as the text is fleshed out with an engaging plot and emotional vibrancy. Academic footnotes supply information about the text or life in biblical times so readers can increase their knowledge about the Bible. Each chapter ends with three discussion questions that can be used in classes, congregational Bible studies, retreats, and book groups.
What surprised you about the editing process?
I spent a lot of time with these stories to provide consistency among the essays in terms of length and level of dramatic tension. While working with them, I was struck by how real the narratives felt. I could easily envision the scenes that the writers portrayed. As with any good story, it seemed like the characters took over the plot. The writer was simply helping to give them expression.
What will surprise the readers about this book?
What most people know about the Bible is well-worn territory: Adam and Eve, Noah and the ark, Moses and the 10 Commandments, David and Goliath, Jonah and the Whale, Jesus' Death and Resurrection, and perhaps Paul and his letters. Many readers of My So-Called Biblical Life will be surprised to learn about aspects of the Bible that generally do not get much attention, such as polytheism, child sacrifice, prophetic miracles, and roles of women and children. I hope this book will jolt readers into realizing that the Bible is more fascinating than they had thought.
Three of the contributors are in prison and a portion of the royalties goes to helping people upon their release from prison. Could you say more about this aspect of the book?
For the 2013-14 academic year, I taught inmates in Sing Sing Maximum Security Prison who were working toward a Master's degree. At first, I was nervous; all of my students were convicted felons and prison was not a world that I knew at all. However, our class (13 men and I), quickly became a caring community. I was impressed by the men's intelligence and eagerness to learn. While I had been thinking about the idea for this book since 2010, the students in this class inspired me to make it happen. I wanted to add to their sense of accomplishment and facilitate their contributions to the world.  I hope that readers who are not familiar with prison life will recognize that people who live behind bars have great gifts to share with society.
What do you hope readers will take away from the experience of reading this book?
One of my goals is for readers to think, "Wow – I had no idea that this was in the Bible!" and feel compelled to pick up the text themselves. I hope that they will talk about these stories in groups or reflect on them personally to deepen their understanding of the text. The Bible is the world's best-selling book for many reasons, but one is its capacity to speak to our own life stories. This book helps people feel connected to the people in the Bible and the timeless struggles and joys that we all experience as part of the human family. I am so grateful for the chance to work on My So-Called Biblical Life because it offers a way to share my deep love of the Bible.
You teach a popular YDS Summer Study course on another way to learn about the Bible – through "art and artifact," as the course title phrases it. What do you do in the class and why are you motivated to teach it each summer?
During the summers of 2006 and 2007, I taught the Intensive Summer Hebrew class at YDS. At the end of our class time each Friday, everyone would pile into my mini-van (which they dubbed the "mitzvah mobile") and we would visit a collection at Yale that related to the Bible. The students loved these field trips and so did I. I thought it would be fun to compile those trips into a course for YDS Summer Study, and, fortunately, then-dean Harry Attridge agreed.  In the Bible through Art and Artifact course, each day begins with a lecture and discussion centered around a theme in the Bible, then we visit a related museum collection or or hear a concert or see a play that dovetails with our learning.  For example, one day we talk about the relationship between Egypt and Israel in the Joseph story, then we go visit the Peabody museum where a Yale Egyptologist leads us through the Egyptian exhibit. After the first summer, students asked me to create a second iteration so now I teach two different versions of the class that alternate each year. I have gotten to know terrific alums through this class, and I love returning to YDS every summer myself.
What about your YDS student experience stands out, and how has your YDS education influenced your career?
I am very grateful that I had the chance to study at YDS, and to teach there as a graduate student teaching fellow in the Intro Old Testament classes, and later with a few of my own courses. Yale Divinity School has enriched my life, not only academically but also spiritually. I remember the chapel services and singing Bobby McFerrin's rendition of Psalm 23. The congregation's harmony sounded gorgeous. My classes were demanding, but Yale students want and deserve scholarly challenges. This rigor trained me well for work as a professor. The resources at YDS are stunning, and of course, the most valuable resources are the people.
Editor's note: This Q&A is adapted from an interview originally published by Wipf and Stock.