The year was 1871. A New Haven laundress and businesswoman neared the end of her life and dreamed.
Mary A. Goodman possessed a vision that transcended her time. In her last years, Goodman craved progress for African Americans in post-Civil War society. It was too late for her own education, so she focused on the generations that would follow her, especially those pursuing church leadership and theological education.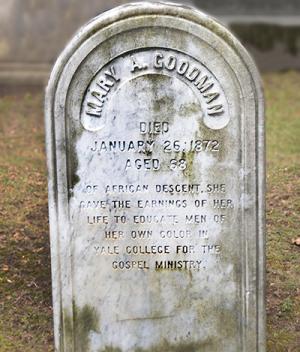 Foregoing provisions for her own burial plot, Goodman left instructions for all her life savings—nearly $5,000 in 1872 dollars—to go to Yale at the time of her death to support black students of divinity. When she died on January 26, 1872, at age 68, she became the first person of color to make a gift to Yale University. Honoring her passion and her gift, the Yale Corporation buried her in the Yale-owned portion of the Grove Street Cemetery.
An active church member, she recognized the pivotal need for African American ministers in a changing nation. In 1872, the New Haven Palladium reported that Goodman "felt that the time was coming, in the rapid progress of her race and people, when they would require a more highly educated ministry."
A scholarship was formed in her name and soon had historic impact on the Divinity School. The Divinity School went to Lincoln University in Pennsylvania and recruited Solomon Coles, who matriculated in the fall of 1872, becoming the school's first black student. The next year, James William Morris joined him from Lincoln. With the credits he brought with him, Morris was able to graduate from the Divinity School in 1874, thus becoming the school's first African American graduate. Coles graduated the next year. (For more on the history of African American students at Yale, see this archived story from Yale Alumni Magazine.) 
****
To recognize the transformative impact of Mary Goodman's gift, YDS Dean Greg Sterling will announce on January 26 the creation of the Mary Goodman Circle of Yale Divinity School. Any person who gives $50,000 or more to the Divinity School, cumulative, during his or her lifetime will become a member of the Circle. Watch for the full announcement on January 26.
****
In recent months, awareness of Goodman's legacy has broadened. In 2017, two new Yale residential colleges will open, and an alumni group is urging the University to consider naming one of them for Goodman. 
Today, 144 years after her bequest—now worth nearly $190,000—a straight line can be drawn from Goodman's vision to the accomplishments of YDS's African American students. Since the 1870s, nearly every YDS class has included an African American. In May 2015, YDS graduated its largest-ever class of African American students.
One such minister-in-training at YDS is Jonathan Toles '16 M.Div., the current Mary A. Goodman Scholar. He speaks with conviction about the need to pursue love and justice through congregational witness and action. His values reflect the Goodman scholarship's emphasis on encouraging future ministers to be alert to social justice issues, including the plight of communities damaged by economic downturn or inequality.
"My unique experience at Yale will allow me to take this experience back to my community," says Toles, who grew up Baptist and whose mother was a preacher.
Before YDS, Toles had already displayed gifts as a preacher and teacher. He came to Yale after working as a youth pastor in Memphis, developing various programs and camps. He was ordained as a minister in the Baptist church in 2013. Although a seminary degree is not required in his denomination, Toles wanted thorough theological training and a nuanced perspectives on religion. The spirit of Mary Goodman was waiting.
At YDS, Toles has found the community he was looking for. He says his interactions with his peers have challenged him as well as informed his own pastoral growth. He aims to form a ministry of charity and pursue a vocation of attentive listening. He hopes to serve as a soothing presence that stirs people who are hurting to believe that hope is possible through Jesus.
After graduation this spring, Toles plans to move to Dallas, where he will begin a ministry of church planting and pastoring.
"Yale has given me confidence," he says. "Before I could have started a church with my credentials. Now I have confidence to boldly proclaim the gospel in my own unique way."
On the day Toles graduates in May, he will process down to Old Campus by way of Prospect Street, a route that borders Goodman's burial plot in the Grove Street Cemetery. He will join the ever-growing number of students who have expanded the singular vision of Mary Goodman.
A special thank-you to Bethany Carlson '16 M.Div. for her contributions to this story. More about her and her work can be found here.