For 30 years, Lamin Sanneh taught at Yale Divinity School, inspiring students to pursue academic and spiritual explorations of Christianity and Islam. In this article, YDs students and alumni remember and reflect on Dr. Lamin Sanneh as …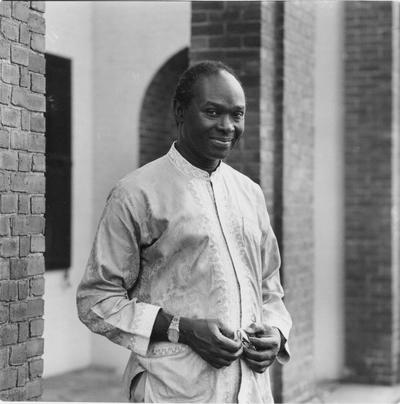 An exemplar of the Gospel message
Professor Sanneh made a lasting change in my life and my ministry. While I attended Yale Divinity School, he changed the foundation of how I thought about missions, and in the process, the nature of the Gospels' role in our individual and communal contexts. More than that, he showed me how to exemplify the Gospels through his humility and eagerness to lend a kind smile or a helping hand or an encouraging word when we needed it the most. He will be missed. But his memory and deeds will live long after him and continue to inspire future students and ministers.
—Sam Harrelson '00 M.A.R.
***
RELATED CONTENT: Read this collection of stories about, and by, Lamin Sanneh in the Christian Century.
***
A model for interfaith leadership
In 2016, at the start of my graduate studies at Yale Divinity School, I was only interested in studying my own religion of Christianity. Three years later with the completion of my degree, I have dedicated equal time to studying Islam. Christian-Muslim dialogue is now my passion and it began with Dr. Lamin Sanneh's class on this subject. In the course, Dr. Sanneh treated both religions fairly and respectfully and did not waste breath trying to argue for or against either faith. His focus was on how believers of these faiths could communicate with each other. In addition to being a brilliant and honorable professor, he went above and beyond to advocate for students. A letter of recommendation from Dr. Sanneh is why I am now on an interfaith fellowship at a Pontifical university in Rome.
December was the last time I met with Professor Sanneh. He had just returned from a trip to Ghana for the new research institute being founded there in his name. His enthusiasm about the Sanneh Institute was contagious! In contrast, I expressed frustration about the lack of enthusiasm towards interfaith dialogue I witnessed in Rome. At the end of our conversation Dr. Sanneh said, "I want to encourage you to keep at Christian-Muslim relations. It is important work and it is a field that needs people like you." Dr. Sanneh has inspired me, and countless others, to learn about, and love, neighbors of different faiths. May his legacy live on in Yale Divinity School, Ghana, and beyond.
—Emily Judd '19 M.A.R.
An honorable, humble and kind heart
There are people who, when they die, affirm the value and purpose of life for all of us who stayed behind. Good people leave a legacy through their kindness, humility, and perseverance in the face of obstacles. These are people whose lives have the power to medicate us against conformism, mediocrity, and the almost unavoidable despair of human existence. Dr. Sanneh was one of those people. We gathered together at the funeral this past weekend to celebrate the life of an African boy, born in the Gambia, who had managed to become, according to many scholars, the most significant theologian of missions and historian of African Christianity and Christian-Islamic relations in the English language. His life showed us that honor and humility could walk together, and that truthfulness and kindness can be a fundamental part of academic research. We saw through the mirror of his family that a life of honor is not lived only on the stage of academic glory, but in the simplicity of one's home. We were inundated by hope because academic truth is not sterile; it commands life.
***
RELATED CONTENT: A funeral mass for Lamin Sanneh was held at Marquand Chapel on January 12. Watch the video.
***
The works of Professor Sanneh breathed life into my soul, weary of all the attacks against the Christian faith. I believe his writings about the cultural heritage of peace in the Islamic faith of West Africa had the same effect for students of the Islamic faith. Only a man with a kind heart could accomplish that. Thanks to him I was inspired to focus my work into the research of Latin American Christianity, and I realized how this research could help me and many people to understand and honor our Christian past, and consequently to make our future better.
—Braulia Ribeiro '19 M.Div.
An academic and spiritual guide
I had the great honor of taking classes with Professor Sanneh and have him serve as one of my thesis readers. Dr. Sanneh was a profound and insightful individual who spoke of the burning heart that characterizes the human condition and the enigma which all religions, especially Christianity, tries to unlock and understand. To this end Dr. Sanneh was an incarnate person who exuded the humanistic strand of teaching, relationship, and Christianity perfectly. Insightful in the classroom, always helpful outside of the classroom, and always willing to help those in need—academically or spiritually—Professor Sanneh embodied reflection and manifestation of love in its halls. I know I was both touched, and privileged, to have him as a teacher, a thesis reader, and friend.
—Paul Krause '18 M.A.R.
A reverential believer
It was the quiet magnanimity of his presence and attentiveness that was most striking about our friend Lamin Sanneh. Of course he was brilliant, an intellectual tour de force, well read, prolific, and internationally respected. At the Vatican, cardinals, scholars, peace activists, and professors all knew Lamin and his work on behalf of Muslim-Christian dialogue and understanding. I would rush back from a trip overjoyed to tell him that I had met yet another friend, colleague, or grateful student of his writings only to be received with his immensely humble, dignified response deflecting attention away from himself and on to our latest, newest mutual acquaintance. There was a regal quality to his disposition whether he was teaching on the faculty of Yale University, serving on the Board of Trustees of Saint Thomas More Catholic Chapel & Center at Yale, or hosting a dinner celebration for the Oxford Studies in World Christianity. His utter lack of arrogance or pretense, his innate goodness, his deep belief in God, his commitment to prayer and his reverence for God's name and all that flowed from such reverence made him unique amongst scholars and kings. How blessed we were by his presence–focused, sincere, unassuunassuming, wholly beneficial.
—Kerry Alys Robinson '94 M.A.R.
A mix of conviction and humor
I enrolled in YDS in fall 2005, when the U.S. was at war in Afghanistan and the memory of the attacks of 9/11 still hung in the air. Misunderstanding of Islam and its adherents was rampant, particularly among self-identified U.S. Christians.  It was against this backdrop that I sought out instruction on Islam from Professor Sanneh.  Through his scholarship and personal story, and with his endearing mix of conviction and humor, Professor Sanneh taught us not only to appreciate the tenets of Islam, but also to see how—in its own internal diversity—Islam reflects our religiously plural world.  One could not come to know Professor Sanneh without learning the importance of digging beneath surface-level understandings of the faith of those who respond to God's call, whether it be from a bell tower or a minaret.
—Stephen M. Ruckman '08 M.A.R.