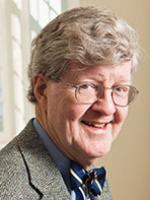 Thomas H. Troeger, J. Edward and Ruth Cox Lantz Professor of Christian Communication at Yale Divinity School and Yale Institute of Sacred Music, has been awarded an honorary doctorate by the Faculty of Theology of the University of Basel, Switzerland.
Last Friday the university, founded 554 years ago, held its annual major ceremony, Dies Academicus, at which Troeger was honored for his "significant contribution to advancing the theory of preaching and religious communication" and his scholarly efforts to promote "scientific discourse on preaching and Christian communication—in particular in Switzerland and in Germany." The honorary degree also praises Troeger for "providing important impetus as the author of poems and hymns to a contemporary religious language which does justice to both aesthetic and theological demands."
The evening before the award ceremony, Troeger gave a lecture titled "A Different Way of Knowing: the Role of Theology and Preaching in an Age of Cognitive Imperialism." Drawing upon recent writings in the philosophy of science, theories of human cognition, and Troeger's own homiletical and poetic work, the lecture argues against the inadequacy of those systems of thought that claim to be the only valid ways of knowing. In the lecture, Troeger highlights the role of theology and preaching in giving witness to those dimensions of reality that elude our calculation and control. A copy of his lecture
can be accessed here (pdf).
Troeger, a faculty member at YDS and ISM since 2005, has written 24 books in the fields of preaching, poetry, hymnody, and worship, and has been a frequent contributor to journals dedicated to these topics, serving as a monthly columnist for Lectionary Homiletics and The American Organist. 
For more on Prof. Troeger's honor and the academic meeting where it was bestowed, see
this news release
at the University of Basel website.