By Joyce Hollman
Six months after Anthony Campbell's Yale graduation and just nine days before Christmas, his father committed suicide, using the service revolver belonging to Anthony's mother, a Riker's Island correction officer.
For Campbell '09 M.Div., '95 B.A., this may have been the pivotal moment in what would grow into a career that has one foot in law enforcement and the other firmly placed in the world of ministry.
The beginning of a ministry
Now the New Haven Chief of Police, Anthony Campbell has been a cop—his preferred word for the profession—for 22 years.
"I get to live out what I view as ministry through the medium of policing," Campbell says.
Twenty-two years ago, after his father's suicide, young Anthony was struggling to find a way to make a difference. He'd pretty much decided to go into prison ministry.
But Anthony's mother had other thoughts. She suggested he think about doing something that "interrupts the process." In other words, once inmates are inmates, the harm has already been done.
A sign on the side of a bus determined the course of Anthony's future.
A picture of an African-American woman and the slogan "Police others as you would have others police you" announced that New Haven was recruiting officers.
Campbell is still working every day to make that slogan a reality in New Haven.
"The similarities between policing and ministry are just so profound," Campbell explains. "People call you when they are in need. You are dealing with people when they're at their most vulnerable, when their emotions are very raw and when they don't have the answers. They seek you out to establish order and peace again in their lives."
In talking with police officers about why they chose police work, Chief Campbell usually gets two answers, one coming right after the other: because I wanted to help, and because I wanted to help in a way where I could see a definitive result of my work in someone's life.
Changing course
After attending Fordham Prep School in the Bronx and being accepted to Yale, Anthony Campbell started working toward his goal of becoming a Jesuit priest.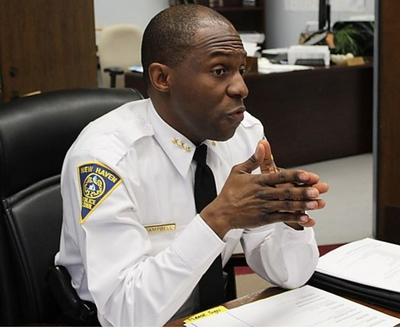 However, during sophomore year, he says, "God, in his infinite wisdom, brought this beautiful woman to my Bible study group." Chief Campbell has now been married for nearly 20 years.
Clearly, this altered his trajectory. He still had a burning desire to be involved in ministry, however, and shortly thereafter, that sign on the bus showed him the way to do it.
Teaching future clergy to connect with cops
In the course he teaches at the Divinity School, The Changing Face of Community-Police-Ministry Relations in the Twenty-First Century, Campbell aims to impress upon students the importance of the clergy-police connection.
His hope is that the soon-to-be clergymen and clergywomen in the class will return to their communities and immediately seek out the police department to begin a dialogue, and to partner with them.
According to Campbell, New Haven's clergy has been instrumental in "helping us to make the department reflect the community that it serves."
With just over 130,000 people, New Haven is Connecticut's second largest city. Demographically, it consists of 33 percent African-Americans, 28 percent Hispanics, and 39 percent Caucasians.
While police forces in many major cities consist largely of white males, New Haven's force is well balanced, including 20 percent female officers, one of the highest percentages on any major police force.
'The clergy are our middleman'
Campbell speaks passionately about the role the clergy play in helping the police maintain a "good, vibrant, healthy police-community relationship" in New Haven.
Quite often, for example, it will be a clergy person, not a police officer, who brings in a person with an arrest warrant.
"A lot of times, members of the community don't trust the police," Campbell says. The clergy are "the middleman who makes sure that the transaction not only goes smoothly, but that all parties involved are safe."
When there are police-related shootings, or when the community is dealing with some major issues unrelated to policing, it is often the clergy who inform Campbell and his officers so that they can be ready to play a supportive role.
How body cameras build trust with the community
In New Haven, the clergy have been instrumental in building trust between citizens and the police force, not only in word, but in deed.
A little over a year ago, all community police officers in New Haven began wearing body cameras. It was the clergy who brokered that deal and made it financially feasible, making phone calls and writing grants to secure the funds to purchase the cameras.
Not only has the use of cameras increased police force transparency, but it has helped lower the number of arrests and the number of complaints against police, Campbell notes.
And apparently, New Haven is at the crest of a nationwide trend. Major cities like New York, Las Vegas, and Chicago, as well as numerous other Connecticut cities, are sending their officers out with body cameras, or are considering doing so.
Guns into plowshares
In July 2017, the senseless death of a 14-year-old rocked the New Haven community. For Campbell, it was also the catalyst for a public ritual that continues to this day and has gone a long way toward the healing of emotional and spiritual wounds.
In what was probably a case of mistaken identity, Tarik Keyes, a bright young man who had just graduated from eighth grade, was shot multiple times and died three days later.
On December 16, 2017, the healing process began.
In its annual gun buyback, the New Haven police department collected 138 guns, including rifles and assault weapons. In exchange for surrendering a gun, citizens received a gift card. No personal information was required of them.
The chief wanted this buyback to be dedicated to Tarik. He also knew that the Newhallville neighborhood where Tarik lived was home to many community gardens.
An idea slowly dawned: What if the community could somehow turn those instruments of death into gardening tools, literally "beating swords into plowshares"?
Through the Newtown Foundation, Campbell learned about Raw Tools, a nonprofit started in 2012 by Mike Martin, a Mennonite blacksmith from Colorado.
The mission of Raw Tools is simple: to convert modern-day "swords"—guns—into farm tools.
Since that time, the New Haven community has worked together to make this happen in the Elm City. The police department collects and houses the weapons, and Yale-New Haven Hospital provides the gift cards.
But it was the Department of Corrections that came forward and added the final piece to this symbolic ritual of healing.
Transforming hearts and minds
Now, on any given morning, you can see soon-to-be released inmates from the New Haven Correctional Center standing outside police headquarters, literally beating swords into plowshares.
They're inserting pieces of handguns, rifles, and assault weapons into a red-hot forge, hammering them on an anvil atop a tree stump, and fashioning them into spades, hoes, and other farm tools.
Campbell believes this simple act could transform not only these inmates, but society as well.
"I wouldn't be surprised if five or ten years from now there are some people who become rather prominent, and say something like, 'This program transformed my life.'"
But there's the bigger picture, the larger vision.
"We're watching an entire community that is representative of an entire country work out the psychological and spiritual issues that come with gun violence in our country," Campbell says.
"Once you put the good news out there, it takes hold of people's hearts and minds," Campbell says.  "And they will run with it."
Joyce Hollman is a freelance writer living in Maine. After teaching special education for 30 years and putting her own two children through college, she has a special interest in quality education at all levels. 
Editor's Note: In early February, Campbell announced he was retiring as police chief and taking a position in the office of the State Attorney.