A pair of new scholarships honor two towering figures in the history of women at Yale Divinity School—Rena Karefa-Smart '45 B.D., the first Black woman to graduate from YDS, and Letty Russell, a pioneering feminist theologian who served on the faculty from 1974 to 2001—and an accomplished alumna, the Rev. Shannon Clarkson '78 M.Div.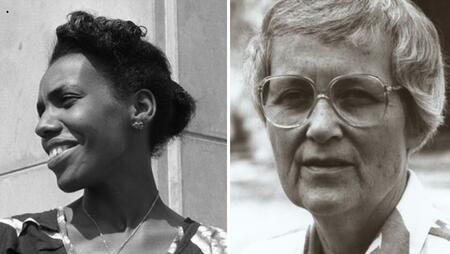 An anonymous donor has given funds to establish The Rev. Dr. Rena Weller Karefa-Smart '45 B.D. Social Justice Endowed Divinity Scholarship. The scholarship will support students who will contribute to the School's diversity and inclusion commitment and/or pursue careers promoting greater social equity.
Also, the Rev. Wilma Reichard '77 M.A.R, '79 M.Div. has made a gift to create The Letty Russell and Shannon Clarkson '78 M.Div. Endowed Divinity Scholarship Fund.
"These two new scholarships honor exceptional women who made a great difference in the world," YDS Dean Greg Sterling said. "The launch of these scholarships is a powerful way to celebrate Women's History Month and to support the education of students who will be the difference-makers of the future."
Rena Karefa-Smart
A leader in the international ecumenical movement, Rena Karefa-Smart accomplished many "firsts" over the course of her 97 years. In addition to her YDS distinction, she was the first Black woman to earn a theology doctorate from Harvard Divinity School (1976) and the first female professor to earn tenure at Howard University School of Divinity (1979).
RELATED STORY: A world citizen of church unity and endurance (Rena Karefa-Smart article in Reflections magazine)
In 2017, Dr. Karefa-Smart received the Divinity School's Lux et Veritas Award, given annually to an alum who has demonstrated excellence and distinction in applying the compassion of Christ to the diverse needs of the human condition through the wider church, institutional ministries, ecumenical organizations, nonprofit organizations, government, or industry.
The award citation hailed her work as a global champion of ecumenism, a minister in the African Methodist Episcopal Church, Professor of Ethics at Howard, and Associate at the Center for Theology and Public Policy in Washington, D.C. "Dr. Karefa-Smart's pioneering presence and subsequent success," the citation declared, "have paved the way for generations of Black women at YDS.
Related story: Rena Karefa-Smart obituary in the New York Times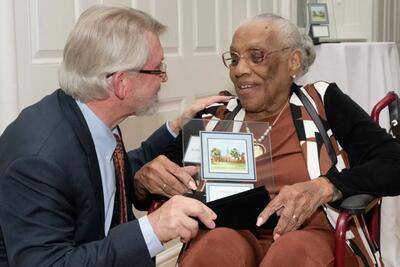 Lynn Sullivan-Harmon, Associate Dean for Diversity, Equity, and Inclusion, said the new scholarship will leave an "indelible mark"  on scholarship recipients while upholding the School's core values.
"When we think about what it means to be the first—especially those who hold historically excluded identities—it inspires a spirit of perseverance, risk-taking, and above all, excellence," Sullivan-Harmon said. "The new social justice scholarship in Rena Karefa-Smart's name will infuse students' work with fresh ideas and an unwavering commitment to access, equity, and influencing a more just world." 
Speaking on behalf of the Karefa-Smart family, Rena-Therese Karefa-Johnson '09 B.A.—Rena's daughter—sent YDS the following statement:
Having the Rev. Dr. Rena Joyce Weller Karefa-Smart as your mother, granny, or great-granny skews your perception of the normal and the extraordinary. As a child, it was hard for me to grasp how unprecedented everything Gran accomplished was: every odd she beat, every institution she changed, and every person she challenged intellectually and inspired spiritually. The hallmark of Rena Karefa-Smart was the alchemy of her dazzling intellect, acute love for humanity (especially Black people), and unwavering intolerance of injustice. She transformed every person and institution she touched.
As someone who spent her entire life and career brilliantly diagnosing the ills of white supremacy and organizing faith and education communities in the fight for human dignity and liberation, she would be humbled and joyful to know that this scholarship will extend her legacy. Thank you for paving the way for future generations of social justice leaders from marginalized backgrounds to carry the mantle of her transformative work at the institution she so loved.
Letty Russell and Shannon Clarkson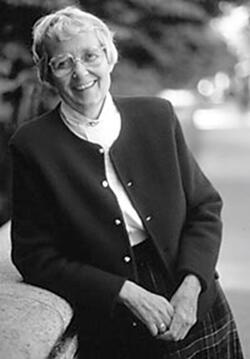 Russell/Clarkson Scholarship donor Wilma Reichard served for 23 years at Stanford Medical Center, where she was Director of Clinical Pastoral Education, Director of Chaplains, and a chaplain at both the adult and children's hospitals. She calls the gift an expression of her gratitude for the contributions of Letty Russell, Professor of Liberation Theology at YDS, and her wife, Shannon Clarkson. 
"I wanted to start this scholarship because I believe it is a way to honor these two amazing women and their multiple ministries," she said, "and to continue their commitment to and support of YDS students." It is one of the first YDS scholarships named for a same-sex couple."
Noting Russell's struggle to make ends meet during her own divinity school days, Shannon Clarkson said, "Letty would be thrilled to know that funds were being raised for student scholarships. When she was in seminary at Harvard, she had a small apartment with two other friends. She had a board she used in the bathtub for her typewriter as they had so little space."
As reported by Yale Alumni Magazine at the time of her death in 2007, Letty Russell was considered one of the world's foremost feminist theologians. Like Karefa-Smart, she was a leader in the ecumenical movement, and she remained active in ecumenical circles until her death, working for the World Council of Churches and the World YWCA.
A Harvard Divinity School graduate and one of the first women ordained in the United Presbyterian Church, Russell served the East Harlem Protestant Parish in New York City from 1952 to 1968, 10 of those years as pastor of the Presbyterian Church of the Ascension. She earned her Th.D. in mission theology and ecumenics from Union Theological Seminary in 1969.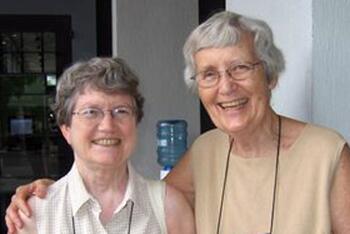 Russell was a member of the YDS Women's Initiative on Gender, Faith, and Responses to HIV/AIDS in Africa. She wrote or edited roughly 20 books, including Church in the Round: Feminist Interpretation of the Church and Dictionary of Feminist Theologies.
Letty Russell was a pioneer in another way, too. She was an early advocate for equal rights for the LGBTQ community and one of the first openly gay faculty members at YDS and Yale.
Clarkson is an accomplished pastor, educator, linguist, and activist in her own right, ordained in the United Church of Christ. She earned an Ed.D. from Teachers College, Columbia University, in addition to her M.Div. from YDS.
Reichard praised Russell's and Clarkson's impact at YDS and beyond. Among those contributions was their dedicated participation in the movement to save the Divinity School Quadrangle from possible demolition during a crucial turning point in YDS history in the 1990s. "Shannon and Letty were quite involved in the Save the Quad movement," Reichard noted, "which literally did save the Quad." 
Reichard noted their couple's efforts to establish the International Feminist D.Min. program at San Francisco Theological Seminary in 1998—a program that admitted clergy and lay women from 26 countries. Letty Russell also started the Ad Hoc Group on Racism, Sexism, and Classism, which met twice a year for decades.
"When Shannon and Letty got married, they did that in community as well," Reichard said. "They and three other lesbian couples from their church were married at Shannon's and Letty's house in Guilford. Their partnership was such a tapestry of hospitality, teaching, ministry, activism, travel, and faithfulness."
People interested in donating to support either scholarship may contact Rod Lowe in the Office of Alumni Engagement and Development at 203-432-8127 or rodwin.lowe@yale.edu.