Growing up in Greece, Vasileios Marinis encountered world-famous religious images on the walls of a thousand-year-old monastery not far from home.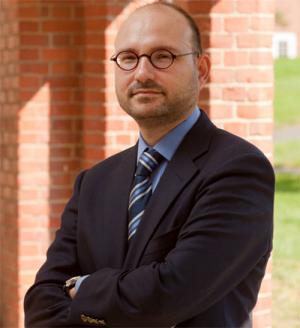 Vasileios Marinis
The still-active monastery, called Hosios Loukas, is an acclaimed example of Middle Byzantine architecture. As a youth, Marinis learned to behold the building's artful objects—mosaics, murals, icons—not as museum pieces frozen in time but as windows on eternity, declarations of faith that enlisted color, paint, fabric, wood and stone. These taught him to look, to see. Dreams of becoming an art historian—a byzantinist—were born.
"It was an astounding building," recalls Marinis, assistant professor of Christian art and architecture at Yale Divinity School and Yale Institute of Sacred Music.
"What interested me was the church as a living space. Here was an 11th-century building still being used today and altered over time, according to need. I realized all these images on the wall meant something and I wanted to figure out what it was."
Marinis tries to convey that sense of discovery to YDS students in courses that survey Christian art and architecture from the early church to the Renaissance to contemporary times.
His classes often include field trips down the street to the Yale Art Gallery or Beinecke Library, or farther afield by train to New York's Metropolitan Museum of Art or St. Patrick's Cathedral. 
"I want students to see, first of all—open their eyes, so to speak," he explains. "I ask them to think about how architecture influences us consciously or unconsciously. I hope they'll learn to 'read' a work of art or architecture—that is, read the messages being conveyed by the art, while also grasping the social or political circumstances that helped produce them."
It's important to notice that churches inevitably have an "afterlife," he says—an evolving function in the life of a congregation that might depart from the original intention of the builder or patron decades or centuries before. 
"Churches are living spaces, social constructs," he argues. "Factors change. Spaces are altered. Functions are added or abandoned."
Marinis' upcoming new book, Architecture and Ritual in the Churches of Constantinople (Cambridge University Press, 2014) makes this point, focusing on Byzantine churches of the 9th to 15th centuries. He examines how church spaces are modified according to the changing needs of believers and their rituals. In this sense, a church is never finished. 
Some resist this idea, insisting that a church liturgical space should be preserved the way it was when the last brick was originally laid. Marinis believes such an instinct is misguided if it stifles creativity and ignores present spiritual needs. An ancient debate over tradition and innovation never resolves: What message do we want to communicate in worship and ritual? What are our needs today? How to stay true to the faith?
As he tells students, every building makes a statement. 
"A church is a place to glorify God and, as such, people want to make a statement about that," he says. 
"Often the architecture makes a political or social statement about power and prestige as well." Thus "visual competition" between churches can drive design—who has the tallest spire, the largest sanctuary, the most brilliant stained glass. 
But so can the experience of material success, social justice theology, or interfaith solidarity following a national trauma.
In the 1960s, some Greek Orthodox church designs in America were influenced by modernism, a sign of rising prosperity in the Orthodox community, a willingness to embrace new styles beyond tradition, he says.
"It was a way of visualizing success." 
Marinis has seen the dynamic of need and creativity up close. He was on the selection committee for the new design of St. Nicholas Greek Orthodox Church in Lower Manhattan. The previous building was destroyed by the 9/11 collapse of the World Trade Center towers. The new design, created by Spanish architect Santiago Calatrava, will hearken back to important Byzantine prototypes.  Keeping an ecumenical spirit, it will include a nondenominational bereavement center.
"It's an exciting design," Marinis says. "I felt it was the best submission." 
Marinis has a B.A. from the University of Athens and a D.E.A. from the University of Paris. Before he finished his Ph.D. in art history at the University of Illinois, he decided to pursue another degree as well—an M.A.R. at YDS in order to go deeper into the history of liturgy. He studied with Bryan Spinks, the Bishop F. Percy Goddard Professor of Liturgical Studies and Pastoral Theology.
Living now in New England with its heritage of iconoclastic Protestant architecture, Marinis acknowledges the dramatic differences with his own Greek Orthodox tradition, the Orthodox practice of veneration of icons.
"Icons are considered windows onto another reality. They are venerated, not worshiped. They can serve as a focus of prayer. The veneration is transferred to a prototype, whether of Jesus or the Virgin or a saint. The icon is something tactile, engaging, tangible in a worship setting." 
Churches that embrace icons—and those that don't—are all making legitimate theological statements about what they believe and practice, he says. They are living spaces.
"Whether it's a house church or a cathedral, each church should try to make decisions that meet the real needs of its congregation," he says.