Before an audience of 300 people at the Chicago Temple, Yale Divinity School convened an important panel conversation on April 3 focused on "Violence: A Faithful Response to the Plague in our Neighborhoods and Nation."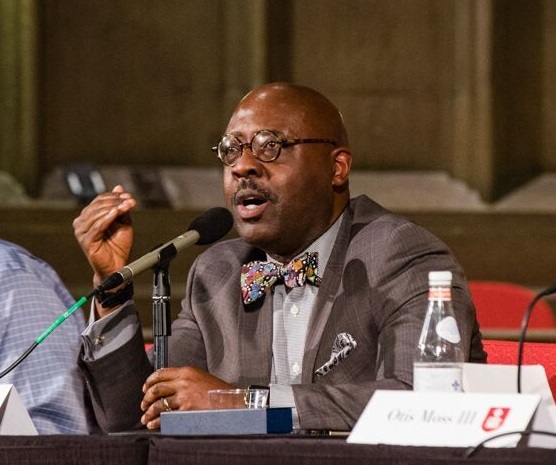 The panel was composed of three Chicago-area leaders (one of them a YDS alumnus) and a member of the YDS faculty. The panelists were:
Thomas Dart, Cook County Sheriff and justice reform advocate
Willie Jennings, Associate Professor of Systematic Theology and Africana Studies at YDS
Otis Moss III '95 M.Div., Senior Pastor of Trinity United Church of Christ in Chicago
Michael Pfleger, anti-racism activist and pastor of the Faith Community of Saint Sabina in Chicago
The program was moderated by Robin Robinson, an award-winning journalist and broadcaster who is currently Director of Community Affairs at the Chicago Police Department. The event was organized in partnership with the Chicago branch of the Association of Yale Alumni and First United Methodist Church at the Chicago Temple.
In American culture, "guns are fundamental," Jennings said in his opening remarks, framing the enormity of the challenge faced by those committed to confronting the culture's idolatrous relationship with weapons. "One could even speak of them biblically," he continued. "'In the beginning was the weapon, and the weapon was with God, and the weapon was God …'"
***
EVENT COVERAGE: Chicago Tribune  /  Chicago Reader /  Yale Daily News 
***
Violence, YDS Dean Greg Sterling said in his opening remarks, "is a national problem. … We are here tonight to ask: What can communities of faith do to address this issue?"