New students, new faculty and staff members, new spaces on the Quad, and new construction on the most important addition to the YDS campus in decades. Here is a look at what's new in the new year as YDS enters 2023-24, its 202nd year as a distinct school at Yale.
New class
A total of 120 students from across the globe began their YDS careers this week, representing a vast array of racial, geographic, and other forms of diversity. The first-years join 160 returning students.
Of the new students, 59 intend to pursue the M.Div. degree, 51 the M.A.R., and nine the S.T.M. One is a non-degree student. Fifty-seven percent identify as female, 40 percent as male, and 3 percent as other or non-binary. Thirteen percent are international, coming to New Haven from such countries including Brazil, China, Nepal, and South Korea.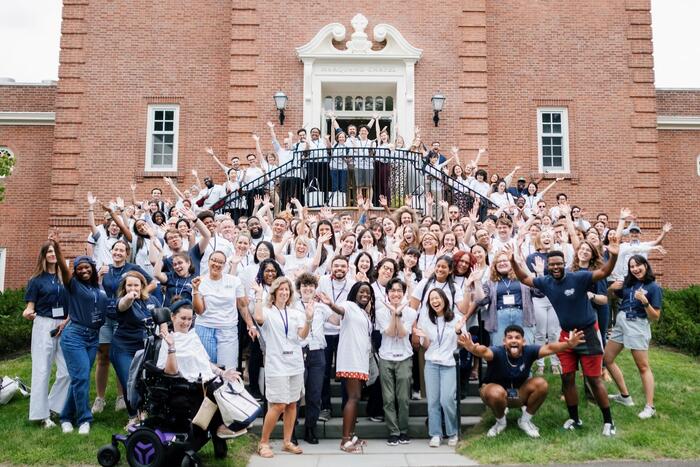 "The Quad is alive again," Dean Greg Sterling declared. "It's wonderful to have students back with the vivacity they bring to the campus. We look forward to what our new students will accomplish at YDS and, even more, what they will do for the good of their communities and world in the decades that follow. It is primarily through the service and leadership of alums that YDS fulfills our mission and contributes to improvement of the world."
As with many other forms of diversity, the students' age range is wide, from 21 to 72 years. The average age is 31.7.
More than a third of the entering students hold advanced degrees. Most common among them are the M.A., M.S., M.Div., and Ph.D. Other degrees earned by entering class members include the J.D., M.D., M.B.A., M.F.A., M.Th., and M.Mus.
"Whether you are returning to a familiar community or entering anew into this adventure with us, we have been awaiting your arrival with much anticipation," Associate Dean for Student Affairs Vicki Flippin '08 M.Div. said in a message to students. "Each and every one of you belongs in this space. We need your voice, your wisdom, your passion to make this community whole."
New construction: the Living Village
The incoming class is the first to include students who will live in the Divinity School's landmark
Living Village
, a regenerative student residence hall that will give back to the environment more than it takes. The School breaks ground on the 51-bed complex—the largest of its kind in the higher education sector—on October 11 and expects to open the Living Village to its first residents in the Fall of 2025. Because their programs are three years, M.Div.'s in the new class have the Village's first residents in their ranks. (The M.A.R. program is typically two years.)
New spaces opening for students
While navigating construction on the Quad this year, including the remodeling of the main entrance to the existing campus, students will enjoy three new spaces beginning this semester. 
The
Good Life Center at YDS
will be located in the southeast building on the back Quad. When it opens in October, it will be the first satellite unit of
Yale's Good Life Center
. The new space will give students a place to rest and pursue other wellness activities. Officially opening in late September is the
Prayer/Meditation Room
, located on the first floor on the south side of the Quad—a space for people of any faith or spiritual orientation to pray or meditate according to their own practice. Later in the semester, YDS will open the
Latourette Learning Center
in the Library space formerly occupied by the Ministry Resource Center. The center will provide space for study groups to meet in small conference rooms and will have display cases presenting the treasures of the Divinity Library.
New faculty
The 2023-24 academic year marks the beginning of the Yale careers of two new professors who are affiliated with YDS and the Institute of Sacred Music and the arrival of a new leader for the School's social-work joint degree program.
Adrián Emmanuel Hernández-Acosta
is Assistant Professor of Religion and Literature. His research and teaching illuminate the relationship between religion, art, and theory through the study of the extensive artistic catalogue of the Hispanophone Caribbean and its diasporas. Prior to joining YDS and the ISM, Prof. Hernández-Acosta was postdoctoral fellow at Brown University's Cogut Institute for the Humanities and Department of Hispanic Studies. He earned a Ph.D. in the Study of Religion and an M.A. in Romance Languages and Literatures with a focus on Spanish and Latin America from Harvard University, an M.Div. from Harvard Divinity School, and a B.A. in Religion and Music from Tufts University.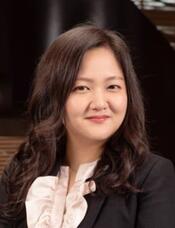 Bo kyung Blenda Im '12 M.A.R.
is Assistant Professor of Sacred Music and Divinity. Prof. Im has most recently been at Harvard, where she pursued her scholarship as the Global Korean Diasporas Postdoctoral Fellow at the university's Korea Institute. Her scholarship concentrates on popular culture and Christianity in Korea and the Korean diaspora. A UCLA graduate, she earned her M.A.R. at YDS and the ISM and went on receive her Ph.D. in ethnomusicology from the University of Pennsylvania. Prof. Im has held appointments at Yale first as a lecturer in ethnomusicology (Spring 2020) and then as a postdoctoral associate in the ISM (2020–2021).
As Adjunct Associate Professor of Divinity and Social Work,
Frederick "Jerry" Streets '75 M.Div.
 is the new leader of the Divinity School's joint-degree program in social work, operated with the University of Connecticut. Prof. Streets is a licensed clinical social worker who has had an outstanding career in theological education, ministry, and social work. He has taught at YDS since 1987 as an adjunct associate professor of pastoral theology and is the former Chaplain of Yale University and Senior Pastor of the Church of Christ in Yale, a position in which he served from 1992 to 2007.
Todne Thomas, who was at YDS last year as a Presidential Visiting Fellow, becomes a full-fledged member of the faculty this year as Associate Professor of Divinity and Religious Studies.
New staff

The Divinity School's Office of Alumni Engagement and Development has welcomed four new staff members over the summer: 
Jake Miles Joseph
, Associate Director for Alumni Engagement and Donor Relations; 
Tonette Cookson
, Assistant Director for Development Operations and Data Analytics; 
Bryce Tapp '22 M.A.R.
, Assistant Director for Annual Giving; and 
Justin Izbinski
, Development Coordinator. 
Learn more about the new alumni/development team members.
In addition, Shafton Haley has joined the Office of Student Affairs as Student Services Coordinator, and Malgorzata "Gosia" Madrzyk is the new Financial Analyst in the Business Office.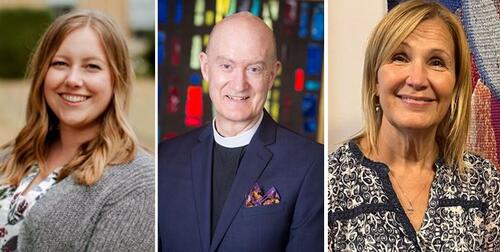 Also, Berkeley Divinity School welcomes two new staff members: Hannah Black, Assistant Director for Leadership & Communications, and Dan Heischman, Associate Director for the ELM Program. And Andover Newton Seminary at YDS has a new Seminary Coordinator,
Anna-Liisa Lubbert
.