By Bryce Tapp '22 M.A.R.
Wherever Christians are active –– in the academy, in local churches, in chaplaincy –– "their gifts and talents, and certainly their intellect, will be needed," according to Father Ryan Lerner, Chaplain at St. Thomas More, the Catholic Chapel and Center at Yale.
That very much includes Yale Divinity School, says Lerner, Director of the new Roman Catholic Lay Ministerial Studies Program at YDS.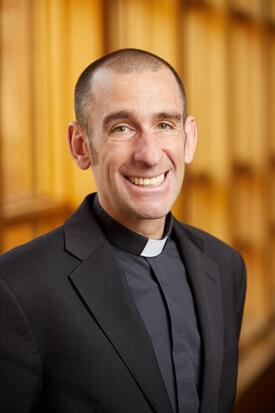 YDS and its Catholic students have responded to the Catholic Church's growing recognition that "God has a calling for each of us in our lives," as Fr. Ryan Lerner says. These YDS students are supported in their discernment by two new programming pillars: the Roman Catholic Lay Ministry Colloquium and the Roman Catholic Lay Ministerial Studies Program.
Lerner, the eighth Roman Catholic chaplain in Yale's history, was appointed to St. Thomas More by the Archbishop of Hartford, with the support of the St. Thomas More Board of Trustees, in Spring 2019. Upon his appointment, Lerner met with YDS Dean Greg Sterling, who proposed a Catholic lay ministry program at the Divinity School, Lerner recalled, noting that, up to this point, YDS had no certificate program in Roman Catholic studies analogous to the School's denominational studies programs. This was significant, Lerner added, because it showed that the Dean "recognized the representation of Catholic students at YDS and wanted to do more to support them."
Beginning in Fall 2019, both the colloquium and new Catholic lay ministries program have contributed to the growth of the Roman Catholic community at YDS. Before the COVID-19 pandemic, the colloquium took place in the context of a meal —either at YDS or at St. Thomas More. It has since shifted to monthly meetings held over Zoom. This semester, guests included leadership from the Archdiocese of Hartford, chaplains from Yale-New Haven Hospital, the Executive Director of St. Thomas More, Joseph Connolly, and the Global Ambassador of the Leadership Roundtable, Kerry Robinson '94 M.A.R. Many of the guests have given witness to not only the growth of lay ministry in the Church, but also to the growing urgency for students to be supported in their academic formation before entering lay ministry.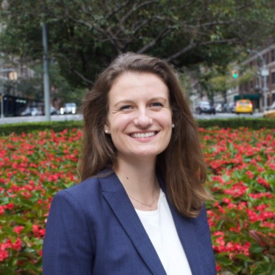 Katie Rich '22 M.Div., who has been involved with the colloquium since its beginning, said it "has helped me imagine a brighter future for lay leadership in the Church, and the unique gifts that it can bring." Rich is positioned to be part of lay leadership in her own ministerial future. As an M.Div. student, she is preparing to be a hospital chaplain after graduation and has been supported by YDS in her academic and ministerial formation.
"Both of my parents are two-time cancer survivors, so I grew up in and around hospitals," Rich said. During college, Rich volunteered in a hospital cancer center "to escort patients from the lobby to their exam rooms." The job became a form of ministry when her fellow volunteer "showed me how he started each shift with a brief prayer in the chapel" and "would knock on doors of patients and offer to sit with them while they received chemo or waited for a doctor." This ministry of accompaniment showed her how wide-ranging lay ministry could be.
Rich's own experience as a college volunteer at a hospital testified to the power of a lay vocation to serve those most in need of Christ's care. Before coming to YDS, Rich worked "at a hospital in health administration," she said. "But as much as I loved the hospital I worked in, I wanted to get out of my cube and talk to patients. So I applied to divinity schools."
This happened after a discernment process at her undergraduate institution, said Rich, who co-leads the Divinity School's Roman Catholic Fellowship with Kaitlyn Russo '21 and Julian Sieber '22 M.Div. "As I thought about a career," Rich said, "I knew I wanted my faith to be an active part of it. When I combined that with my desire to help people in some concrete way, and my experience with healthcare, chaplaincy felt like the perfect match."
This ability to discern and learn where God is calling one is something that Trevor Smith '21 M.Div. believes to be critical to lay ministry. He calls it the "openness to exploration." Entering his undergraduate studies, Smith felt called to become a nondenominational Protestant pastor. But soon he felt deep longing to return to the Roman Catholic liturgy with which he grew up; he found himself "conflicted between a ministerial calling and an academic proclivity."
At YDS, he says, "it feels like a culmination of these storylines and the beginning of something new God will do in my life." He voices appreciation for the support of "the beautiful Catholic people in the Roman Catholic Fellowship at YDS and at St. Thomas More." His journey, he said, came to fruition with his internship at St. Thomas More during the 2020-21 academic year and his reception of the Sacrament of Confirmation this Easter at the same parish.
For Rich and Smith, the Divinity School's ecumenical spirit and environment have supported their formation and discernment in grad school. "I thought it would be meaningful to learn from and alongside people from different traditions from my own, so that I might grow and be more prepared to minister to whomever I may meet in a hospital room," Rich said. Smith considered the ecumenical spirit a "collaborative and critical ecology" and felt that the ability to explore within this type of environment was essential to formation and growth within lay ministry.
Elizabeth Ekman '22 M.A.R. says the ecumenical environment of YDS has sustained and nourished her, allowing her "to appreciate my tradition more while experiencing diverse conversations about Christianity." Ekman experienced lay ministry while working as a student minister at her undergraduate institution, Gonzaga University. She appreciates how YDS has helped her sustain a new way of doing lay ministry. "Feeling reaffirmed in vocation," she said, "should be measured in how we're growing in our faith."
She found such reaffirmation in the Lay Ministry Colloquium, where her vision and understanding of ministry have grown. "It's not just chaplaincy or working in a parish," Ekman said. "It could also be building community, mentoring undergrad students, and using a vocation to speak back to the broader Catholic community." 

Bryce Tapp '22 M.A.R. is a writer and student living in New Haven.