December 19, 2022
Yale Divinity School today announced the establishment of the Center for Public Theology and Public Policy, which will pursue teaching, practice, research, and collaboration at the intersection of theology and advocacy. Bishop William J. Barber II, a moral movement leader who comes to Yale after 30 years of pastoral ministry and has served in numerous public leadership roles, will serve as its founding director.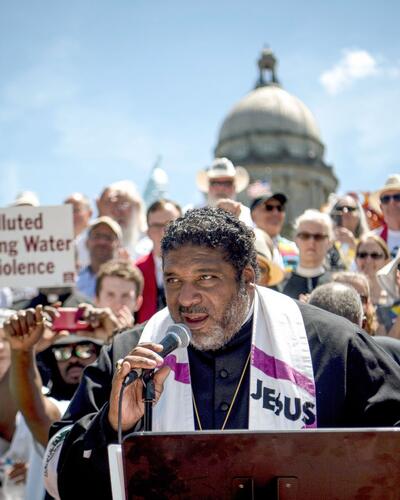 Rooted in the philosophy of moral movements that have strategically and successfully used theology as the basis for challenging social and economic injustice in society, the center's scholarly and teaching work will concentrate on expressions of public faith that contribute to movements for justice. It will engage divinity, law, and undergraduate students in critical conversations about religion, faith, moral values, social movements, and social transformation.  
"YDS is thrilled to launch the new Center for Public Theology and Public Policy and to welcome William Barber to our community," said YDS Dean Greg Sterling. "Dr. Barber's work and service are in the tradition of public witness that produced Frederick Douglass and Sojourner Truth, Walter Rauschenbusch and Howard Thurman, Ida B. Wells and Dorothy Day, Martin Luther King, Jr., Ella Baker, and Abraham Joshua Heschel. Establishment of the Center at YDS is an opportunity to deepen our relationship to a historical movement that revives nearly two centuries of social justice tradition to meet the complex social realities of our time."
During 30 years of pastoral ministry, Barber led the Moral Mondays movement in North Carolina, established Repairers of the Breach to train communities in moral movement building, and co-anchored the revival of the Poor People's Campaign: A National Call for Moral Revival. He brings teaching experience from Union Theological Seminary, St. John's University, the Pontifical Academy of Social Sciences, and Duke University's Sanford School of Public Policy. He holds a Doctor of Ministry from Drew University with a concentration in Public Policy and Pastoral Care, a Master of Divinity from Duke University, and a bachelor's degree from North Carolina Central University.  He has also led the church as moderator of the Christian Church (Disciples of Christ) in North Carolina and is a bishop with the Fellowship of Affirming Bishops.
Barber's public ministry has been recognized by numerous awards, including the Roosevelt Foundation's Four Freedoms Award and the MacArthur Foundation's "genius" grant. 
"I have been a pastor engaged in movement work for three decades," said Barber, whose title at Yale will be professor in the practice of public theology and public policy. "While I continue the work of movement building, I'm transitioning my pastoral work from the congregation to the classroom. I want to walk with the next generation of moral leaders and share with them what was passed down to me. I've been given too much to just take it all with me when I leave this life. I want to pass it on."  
Barber will retire as pastor of Greenleaf Christian Church in Goldsboro, North Carolina, where he has served as senior pastor since 1993. He will continue as founding president of Repairers of the Breach and co-chair of the Poor People's Campaign: A National Call for Moral Revival. 
The center at YDS will serve as a training ground for students, equipping them with a moral fusion framework as a guide for their chosen vocations and training them to engage in moral articulation, analysis, and action. In addition to teaching and research, the center will hold regular convenings and a biennial training summit that brings together scholars, interfaith religious leaders, economists, activists, lawyers, students, and community members. Among other activities, a fellowship program will create space for moral leaders engaged in the work of public theology to collaborate with one another and leading scholars.  
The center will collaborate within the Yale community, including with programs and initiatives at Yale College and Yale Law School. Beyond Yale, the center will develop a foundational partnership with Historically Black Colleges and Universities (HBCU) in the U.S. South, led by a southern-based liaison, to build pathways for HBCU students to meaningfully engage in the center's work and connect its programs to the history and work of southern freedom movements and institutions.
"Dr. Barber is a principled leader whose religious convictions and theological insights compel him to serve those who are most vulnerable and to create a more just and equitable world," said Yale President Peter Salovey. "I look forward to working with Dr. Barber, Dean Sterling, and other colleagues at the Divinity School to understand pressing moral challenges and to introduce solutions that will transform society."
YDS Dean Sterling added: "The Divinity School exists to bring theological and moral knowledge and commitment to bear on the great issues confronting the world in the 21st century: racism, the climate crisis, injustice, and more. I am confident that the new center will enable us to rise to the challenge with heightened strength and impact."
The establishment of the Center for Public Theology and Public Policy at YDS is made possible by the generous gifts of individuals and foundations, including the Ford Foundation and the Fetzer Institute.
"Throughout my time as president of the Ford Foundation, I have witnessed Bishop Barber lead with a conviction of hope that stretches our moral imagination and calls us all to action in whatever capacities we hold," said Ford Foundation President Darren Walker. "His work affirms my own deep belief that despite the contradictions and injustices of our past and present, a just and equitable society is possible in America. The Ford Foundation is honored to support this historic endeavor to institutionalize the Moral Movement and to invest in the growth of a new generation of leaders in its tradition."
The center will begin work early in 2023, with Barber serving as its founding director and Valerie Eguavoen, a social justice movement lawyer and strategist, as associate director. Initially, the staff will also include Roz Pelles, a civil rights and workers' rights movement leader and veteran, as assistant director for student engagement and lecturer, and Jonathan Wilson-Hartgrove, an author and preacher, as assistant director for partnerships and fellowships.