By Lauren Yanks '19 M.Div.
Born in 1940 in a rural town in Illinois, Richard Riseling spent much of his youth gardening, playing sports, and making music.
"My parents loved all kinds of music," the Yale College and YDS alumnus recalled. "Our house was filled with instruments. My five siblings and I all learned to play the piano. I still play the cornet."
But it was the gardening that foreshadowed the ultimate direction of Riseling's life and work. On a path that took him through Yale College and the Divinity School, Riseling '66 B.D., '62 B.A. is the founder and co-owner of
Apple Pond Farm and Renewable Energy Education Center
in upstate New York, which showcases the values of justice and sustainability that have driven Riseling for decades.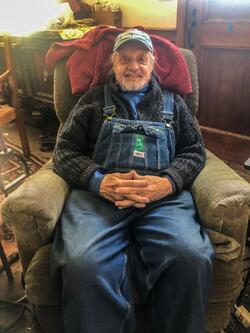 Youth and Yale
When Riseling was young, his father worked as a local truck driver, and his mother cared for six children. She was also active in the church and inspired Riseling to get involved.  
"I led the worship service when I was 12 years old," he said. "I didn't preach, but I did everything else." 
As high school neared its end, Riseling was not sure what to do. He took a chance and applied to Yale University.  
"Yale was trying to bring in a more diverse class of people at the time," he said. "I started my undergraduate degree in 1958." 
Academically unprepared and socially awkward, Riseling describes his first months at Yale as "traumatic." 
"I had never written an essay before and was behind in many of the subjects," he said. "I studied hard, though, and made the dean's list by sophomore year. I also started participating in more activities. I played football and sang in the university chapel choir." 
Upon receiving his undergraduate degree in international affairs in 1962, Riseling married and then enrolled at the Yale Divinity School with the assistance of a Rockefeller Scholarship. During his four years at YDS, Riseling gained a much deeper understanding of Christianity. He distinctly remembers his Old Testament professor, Brevard Childs.
"He was so in love with what he was doing, it made me love taking the class," he said. "He gave me a much more nuanced comprehension of the Bible. I realized that even though I had gone to church every Sunday, I hadn't known the Bible at all."  
Overall, Riseling is very grateful for his time at Yale. "Yale gave me the magnificent gift of the beauty of the human mind, and the challenge of using it for democracy and justice," he said.
New directions
After YDS, Riseling enrolled in a graduate program at the Fletcher School of International Law and Diplomacy at Tufts University. Combining his theological and undergraduate studies, he found employment as the first National Director of International Affairs for the American Baptist Convention. He worked on civil rights issues and peace campaigns. 
"I was one of the five U.S. delegates to the Christian-Marxist Dialogue, which involved many trips to the former Soviet Union, Eastern European countries, and Cuba," he said. "The dialogue explored two main ways a society could be ordered. It was an honor to meet people from all over the world. I was assigned to the panel on economic development and learned that new and better ideas can come from any part of the world."
During this time of exploration and growth, Riseling's personal life also changed. Although he and his wife had two sons, they realized they were not a good match and divorced. In 1972, he would meet the woman who'd become his life partner, Sonja Hedlund. While deeply committed to each other, they decided not to get married; instead, they formed a commune from a local Baptist Church in Brooklyn and Richard became an editor and reporter for Cuba Review. 
"I was a thoroughgoing Marxist by then," he said. "It just made such plain sense. It helped me reconcile all of my life's experiences." 
In 1973, Riseling took a position as a counselor and teacher in the Brooklyn Educational Center and the Empire State School for Labor Studies. 
"I taught micro and macroeconomic and labor history for a minority student body," he said. 
A new 'bully pulpit'
That same year, he and Sonja purchased land to farm in Sullivan County in the Catskills of New York. Riseling split his time between working in the city and renovating the farm. Ten years later, the Apple Pond Farm and Renewable Energy Education Center was born. It is now an 80-acre organic farm that grows vegetables, fruits, and herbs and has sheep, chickens, and goats. It also has a wind turbine, solar electric, and a solar-thermal system to heat and cool the house.
"We have a number of energy-savings measures, which provide nearly 100% of our energy needs," Riseling said. "This farm is a bully pulpit. Apple Pond Farm's mission is to provide educational programs and farming training courses, and to help build ecological and social justice." 
At various points throughout the years, a thousand children have visited the farm each week, mostly from the city. 
"I loved their curiosity," Riseling said. "They'd come for the day and make compost, milk a goat, all that stuff."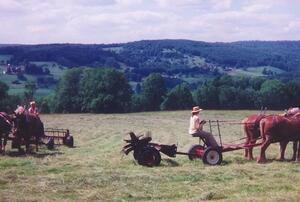 Hundreds of interns from different countries have also lived and worked on the farm. In the summer of 2014, Katherine Henri was one of them. While growing up in New York City, Henri had loved animals and volunteered at the zoo, but farming was new to her. 
"Interning at the farm was wonderful," she said. "I was 19 years old and knew very little about growing anything. I found Dick's wealth of knowledge amazing. That summer sparked this lifelong obsession I now have with agriculture. I've developed a much deeper appreciation for nature."  
Henri especially enjoyed it when children came to visit. 
"Kids from urban areas would come for a day, and farm life would blow their minds," she said. "It gave them experiences they'd never had before." 
More than just tasks
Henri credits Riseling for her personal transformation. 
"The physical labor, living communally, being responsible, preparing meals, and doing chores—it all helped me to grow as an individual," she said. "The idea that we are all working together was very valuable. It gave me a sense of purpose. These are not just tasks, but a lifestyle. You become lost in it."
On top of running a farm and hosting educational programs, Riseling produced a local weekly call-in radio show called "Designs for the Future" and wrote a weekly newspaper column, "Greening Sullivan." Unfortunately, a vehicle accident seven years ago forced Riseling to slow down.  
"I had just bought a used Prius from my neighbor, and I got hit by another car," he said. The accident impaired Riseling's cognitive abilities, and although most people wouldn't notice, he has never fully recovered. "I still have issues with memory." 
Since the accident, he has stopped doing the radio show and newspaper column, but the farm work continues. Marissa Neiman interned throughout 2016. She had met Riseling at a sustainable food conference the year before and felt an immediate connection. 
"I just felt like he and Sonja were people I wanted to know," she said. "I had a very different life at the time but decided to change careers and become a midwife. Part of it was 
that I wanted a different relationship with the earth, and farming was my first foray into that. " 
Neiman wanted to live in an agricultural setting while she went back to school. 
"I called Dick and Sonja and told them I'd like to live there and work while I took classes," she said. "Sonja wasn't so sure, but Dick said, 'Great! Come to the farm!' That is just who Dick is. I enrolled in the local community college, and they provided room and board in exchange for help with their projects."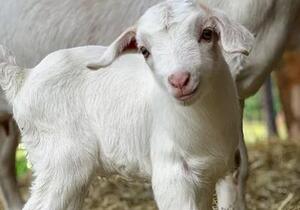 Initially, Neiman helped them build a website and create a book about the farm. But then spring came. 
"It was time to plant," she said. "It was also lambing season, when all the lambs are born. Sonja said to me 'So, you want to be a midwife? Come to the barn and be a midwife.' It was incredible."
The first lamb Neiman helped to birth was breech. "I had to put my arm up the sheep to my elbow," Neiman said. "It was so tight that I thought my arm was going to break, but Sonja said I was fine. I learned so much that day."
'A deep spiritual experience'
Neiman also learned a lot about plants by working with Riseling in his indoor greenhouse.
"Even though he's been planting forever, Dick approaches it like a student," she said. "He wonders about things like whether to plant the zucchini earlier and whether to plant the cucumbers next to the herbs. He taught me how everything changes each year. And the weather is changing. And our needs are changing. We always have to adapt." 
Another thing that touched Neiman was Riseling's burial practices. "I was so moved by how lovingly Dick could slaughter an animal," she said. "He always did it privately, but when you saw him carry off the animal, he did it with such tenderness. He's very connected to the earth and never lets himself get too far away from the cycles of life."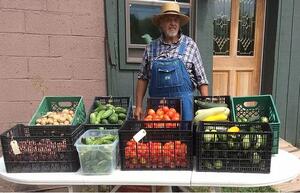 Now that Riseling is 81 years old, he is thinking about the future of the farm.
"My number one desire is that it will be a farm cooperative village owned by a nonprofit," said Riseling. "It would be divided up into five or six lots where people would live and produce food. It would be open to the public most days of the week. Nothing brings people together like agriculture."   
Riseling also hopes to have gardens for people to rent at low cost—$25 a year—and that there will be workshops to educate people about agriculture and sustainable living. 
"This kind of life is a deep, spiritual experience that everyone can share every day with the wind, sun, plants, and animals," he said. "Ultimately, my greatest dream is that future generations will know that the land does not belong to us, but we belong to the land. That knowledge should make people happier and more loving. We should all be loving and laughing a lot more."  

Lauren Yanks '19 M.Div. is a writer and professor and Executive Director of the Blue Butterfly Foundation, a nonprofit organization that helps educate women and children who have been trafficked and enslaved.