Janet Tanner Poskas '98 M.A.R. died on April 2, 2013 after a courageous battle with multiple myeloma. Jan left a life steeped in the world of finance to study ethics at Yale Divinity School and to begin a second career as an instructor of applied ethics. A dedicated advocate of YDS, Jan played a critical role in establishing the new Margaret Farley Chair in Ethics, which she supported financially and encouraged YDS alums and friends to support as well. More recently, she was the moving force behind establishing the Harold and Jan Attridge Scholarship Fund, of which she was the lead donor.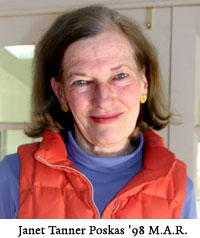 Only a month before her death, Jan called staff at YDS to ask "What are we doing to raise more money for the Attridge Scholarship? Harry and Jan saved the Divinity School and we need to raise a lot more money to honor them before they return from sabbatical. We owe them such a debt of gratitude!" 
Jan served as a member of the YDS Board of Advisors until the time of her illness, but she did not stop calling with advice and opinions as well as with expressions of appreciation and concern for the community of friends at YDS. After YDS she continued her new vocation at Fairfield University teaching applied ethics where she demonstrated her passion for the topics she taught, as well her desire to see students learn and be formed into ethical human beings in a deliberate way. 
Staff, colleagues on the Board of Advisors, professors, and fellow students appreciated Jan's quiet wisdom. She also had an amazing gift of hospitality that included baking apple pies for friends that visited her home and for welcoming others to share in her deep commitment to YDS. She often said, "Where else but at a place like the Div School are we going to prepare good leadership – not just for the religious community, but for the world at large – in solving intractable problems?"
Those of us at the Divinity School who knew Jan will be forever grateful to have counted her as a friend. Her legacy lives on in tangible ways in the Margaret Farley Chair in Ethics and in the Harold and Jan Attridge Scholarship. These gifts in many ways provide a glimpse into the generosity of her spirit, which always aimed at honoring others above herself.