July 20, 2017
Andover Newton President Martin B. Copenhaver '80 M.Div. and Yale Divinity School Dean Gregory E. Sterling issued the following statement today:
—
Dear Friends,
For two years, Andover Newton Theological School and Yale Divinity School have been working diligently on a formal affiliation between our two schools. We can now celebrate the fruits of these efforts.
Today, July 20th, leaders of our two institutions signed a historic agreement to begin a new era of theological education on Sterling Divinity Quadrangle in New Haven, where the distinct mission and identity of Andover Newton have already been embraced and will now be advanced for decades to come, and where Yale Divinity School is strengthened for its mission of service to church and world.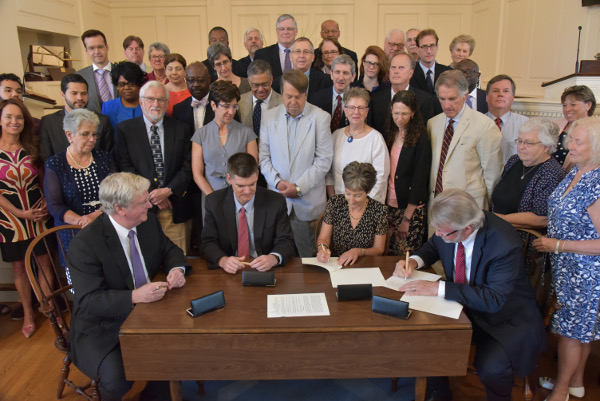 In June, our institutions' respective governing boards voted to formalize the agreement and, on June 29th, the sale of the Andover Newton campus in Massachusetts was finalized. Now sealed, this new partnership will be immensely beneficial to both schools and the communities we serve.
Work toward affiliation began in 2015. In the fall of that year, Andover Newton announced it was pursuing a bold new direction to ensure its work and mission could continue to thrive. At that time, the School noted that the seismic changes taking place in churches and theological education were forcing independent theological schools to seek new, more sustainable ways to pursue their missions.
Recognition of the shared histories and missions of Andover Newton and YDS led to our first discussions and, eventually, the final agreement that we celebrate today. As we recognized at the beginning of our explorations and as we affirm today, both schools are committed to the education of leaders of congregational faith communities. Indeed, this has been the mission of Andover Newton and an important component of the mission of Yale Divinity School. We believe that we can do more together to fulfill this mission than we could separately.
We also share a goal of keeping world-class ministerial education affordable. This affiliation is an enormous step toward fulfilling a goal, embraced by both schools, to make seminary essentially tuition-free for any of their students with demonstrated need by 2022.
The affiliation began with a visiting arrangement for Andover Newton at Yale in the 2016-2017 academic year. By all accounts, this year went exceptionally well, and Andover Newton truly began to take root as part of the YDS community. Members of Andover Newton's faculty and staff established a robust presence in the YDS community along with a core group of student leaders, known as the Founders. Andover Newton gathered a community within YDS in a weekly event called Emmaus, which included a community meal hosted early-church style. Dozens of YDS students also took courses with Andover Newton's visiting faculty.
As we build on that auspicious start, four members of the YDS faculty have agreed to become founding Affiliate Faculty for Andover Newton at YDS and will partner with Andover Newton faculty on educational program design next year. They plan to have a formal program in place for the fall of 2018. Andover Newton will in this way continue to pursue its mission to educate excellent leaders for the congregational traditions.
The affiliation agreement involves a change in Andover Newton's name. In its Yale incarnation, the school will be known as Andover Newton Seminary at Yale Divinity School—a name that signals both continuity with the past and a fresh beginning today. Andover Newton will remain in operation as a Massachusetts school for the immediate future so that current students can complete their studies on the Newton Centre campus during the next academic year (2017-2018). The school will retain the name Andover Newton Theological School in Massachusetts while still in operation there. Prospective students interested in studies at Andover Newton Seminary at Yale will (and already can) apply to Yale Divinity School.
We are grateful to the faculty, staff, administration, alumni/ae, and supporters of both institutions, as well as the Corporation of Yale University and the Board of Trustees of Andover Newton. Representatives of these groups have worked tirelessly through complex negotiations to build upon our shared histories and advance our common future. We firmly believe our new affiliation is in the best interest of both institutions and their missions, as well as the future of theological education for the church and the world.
In faith,
Martin B. Copenhaver & Gregory E. Sterling