Yale Divinity School Dean Gregory E. Sterling announced today that YDS and Andover Newton Theological School have signed a letter of intent under which the two schools will take steps toward a phased affiliation by which Andover Newton would relocate to Sterling Divinity Quadrangle.
Here, in its entirety, is a message sent by Sterling today to YDS students, alumni, faculty, and staff:
***
To the YDS Community,
Over the past year, Yale Divinity School and Andover Newton Theological School have devoted a great deal of effort and thought to exploring a possible affiliation between the two schools. Deliberations have reached the point where we have important information to share.
Our two institutions have signed a letter of intent under which we will explore the possibility of a phased affiliation by which Andover Newton would relocate to the Quad, albeit in significantly reduced form. The first phase is expected to be in place by the beginning of the 2016-17 academic year and, if negotiations are successful, the second phase a year later.
The first phase will consist of a visiting arrangement. We will invite four Andover Newton faculty to join us this fall, along with one temporary support staff person. Andover Newton will continue to operate in Massachusetts for the next two years—one year on its campus and one year in another location—to allow its current students to complete their degrees. Students have the option to apply for a transfer to YDS through the normal channels.
During this visiting period, negotiations will continue. If these negotiations are successful, we would enter a second, permanent phase of affiliation. For this second phase, we envision an "Andover Newton at Yale" model that would consist of approximately six Andover Newton people working with us on the Quad. They would be the dean (the current president), the associate dean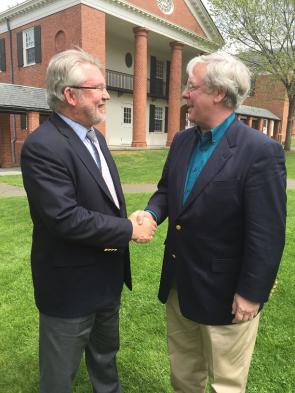 (the current dean), a development staff person, an administrative assistant, and two faculty members. We will also seek to have a third member of the Andover Newton faculty as a visitor for up to four years.
I think that this affiliation is mutually beneficial. It allows Andover Newton, the nation's oldest graduate institution of theological education, to continue to serve its constituencies. Although it will exist in a different form, its mission will continue. In its more than two-hundred-year history, Andover Newton has previously partnered with other institutions based on the needs of the times; we hope that this partnership would be the most productive.
There are two principal advantages for YDS. The primary focus of Andover Newton has been on ministerial preparation and formation—more specifically, the development of ministers for traditions with congregational polities. We welcome a partnership that will accentuate ministerial training and serve as an ecumenical complement to Berkeley Divinity School's formation of Episcopal and Anglican priests at YDS. Many of us, including the leadership of BDS, believe that this will be healthy for all.
Andover Newton will also help us toward our goal of providing full-tuition scholarships for all with demonstrated full need by 2022. Like us, Andover Newton realizes the imperative to improve funding for students. We are hopeful that they will be able to help students beginning in 2018-2019 and they are eager to help us meet our goal by 2022. We welcome them as partners.
To close, let me express my deep gratitude to the faculty and staff here at YDS, the administration and the Corporation of Yale University, and the administration, faculty, and Board of Trustees of Andover Newton. All have worked diligently and skillfully to bring us closer to an affiliation. All have labored not primarily for the sake of the two institutions, not even primarily for the sake of the people in the two institutions, but for the sake of our combined capacity to address the needs of our world.
Best wishes,
Greg Sterling