By Pressley Peters
Jennifer Boger '71 M.A.R. and John "Jack" Boger '71 M.Div. share a lifelong interest in equality, social justice, and education. Despite the depth of their shared involvement in important issues of the day, they, like most Americans, lived much of their lives not knowing who Dr. Pauli Murray was.
That changed when their daughter, Gretchen Boger '98 YC, wrote her Yale senior thesis on Murray. Now, more than 20 years later, the Bogers are dedicating their personal resources to originate a Divinity School scholarship in Murray's honor. The Bogers have made a gift commitment of $50,000 to YDS to create the Pauli Murray Endowed Divinity Scholarship.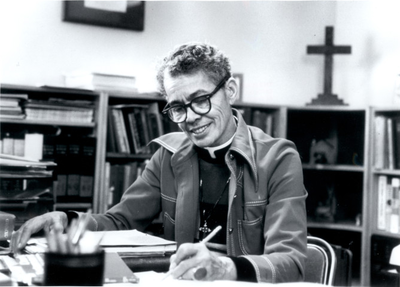 Anna Pauline "Pauli" Murray (1910-1985) was a brilliant civil rights activist and feminist pioneer, author, lawyer, professor, and eventually the first African American woman Episcopal priest. In the words of The New Yorker, Murray was "both ahead of her time and behind the scenes." She received an honorary degree from Yale Divinity School in 1979, and her name is on a new residential college for undergraduates at Yale.
Jennifer Boger eagerly explains why they chose to name a scholarship benefiting YDS students for Pauli Murray. "Apart from the congruence of our interests with social justice, the impressive thing about her was her earnest desire to be seen in the round as a whole person, not as a collection of memberships in this or that demographic. Her wholeness is another aim of religious faith, where in deepening the understanding of your own faith, you come to understand yourself and a way of viewing other people as a whole. Her astonishing persistence in the face of obstacles—she was stimulated by them—and the fact that she kept butting her head against glass ceilings while carrying the added burden of depression, is enormously inspiring."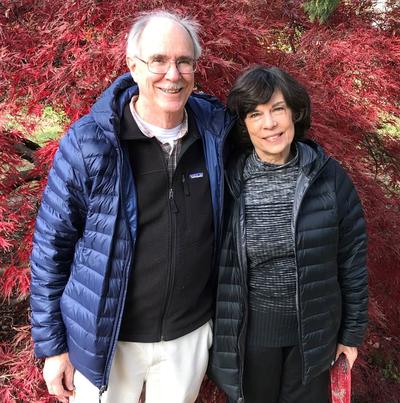 Jack adds, "Pauli Murray was part of many excluded groups but was determined to be seen not only for herself, but to lift up others: African Americans, women, people not considered sexually congruent with the general public. And then, a final turn to faith. She could have been a bitter old woman. Society had made her life so difficult! Instead, she was ordained as the first Black woman priest in the Episcopal church. She served her first Eucharist where her grandmother, a slave, had worshipped as a child, in the balcony of course." The church Jack Boger mentions—the Chapel of the Cross in Chapel Hill, North Carolina—is near the Bogers' home and eight miles from Durham, where Murray grew up.
The Bogers have several significant ties to Murray in addition to geography, including the shared lifelong study and pursuit of law, religion, and social justice. All three are Yalies: the Bogers at YDS and Murray at the Law School, where she became the first African American to receive a J.S.D. when she graduated in 1965. 
Murray was the only African American female hired by the New York firm of Paul, Weiss, Rifkind, Wharton, and Garrison, where Jack practiced law before joining the staff of the NAACP Legal Defense Fund—an organization whose co-founder, Thurgood Marshall, often expressed his deep indebtedness to Murray's legal scholarship. Jack is also the retired Dean of the University of North Carolina (UNC) Law School. UNC is one of several institutions (including Columbia and Harvard) that denied Murray admission in the 1930s and 1940s due to either race or gender.
All three were and are community activists. For example, Jennifer has dedicated much of her life to fundraising and volunteering for humanitarian efforts, and she and Jack participate in prison ministry.
Jennifer and Jack met at YDS, where they both loved the people and professors they met and the subjects they studied. In turn, their daughter found her years as a Yale undergraduate enormously meaningful. Such ties are a big part of the reason they decided to create a scholarship at YDS.
"We didn't know Pauli Murray, but she touched our lives," Jack Boger says. "In the same way, we hope students will follow their own deepest sense of who they are and what their faith says to them and what it might require of them in the larger world, with assurance their efforts are supported. They can go out into the world to live what they have learned and believe."
Jennifer adds, "We want students to have the freedom to explore interdisciplinary fields—academic and spiritual—and to take risks."
Barbara Sabia, YDS Senior Director of Alumni Engagement and Development, agrees that the named fund will inspire students and donors to celebrate freedom and diversity. "This new endowed scholarship fund is exciting in several ways," Sabia says, "most notably in that it brings us closer to our goal of meeting 100 percent of the demonstrated scholarship need of our students, and that it honors an outstanding American leader, Pauli Murray."
All are welcome to contribute to student scholarship via the Pauli Murray Endowed Divinity Scholarship. For more information on how to give, visit the scholarship's giving page or email barbara.sabia@yale.edu.