From mid-April until the latter part of June, Yale Divinity School is demonstrating its commitment to showcasing diverse artistic expressions by exhibiting the "Ten Commandments" drawings of Bruce Gillespie, a Connecticut artist with Down syndrome.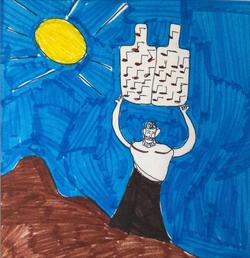 On April 18, YDS held a reception to honor the artist and his longtime teacher and champion, retired special education teacher Sam Goldenberg. A last-minute medical emergency prevented Gillespie from attending; a make-up date was set for May 7, when the artist returned to meet with YDS Dean Greg Sterling and receive a special memento—a Marquand cross.
***
View photos of Bruce Gillespie's visit to YDS.
***
"It is the unfamiliar depiction of the familiar that draws me to Bruce's art," Sterling said at the April 18 reception, noting the artist's use of musical notes rather than words on the stone tablets held by Moses in two of the collection's 12 drawing. "Bruce's art is an invitation for us to use our own imagination—in other words, for us to exercise the imago dei within us."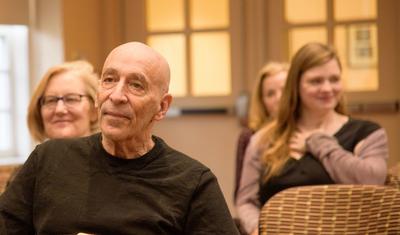 Learn more about Bruce Gillespie, Sam Goldenberg, and the April 18 event at YDS:
Editor's Note: This story was updated on May 7.