By Leah Silvieus '21 M.A.R.
What do goats, graveyards, and pumpkins  have in common?
For a working group at St. Peter's Episcopal Church in Cheshire, Conn., they might just hold the key to envisioning the future of the church.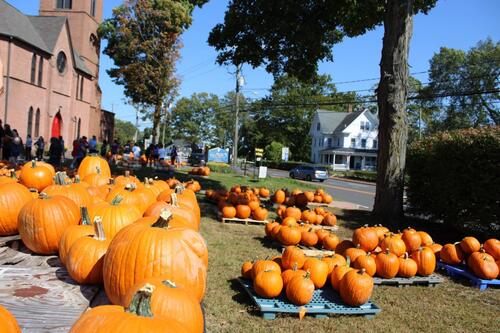 The group was facilitated by Leah Wise '22 M.Div. and was one of nine groups that kicked off the inaugural year for the Divinity School's initiative, "Reimagining Church: New Models for the 21st Century in 2021."
Funded by a $1 million grant from Lilly Endowment Inc., the project focuses on helping churches find dynamic new approaches to congregational life and community engagement.
"I believe strongly in the gifts of the laity, so to be able to facilitate a group in which laypeople were given the power to be the leaders and instigators of new and revived ministries in their congregation was transformative," Wise says of her experience with the Cheshire congregation.
The four-year initiative, now in its second year, focuses on 40 Connecticut churches and provides a learning experience for students and local congregations alike.
The working group in each church  consists of  five congregation members along with the pastor and a YDS student facilitator. The student facilitators are in their final year of study and have already completed a parish-based internship.
Concurrently with their working group participation, each student facilitator takes part in an advanced practicum class at YDS, where they explore topics such as discernment as a communal project and the development of New Haven's neighborhoods, including the churches' histories within the context of those neighborhoods.
Leading the initiative are YDS Associate Dean for Ministerial and Social Leadership Bill Goettler and Director of Professional Formation Alison Cunningham '84 M.Div., with consulting support from Director of Black Church Studies Joanne Jennings.
The project serves as an experiential "thinking lab," according to Goettler, aimed at "helping churches ask questions about their identities, gifts, and potential for new possibilities in the next chapters of their communal life."
"Good facilitation takes practice," Cunningham says. "There's an art to deep listening and then connecting dots between people and thoughts and ideas and being able to pull things together to move a conversation forward. If our students can develop those skills, it's going to serve them no matter what they do in life, whether they're pastors in churches or leaders in nonprofits. social groups or civic organizations."
The initiative  also features invited "visionaries" who offer lectures and workshops and meet with the working groups virtually throughout the year.
Last year's invited speakers included Becca Stevens, an Episcopal priest and the founder of Nashville-based Thistle Farms, an organization that offers a holistic, two-year residential program for women survivors of trafficking, prostitution, and addiction; and Tyler Sit, the church planter for New City Church, a Minneapolis church led mostly by queer people of color.
Sharon Fennema '03 M.A.R., storyteller and curator of Join the Movement, kicked off the 2022 program with a workshop aimed at assisting congregations in discerning the stories of who they've been, who they are, and what their future identity might look like. (Recordings of the workshops, along with current and 2021 student reflections and other resources, can be found on the Reimagining Church website)
In January of 2023, visionary pastors Mark-Anthony Montgomery from Union Baptist Church in Baltimore and Michael Martin from the Stillmeadow Community Fellowship will be on the YDS campus to engage Reimagining Church working groups. There, they will tell the story of building a peace park and forest on ten acres in Baltimore—and how they lived into that new ministry space.
The Reimagining Church program doesn't seek to develop a template for churches to follow, according to Goettler. It's more about "the process of 'let's try to walk this way and see where it takes us,'" he says.
Some working groups plan new programming. Others, like Branford UCC's, facilitated by Zak Carroll '22 M.Div., focus on discerning themes that reflect the core of the church and what it aspires to be.
The working group at St. Peter's in Cheshire is a good example of the creativity and engagement needed to take get the most out of this initiative.
"We knew that our church could be better, and we appreciated the opportunity from YDS to try and find out what good we could do and what positive difference we could make," says Joe D'Agostino, a 25-year church member who serves as St. Peter's Racial Equity and Justice Ministry Lead and Communications Coordinator.  
As a facilitator, Leah Wise created the agenda for each working group meeting, which began with check-ins and prayer. As time went on and she grew familiar with the group, she asked a different member to lead prayer each week.
Then, the group moved on to "narrating last week's meeting." Wise would create a narrative to draw out ongoing themes, which would then serve as a jumping-off point for the next conversation.
Narrative was helpful in ensuring the group stayed on topic without "squashing the meandering ideas of the Spirit" that often occur in group conversation, according to Wise. Members undertook individual research and prepared presentations to bring back to the group.
It was important to group formation, Wise says, to retain confidentiality and to arrive at a consensus before moving forward. This built trust within the group and gave members a renewed respect for each person's gifts and observations.
"As a facilitator, I learned that naming fears is the first step toward facing them," Wise says. "I learned that staying centered in prayer and scripture changes the way organizational meetings go in important ways. I better understand that the role of facilitation is to provide the framework to let things happen, not to make things happen."
Fun was also an important aspect of the group's time together.
One of the centering ideas for the St. Peter's group, according to Wise, was "goats in the graveyard." A member suggested that the congregation live into their ecological values by using sheep and goats to maintain the lawn of the cemetery. While that idea hasn't yet come to fruition, Wise says that the discussion served as a reminder that church work doesn't always have to be somber.
"A playful or off-the-wall idea can actually be a way to live into our values," she says.
The St. Peter's group also drew on their history in Cheshire. They've been  known as the "Pumpkin Church" because they sell pumpkins in their front yard each year.
The pumpkin sale integrates their core values by promoting responsible agriculture, financially supporting Indigenous communities, involving kids, and bringing the wider community together. This fall, they brought some of those pumpkins into the sanctuary to integrate this ministry into the liturgical and sacramental life of the church.
With the vestry's input, the group ultimately determined three focus areas for the church's future: supporting children/youth/families, using the parish buildings and grounds as a place where both church and community members can gather for events, and making the parish open and welcoming to the community beyond the congregation.
"We are working to determine how we can better get the word out to the broader community of who we are, what we do, and how we can help," D'Agostino says. "These focus areas have expanded into a variety of ministries, events and activities involving many people in the congregation working towards making St. Peter's a better place."
The second year of the YDS program is now well underway with the following churches and student facilitators taking part:
Trinity Episcopal Church in Seymour, Conn., with Emily Carter '23 M.Div.
Grace and St. Peter's Episcopal Church in Hamden, Conn., with Lee Febos '23 M.Div.
Dixwell Avenue UCC with Tamara Fore-Ravelo '23 M.Div.
Trinity on the Green in New Haven, Conn., with Max Sklar '23 M.Div.
Hamden Plains United Methodist Church with Luke Melonakos-Harrison '23 M.Div.
First Presbyterian Church in New Haven with Averyn Payne '23 M.Div.
Bethel AME in New Haven with Ryan Lindsay Arrendell '23 M.Div.
First Congregational of Madison with Jordan Sylar '23 M.Div.
Shalom UCC with Katie Kirk '23 M.Div.
Christine Veillon '23 M.Div. as administrative and student-support facilitator
This year is the first in which the working groups are meeting in person (last year's mostly met virtually because of the COVID pandemic). In addition, all the working groups are coming together throughout the year to share their discoveries, which is sparking excitement after a year of virtual meetings.
"The program presupposes a posture of hope," Director of Black Church Studies Joanne Jennings says, "the premise that there can be a reimagining that will happen. It's wonderful to reconnect with that piece of ourselves and begin to dream."
Leah Silvieus is a poet and writer working at the intersection of religion and literature. She is author of the poetry collection Arabilis (Sundress Publications) and is the co-editor with Lee Herrick of the anthology The World I Leave You: Asian American Poets on Faith and Spirit (Orison Books).