By Emily Judd '18 M.A.R.
You may have heard of the recent film and bestselling novel "The Sisterhood of the Traveling Pants." The plot revolves around four young women who stay in touch during their first summer apart by mailing a pair of jeans (that miraculously fit their four different body types) along with personal letters detailing their life events.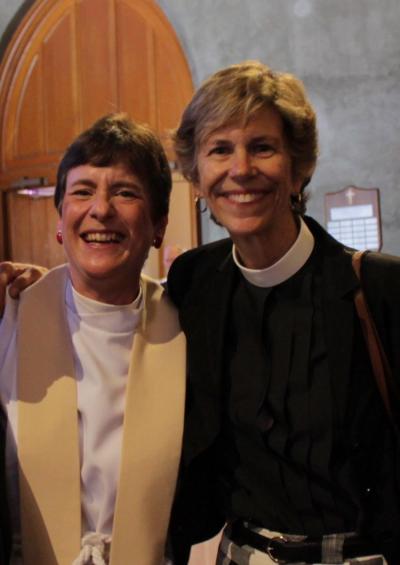 Long before the fictional story was conceived, six female students at Yale Divinity School created a similar pact in May 1997. It continues to this day. Between their final exams and graduation, Penny Bridges, Ginny Thomas, Betsy Anderson, Mary Gates, Charlotte White, and Rosalind Brown—all '97 M.Div.—went to lunch at the now-closed Scoozi restaurant in New Haven. A casual outing led to a 20-year bond, enacted through a continuing chain of letters.
"We decided to stay in touch so we could find out how life unfolded for each of us and a letter seemed a way to do it," says Brown, a Durham, England, resident. "Because people are so open and honest in the letters, we have got to know each other better through these letters than we did while we were at Yale."
The envelope of letters, known as "The Packet," now makes its journey mailbox-to-mailbox from California to Connecticut to the United Kingdom. Once she receives the packet, each woman writes a personal letter, adds it to the envelope, and forwards it onto the next woman, who repeats the process. A letter is typically four pages long and addresses world affairs and personal and work events (all women are involved in ministry), or responds to the content of other letters.
"Over the years we've shared each other's ups and downs in our personal lives, families, work, and churches. We've faced the usual round of illnesses, bereavements, frustrating or difficult church situations. There have also been moments of joy to share: the birth of grandchildren, celebrations in our churches, great holidays, the enjoyment of creation," says Brown, who answered the Divinity School's questions on behalf of the group.
Bicoastal and international, 'The Packet' offers a unique amalgam of viewpoints on life and current events.
"We can sometimes offer each other different perspective or ask questions from the other side of the Atlantic. Recent examples include the British referendum on membership of the European Union and the election of Donald Trump where, in both cases, it was thought-provoking to hear how it was being explained or interpreted across the ocean," Brown says. Despite the boom of digital correspondence, she said, the women decided early on to stick with paper and postage stamps.  E-mail communication is reserved for news that can't wait or urgent prayer requests.
"After a few years we did discuss whether to go electronic but decided that would change the nature of the letters to more instant reactions and news, whereas writing a longer more reflective letter every six months was a good way to distill the most significant things and record our lives," Brown says.
Different combinations of the women have gathered in person since the 1997 graduation.
"What is amazing is how we just pick up as though we saw each other last week," Brown says.
All six women will reunite for the first time this fall. The long-overdue reunion will take place at the Divinity School's convocation on October 18, coinciding with the sisterhood's 20th anniversary. "The Packet" will be part of the celebration.
"We have built up a fascinating record of six women in ministry," says Brown.