Why would Yale Divinity School travel across the country to Pasadena, Calif., to host a panel discussion on a "faithful" approach to the immigration debate?
Because Southern California has long been a fulcrum of immigration and the politics and activism around it. And because, as YDS Dean Greg Sterling put it in his opening remarks at the September 25th event, "immigration is not only an issue for politicians and human rights activists; it is a moral issue."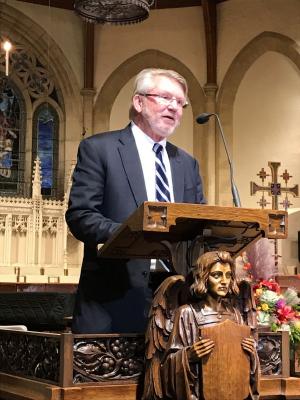 "For those of us who take the biblical text seriously and who recognize that the Hebrew Bible champions the rights of the 'stranger,' and that Jesus of Nazareth was supporter of the marginal and underrepresented of his day," Sterling said, "it is imperative that we consider carefully how we treat people in desperate circumstances."
Titled "Humans at the Gate: A Faithful Approach to Immigration," the panel took place at All Saints Episcopal Church in Pasadena, whose rector, Mike Kinman '96 M.Div., is a YDS alumnus. Making up the panel were: Isaac Cuevas, Associate Director of Immigration Affairs for the Catholic Archdiocese of Los Angeles; Felicia Escobar, a Yale alumna and former immigration policy adviser to President Obama; Apolonia Morales, Political Director for the Coalition for Humane Immigrant Rights of Los Angeles; and Lamin Sanneh, D. Willis James Professor of Divinity and Professor of History at YDS.
The moderator was Stephen Pitti, Professor of History and American Studies at Yale and Director of the University's Center for the Study of Race, Indigeneity, and Transnational Migration.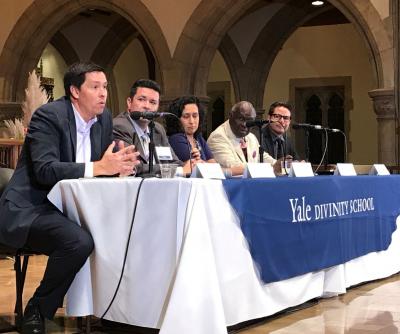 While much of the panel discussion focused on Latino/a immigrants, Sanneh at one point spoke about the country's approach to Muslim immigrants.
When it comes to followers of Islam and other non-majority religions, Sanneh noted, we are prone to falling for "simple ideas, caricatures, and stereotypes." On the other hand, Sanneh said, we see the "extraordinary generosity of Americans and a remarkable degree of religious tolerance. Americans don't like it when someone attacks another person's religion. This is very deep."
The event was cosponsored by the Yale Club of Los Angeles and the Association of Yale Alumni, with strong support from All Saints Church.
 
The Pasadena panel came as part of a series of biannual public affairs events hosted by the Divinity School around the country with the aim of bringing the voice of theology and morality to public debates. Next in the series is a March 12 panel in Memphis, Tenn., examining the legacy of Martin Luther King, Jr.
—
More coverage:
Yale Daily News: "Div School takes immigration stand"
Pasadena Now: "Religiosity and Immigration: Where to Draw the Lines?"