Maggi Dawn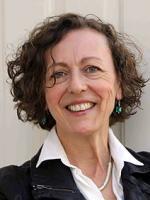 Associate Dean for Marquand Chapel and Associate Professor (Adjunct) of Theology and Literature
Denomination Affiliation:
Education
B.A., M.A., PH.D., University of Cambridge, England
Originally from England, Professor Dawn came to Yale in 2011. Prior to that she served as a chaplain and taught theology at the University of Cambridge (UK) for a number of years, after an earlier career in music.  She teaches courses on Performative Theology, and Theology and poetics in the writings of Samuel Taylor Coleridge. She is the author of five books: Like the Wideness of the Sea: Women, Bishops and the Church of England (DLT, 2013), The Accidental Pilgrim: Modern Journeys on Ancient Pathways (Hodder and Stoughton, 2011), The Writing on the Wall: High Art, Popular Culture and the Bible (Hodder and Stoughton, 2010), Giving it Up: Daily Bible Readings from Ash Wednesday to Easter Day (Oxford: BRF, 2009), and Beginnings and Endings (and What Happens in Between): Daily Bible Readings from Advent to Epiphany (Oxford: BRF, 2007).  In addition to articles and essays in various journals and periodicals, she has contributed chapters to four collections of essays: An Acceptable Sacrifice? - Homosexuality and the Church (ed. Dormor and Morris, SPCK 2007), Anglicanism: The Answer to Modernity (ed Dormor, McDonald, and Caddick, Continuum, 2003), The Rite Stuff: Ritual in Contemporary Christian Worship and Mission (ed. P. Ward, BRF, 2004), and Post-Evangelical Debate (Dawn et al., SPCK 1997). She is the composer of many contemporary songs and hymns, published by EMI (Kingsway Thankyou Music) and Big Jungle Music.  Professor Dawn is an ordained priest in the Church of England, an accredited pastoral supervisor with APSE (Association of Pastoral Supervisors & Educators), an associate writer member of PRS for Music, and a member of the Society for the Study of Theology (UK).  She serves on the advisory board for the Royal School of Church Music and is a senior member of King's College and Robinson College in the University of Cambridge, where she was Chaplain and Fellow.