Abdul-Rehman Malik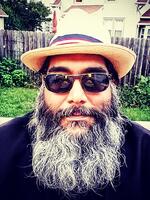 Associate Research Scholar and Lecturer in Islamic Studies
Office Hours: https://calendly.com/abdulrehmanmalik/yds
Abdul-Rehman Malik is an award winning journalist, educator and cultural organizer. In June 2019 he was appointed Lecturer and Associate Research Scholar at the Yale Divinity School. He also serves at the Program Coordinator at Yale University's Council on Middle East Studies, and is responsible for developing curricula and partnerships with public schools to promote better cultural, language and religious literacy about the Middle East to educators and students alike. Abdul-Rehman also serves as Director of the Muslim Leadership Lab, an innovative student leadership program being incubated at the Dwight Hall Center of Social Justice at Yale. He remains programs manager for the Radical Middle Way, which offers powerful, faith-inspired guidance and tools to enable change, combat exclusion and violence and promote social justice for all. His work has spanned the UK, United States, Indonesia, Pakistan, Sudan, Mali, Morocco, Singapore, Canada and Malaysia. 
Abdul-Rehman is a frequent journalist for BBC Radio, offering contemporary perspectives on contemporary spirituality. Until 2018 regularly presented the popular Pause for Thought segment on Radio 2 and Something Understood on Radio 4. His most recent essay for Radio 3's Holy Week 2019 was entitled "Behold the Man". In conjunction with The Aga Khan Museum in Toronto, Abdul-Rehman will be launching and hosting a new podcast in 2020 entitled "This Being Human", which will explore kaleidoscope of contemporary Muslim experience and identity.
In addition to providing curation and content guidance to a variety of cultural and literary institutions, Abdul-Rehman works to create platforms at the intersection of arts and social change. He is committed to building Muslim cultural capital, cultural leadership and supporting cutting-edge artistic production. In January 2015, he became director - a voluntary position - of the Insight Film Festival, a unique year-round festival that celebrates the intersection between faith and film. He was creative advisor to English Touring Theatre's acclaimed, radical reimagining of Othello from 2016-2019 and curated The Othello Project, a multidisciplinary festival of artistic responses to the production.
Abdul-Rehman recently trained over 150 young civil society leaders in Indonesia to use the power of theatre and storytelling to bridge interfaith and intercultural divides against the backdrop of violence and discrimination as part of a Google.org funded initiative called Project Cerita. The "Duta Cerita" – young leaders – have now, in turn, reached over 1500 of their peers. The program has now been piloted in the UK and in the Netherlands and is being launched in Singapore in 2020.
Abdul-Rehman was artist-in-residence at the Doris Duke Foundation's Shangri La Museum of Islamic Art, Design and Culture in June 2018. During his residency at Shangri La, Abdul-Rehman curated a series of programs and original performances around the theme, "What is Muslim Culture?". He serves on the advisory board of the Said Foundation's Amal Muslim Cultures & Arts programme fund.
Since the mid-1990s, Abdul-Rehman was actively in engaged in what has become an international movement to revive the study of the classical Islamic religious sciences and pedagogies amongst Muslim communities in Canada, the United States, the United Kingdom and beyond. His own learning has been guided by private and independent study of the core Islamic sacred disciplines – theology, jurisprudence and Sufism – through a traditional methodology of textual study with a qualified teacher or authority in the respective discipline. Texts have been studied both in the original languages and in translation. Core teachers have possessed ijazahs – the formal permission of their own teachers to teach – and thus, have preserved the classical approach to Islamic education. This study has been in addition to Abdul-Rehman's academic study of Islam and Muslim communities, his deep engagement and organizing within Muslim communities and his work to chronicle contemporary Muslim life and Islamic thought.
Read More: https://ism.yale.edu/news/ramadan-time-covid-19-abdul-rehman-malik-and-martin-jean
Office Hours: https://calendly.com/abdulrehmanmalik/yds