John Pittard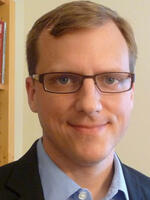 Assistant Professor of Philosophy of Religion
Education
A.B. Harvard University
M.Div. Princeton Theological Seminary
Ph.D. Yale University.
Professor Pittard specializes in epistemology and the philosophy of religion. Much of his current research is focused on questions concerning the epistemic significance of disagreement with informed and intelligent interlocutors. He has published articles in The Philosophical Quarterly, The Internet Encyclopedia of Philosophy, and Oxford Studies in Epistemology. He also has a chapter in Challenges to Moral and Religious Belief: Disagreement and Evolution (published by Oxford University Press) and a coauthored piece forthcoming in Mind. Prof. Pittard is currently working on a book on religious disagreement.
Interview: That Elusive Thing Called Certainty | Notes from the Quad