Joyce Mercer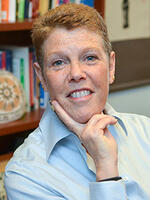 Associate Dean for Academic Affairs, Horace Bushnell Professor of Practical Theology and Pastoral Care
Denomination Affiliation:
Education
B.A. University of Virginia
M.Div. Yale Divinity School
M.S.W University of Connecticut Graduate School of Social Work
D.Min. McCormick Theological Seminary
Ph.D. Emory University
---
For information on applying to YDS, visit the Admissions and Financial Aid website or send email to div.admissions@yale.edu.
---
Joyce Ann Mercer's work focuses on practices of care in diverse contexts and situations, including post-conflict areas of southeast Asia, children in the consumer culture of the US, addictions in family systems, and the religious lives of adolescent girls. The practical theological thread running throughout her work is the fostering of liberatory hope where personal and social forms of suffering limit human flourishing. Professor Mercer's current book project with Oxford University Press is based on a congregational study of churches in conflict with their denominations over sexuality. She recently edited Conundrums in Practical Theology (with co-editor Bonnie Miller-McLemore) for a new practical theology book series (Brill, forthcoming 2016). Earlier works include Welcoming Children: A Practical Theology of Childhood (Chalice Press), a feminist practical theological exploration of theological meanings of childhood in the context of U.S. consumer culture; Girl Talk God Talk: Why Faith Matters to Teenage Girls and Their Parents (Jossey Bass), addressing the experiences of adolescent girls constructing gender and faith identities amid the complexities of adolescence; and, Lives to Offer: Accompanying Youth on their Vocational Quests  (Pilgrim, co-authored with Dori Baker).
Professor Mercer joined the YDS faculty in January 2016, following ten years at Virginia Theological Seminary as the Arthur Lee Kinsolving Chair in Pastoral and Practical Theology. She also has served on faculties at the Graduate Theological Union, and Union Theological Seminary in the Philippines. Her career includes positions in chaplaincy and clinical social work in Atlanta, St. Paul, and Minneapolis. She maintains her professional standing in the field of social work as a Licensed Clinical Social Worker. Professor Mercer, an ordained minister in the Presbyterian Church USA, remains active in parish ministry, most recently as a parish associate for pastoral care with older adults. She edits the international scholarly journal Religious Education and is the current president of the Association of Practical Theology. She has served as co-chair of the steering committee of the Practical Theology Group in the American Academy of Religion, and is on the board of the Religious Education Association. Professor Mercer is a member of the International Academy of Practical Theology.
Books and Selected Publications:
Conundrums in Practical Theology (Leiden, Netherlands: Brill). Joyce Ann Mercer and Bonnie Miller-McLemore (Eds.). In Theology in Practice Series, in press, November 2016.
Girl Talk, God Talk: Why Faith Matters to Adolescent Girls—and their Parents, (San Francisco: Jossey Bass), 2008.
Lives to Offer: Accompanying Youth on Their Vocational Quests, co-authored with Dori Baker. (Cleveland, OH: The Pilgrim Press), 2007.
Welcoming Children: A Practical Theology of Childhood (St. Louis, MO: Chalice Press), 2005.
"Feminist and Womanist Practical Theologies," in Opening the Field of Practical Theology, Kathleen Cahalan and Gordon Mikoski, eds. (Lanham, MD: Rowman and Littlefield), 2014.
"A Practical Theological Approach to Ecofeminism: Story of Women, Faith, and Earth Advocacy," pp. 93-106 in Dewi Candraningrum, ed., Body Memories: Goddesses of Nusantera, Rings of Fire, and Narratives of Myth. Yayasin Jurnal Perempuan Press and Pusat Penelitian dan Studi Gender: Salatiga, Indonesia: 2014.
"Attending to Children, Attending to God: Children with ADHD and Christian Spirituality," pp. 63-88 in Bert Roebben and Katharina Kammeyer (eds.), Inclusive Religious Education. International Perspectives, Berlin and Zurich: LIT Verlag, 2014.
"Pornography and Abuse of Social Media," Chapter 17, pp. 193-204 in Professional Sexual Ethics: A Holistic Ministry Approach, eds. Darryl W. Stephens and Patricia Jung (Minneapolis: Fortress Press), 2013.
"Virtual Sex, Actual Infidelity: A Practical Theological Inquiry into (Dis)Embodied Desire and Cybersex," Ch. 6, pp. 69-78 in CITY OF DESIRES. A PLACE FOR GOD? PRACTICAL THEOLOGICAL PERSPECTIVES Edited by R.Ruard Ganzevoort, Rein Brouwer, and Bonnie Miller-McLemore, International Academy of Practical Theology. Amsterdam: LIT Verlag, 2013.
"Economics, Class Relations, and Classism," Chapter 41, pp. 432-442 in The Blackwell Companion to Practical Theology, ed. Bonnie J. Miller-McLemore (Malden, MA and Oxford: Blackwell), 2011.